22 Large Eurozone Banks Vulnerable to Brexit

Weiss Ratings releases 2016 Global Bank Ratings with special report on impact of Brexit and Eurozone crisis
July 6, 2016 - PALM BEACH GARDENS, FL
– Twenty-two of 38 large commercial banks headquartered in the Eurozone merit a Weiss Safety Rating of D+ (weak) or lower, making them vulnerable to Britain's exit from the European Union, with potentially widespread global repercussions. (
Chart below.
) Among the 38 Eurozone banks covered, none are rated higher than a C+ (fair).
These are the conclusions of the 2016 Global Bank Ratings released today by Weiss Ratings, the nation's leading provider of independent financial safety and investment ratings.
The report, including the first and only completely independent ratings on global banks, covers 280 of the world's largest banks (with at least $3 billion in assets), rating them with letter grades ranging from A+ (strong) through E- (very weak).
"If you think Britain's exit from the European Union is going to be a shock to the economy, wait until you see the potential dire straits of Europe's most vulnerable banks," says Gavin Magor, senior financial analyst for Weiss Ratings and lead author of the report. "Right now, the Eurozone has the most astounding concentration of large weak banks we have ever seen."
To help consumers make prudent, informed financial decisions, the report includes a number of charts, including: the number of banks receiving each letter grade, banks with the most assets, strongest and weakest banks, all by region and by country.
Additional findings include:
There are 111 rated global banks with assets of $100B or more
China has the most high-rated banks in the world
The country with the most low-rated banks in the world is India
The three largest lowest-rated banks are all in Italy (a Eurozone country), and the biggest of those is Banca Monte dei Paschi di Siena SpA in Italy, rated D-
The only A+ rated global bank is Samba Financial Group (Saudi Arabia)
The largest global bank in the world is Industrial & Commercial Bank of China Ltd, with total assets of $3.5T (Weiss Safety Rating of A-)
The smallest bank to make the list is Bank CenterCredit JSC in Kazahkstan with $4.0B in total assets. (Rated C-)
"This report and the Weiss Global Bank Ratings show why it's so important for U.S. investors to pay attention to what's happening in the rest of the world," says Magor. "Europe is one of our largest trading partners, and the Brexit Crisis is one of the worst in recent memory. So when you see the horrible condition of so many of the Eurozone banks, you will want to know more in order to protect yourself and your money."
Consumers interested in purchasing the 2016 Global Bank Ratings and special Eurozone Crisis report can visit
http://offers.weissratings.com/globalbankratings/
The report is $247 and is being offered at $97 for a limited time. It includes a 30-day Platinum-level membership to weissratings.com, so readers can access additional resources mentioned in the reports. Those who wish to strictly read the report on the Eurozone Crisis can download it free by visiting
http://offers.weissratings.com/eurozonecrisis/
.
22 Large Eurozone Banks Vulnerable to Brexit
(with assets of $3 billion or more)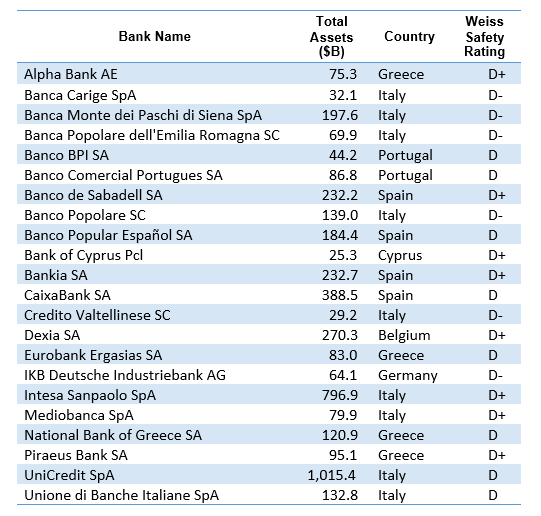 Weiss Ratings Scale: A = excellent, B = good, C = fair, D = weak, E = very weak.
About Weiss Ratings:
Weiss Ratings, Inc. is the nation's leading independent provider of ratings and analyses of financial institutions, mutual funds, and stocks. Weiss issues investment ratings on 39,000 stocks and mutual funds, and provides financial safety ratings on 16,000 banks, credit unions and insurance companies. Weiss Ratings is the only major rating agency that is 100% independent, receiving no direct or indirect compensation from the companies it rates for issuing its ratings.
About Gavin Magor:
Gavin Magor, senior financial analyst at Weiss Ratings, LLC, conducts comprehensive industry analysis on banks and insurers and is responsible for assigning financial strength ratings to individual companies. He has more than 25 years of international experience in operations and credit-risk management, commercial lending and analysis. Mr. Magor holds a master's degree in business administration from The Open University in the U.K.
# # #