3 Stocks, and 2 ETFs, You'll Want to Own Before the Trade War Ends
Friday, October 04, 2019
Whether you love or hate Trump, you can't deny that he has been pure gold for creating investment opportunities.
The Trump news du jour is about his conversation with the new president of Ukraine and potentially with the president of China as well.
But the news that you as an investor should be paying attention to is the trade war and tariff battle with China.
Trump has levied tariffs ranging from 10% to 30% on over half a trillion dollars' worth of Chinese imports. China has retaliated with similar — but much smaller (estimated $110 billion) — tariffs on U.S. goods entering China.
Moreover, Trump seems willing to intensify the trade war. The expectation is that the longer and more painful the tariffs, the more leverage he'll have in upcoming trade negotiations.
All that tough trade talk spooks more than just the U.S. stock market. It has also pushed the Chinese stock market lower. Since the April peak, the iShares MSCI China ETF (MCHI) — which tracks mid- and large-cap companies in China — has lost about 15% of its value.
Most Wall Street experts expect Chinese stocks to fall a whole lot lower. But I think they're wrong. In fact, my suggestion is to …
Buy the Fears
Chinese stocks are attractive because of the beating they've taken based on fears about the trade war and an overall slowing of economic growth there.
And yes, Chinese growth is slowing from previous years. But their economy is still expanding at more than twice the pace of the United States'!
And unlike the U.S., which seems to frequently find itself at odds with Big Tech, the Chinese government is taking the opposite tactic. It is pouring billions into "advanced technology, artificial intelligence, quantum computing and biotech," according to The Economist.
And right now, a trio of China's biggest tech stocks — Alibaba (BABA), Tencent (TCEHY) and Baidu (BIDU) — look especially attractive.
Alibaba is the Amazon of China, an e-commerce giant that is growing like a weed. In the second quarter of this year, Alibaba saw its revenues surge 61% on a year-over-year basis.
Tencent is the Facebook of China. Its social networking site is also a widely popular online gaming site and the second largest mobile payment platform in China.
Baidu is the Google of China, and it reported a 32% year-over-year increase in Q2 revenues.
By the way, all three of these stocks trade in the U.S., so you don't need a special overseas account to buy them.
That makes it just as easy to buy them as our domestic Amazon, Facebook and Google shares. The real treat is its much less expensive to buy them than it is to buy their U.S. counterparts.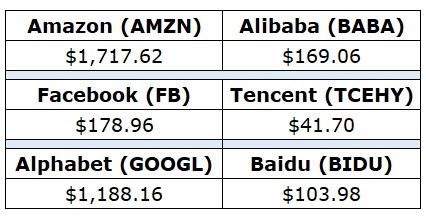 Intraday price data 10/3/19
This is why I think those Wall Street "experts" who expect Chinese stocks to go lower are crazy.
The trade-war fears won't last forever. And when they're gone, these companies should only see even more growth.
If you're more of an ETF investor, take a look at the Invesco China Technology ETF (CQQQ) or Global X MSCI China Communications Services ETF (CHIC), both of which own sizable stakes in the above three Chinese tech giants.
China joined the World Trade Organization in 2001. At the time, its GDP was only 13% of the U.S. GDP. It has grown to 60% today. The International Monetary Fund projects it will be 88% by 2023 and will overtake the U.S. sometime in the 2030s.
I talk to a lot of investors, all around the globe. And even though China is already the second-largest economy in the world after the U.S., most of them don't own a single share of Chinese stock.
That's dumb. Every long-term investor needs a meaningful stake in China. And the recent decline is giving you an opportunity to buy some shares at levels we might never again see after the trade war is over.
Now, that doesn't mean that Chinese stocks can't go lower in the meantime. They might! But at these prices, Chinese stocks sure look like a bargain to me.
Best wishes,
Tony Sagami