Why Snap's Earnings Debacle Doesn't 'Ad' Up
The latest earnings shortfall at Snap (SNAP) has arrived, and investors are again drawing all the wrong conclusions.
Digital ads are not dead. They are evolving, which presents …
A Huge Opportunity
The company announced Tuesday that internal quarterly forecasts missed expectations for the third consecutive time. The digital ad-selling company, based in Santa Monica, California, also withdrew guidance for 2023.
Don't be fooled: Digital ads are the future. Great companies are on sale. Let me explain.
Let's get start with the elephant in the room: TikTok.
Snap doesn't have a digital ad problem. Snap has a TikTok problem. Its key demographic, the group advertisers want to reach on its platform, prefer TikTok over Snap. That's it, full stop.
TikTok, an incredibly popular social media platform based in China, has been dominating the key 18–29-year-old demographic for the past three years. During that time, it has been the most downloaded application on iOS and Android, the leading smartphone platforms.
Last year, a report from Insider Intelligence estimated that ad sales at TikTok will grow from $3.9 billion in 2021 to $11.6 billion in 2022. It is no coincidence the problems at Snap started when TikTok blossomed.
That is not the way the Snap debacle is being played out in the financial press.
A big part of the weak Snap narrative is due to decisions being made in the corporate suite at Snap. Clearly, executives have made the choice to turn media focus toward the effects of privacy choices made at Apple (AAPL), softness in the digital ad marketplace, and the global economy. Being a victim of circumstance is preferable to admitting that a competitor is killing the business, one quarter at a time.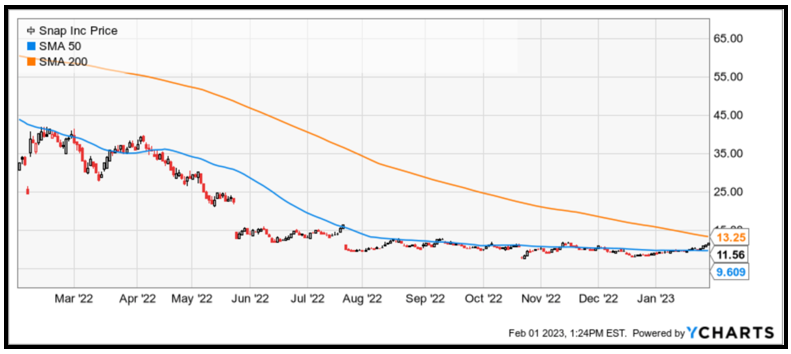 One-year chart of SNAP.
Click here
to see full-sized image.
However, as I mentioned earlier, digital ads are not going away.
Digital Ads Are Evolving
Depending on your point of view, digital ads are even more invasive now. The companies that serve those ads will make more money, not less.
Executives at Netflix (NFLX) announced in October 2022 that the streaming media company would begin serving ads in Q3 2023. Previously, CEO Reed Hastings claimed Netflix would never host commercials because it spoiled the user experience.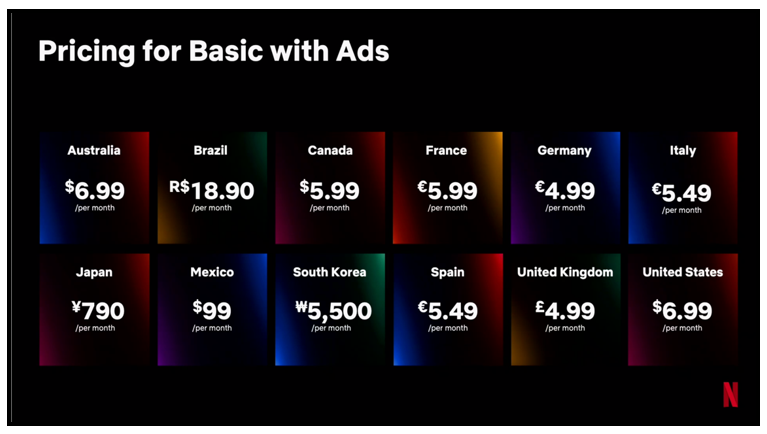 Prices for Netflix's basic plan with ads.
Click here
to see full-sized image.
As a company, Apple has been hypercritical about digital advertising. In October 2018, CEO Tim Cook referred to ads as surveillance capitalism at a privacy conference in Belgium. Apple now has a substantial digital ad business. Analysts at expect that business to produce sales of $6 billion by 2025.
Some social constructs are easy to predict.
Fifty years ago, science-fiction writers imagined the dystopian future would be full of annoying advertisements, incessant gambling and people pulled to political extremes. Sadly — or predictably — it has all come to pass. These issues are likely to grow, not recede.
Snap shares opened Wednesday down 15% on the ugly earnings report. Executives now expect that Q1 revenues will decline between 2% and 10% year over year. And so-called depth of engagement, the likelihood that Snap stories are shared by friends of the platform, continued to decline vs. a year ago, according to an investor presentation.
Snap has a problem. But it's not a digital ad problem.
The market for digital ads has grown from $523 billion in 2021 to $567 billion in 2022, according to a report from eMarketer. Analysts predict the market will reach $836 billion by 2026, or 72.5% of total advertising spend.
Executives at the best companies will reap that growth. When shares sell off because Snap has missed forecasts again, it is …
An Opportunity for
Longer-Term Investors
Netflix and Apple are new entrants to the marketplace. Investors are underestimating the revenue growth for these business verticals because the outlook is being colored by Snap.
Amazon.com (AMZN) has a huge advertising business, and it is set to grow even faster as advertisers seek to place commercials in front of real buyers. Keep in mind, Amazon is the largest ecommerce platform in the western world, with an estimated 300 million active monthly users. That is a lot of eyeballs.
Add Walmart (WMT) to the mix, too. Executives at the Bentonville, Arkansas-based company announced in August 2021 that the retailing giant would work with The Trade Desk (TTD) to help potential advertisers place programmatic ads across its growing e-commerce platform.
The bottom line is that longer-term investors should embrace dreary Snap guidance and continued poor execution. This creates opportunity in the digital ad space.
As always, conduct your own due diligence beforehand.
Don't forget: Starting immediately, you will be able to find my columns in Weiss Ratings Daily, the new home of Pivotal Point, each and every Thursday morning.
Best wishes,
Jon D. Markman