There's a secret member of OPEC, one that is acting to boost prices. And it's not Russia, which is acting in concert with Saudi Arabia to yank oil higher. No, it's a "country" you'd never suspect. And it's closer than you think. The good news is, there are ways you can profit from this.
In Saturday's column, I told you how Saudi Arabia is pumping more oil than ever. The world is so awash in oil that prices fell off a cliff. But I also said non-OPEC member — and major oil producer — Russia would agree to Saudi-backed cuts at last weekend's OPEC meeting.
That did happen. Russia and the Saudis haven't nailed down exactly how much they'll cut, so the effect is yet to be seen. But there was a major oil production cut announced this weekend, one that sent shockwaves through the market.
Rachel Notley is the premier of Alberta. It's a Canadian province, and an oil-rich kingdom in its own right. And over the weekend, Notley announced a plan to cut Alberta's oil production by 8.7%, or 325,000 barrels per day. The cuts will start from January until excess oil in storage goes down.
To protect smaller drillers, the first 10,000 barrels of a producer's output are exempt from the cuts.
Now, 325,000 bpd is not a lot. But unlike the expected Saudi/OPEC/Russia cuts, Alberta's news came out of left field.
"Every Albertan owns the energy resources in the ground, and we have a duty to defend those resources," Notley said in a statement. "But right now, they're being sold for pennies on the dollar. We must act immediately, and we must do it together."
Even after the announced cuts, Western Canada Select crude was trading for $29 a barrel less than West Texas Intermediate, the U.S. crude oil benchmark. So, you can see why Notley is taking drastic action.
And that's better than the $50-per-barrel discount that Albertan crude hit last month.
The really bullish news is that Notley's cutback isn't just boosting the price of Canadian crude. Take a look at this chart of Brent crude, an international crude oil benchmark.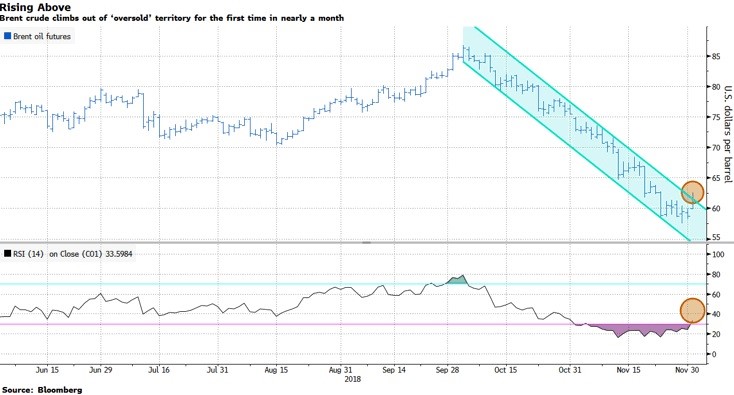 You can see that Brent has broken out of its downtrend, even as it climbs out of oversold territory.
Winners & Losers
The winners were already evident on Monday. Canadian producers Cenovus Energy (NYSE: CVE) and Canadian Natural Resources (NYSE: CNQ) did very well on the news.
As for losers, Canadian refiners could face some pain, because their input costs will go up. Suncor Energy (NYSE: SU), a Canadian oil producer and refiner, showed relative weakness on Monday — a day when most oil stocks showed strength.
Importantly, this may not be the last surprise out of Notley's bag of tricks. This is actually her second attempt to boost prices for Alberta oil. Last week, she announced a plan to buy railcars to help ship an additional 120,000 barrels of crude a day.
So, one way or another, she is determined to get Canadian oil prices higher. That should be a signal for energy investors that it might be easier to make money on the northern side of the border. It sure looks like the oil bull is charging hard in Canada.
All the best,
Sean