When the White House Agrees with Me, WORRY!
I hope you're planning to join me Tuesday, Jan. 29 at 2 p.m. Eastern to get my complete market roadmap for right now and the next five years.
Click here
and I'll make sure you not only get the link to this event, but also a recording and transcript you can view as soon as possible. — Sean
You know I'm worried about how the government shutdown could hurt the economy. On Tuesday, I said the longer the government shutdown drags on, the more it grinds down imports, exports, consumer spending and more. And if it keeps going for weeks … months … it could throw a big wrench in the works for U.S. growth.
Sure, I'm a lonely voice in the wilderness. Well, now someone very important agrees with me. His name is Kevin Hassett. He is the Chairman of the White House Council of Economic Advisers. In other words, President Trump's top economist.
In a new CNN interview, Hassett said that if the shutdown continues through the first quarter, America's economic growth rate could fall close to 0 percent. ZERO!
I'm glad to see that someone in the White House has an appreciation of how grave this is.
Now for the bad news: The economy may not wait for policy-makers in D.C. to do something about it.
I have a chart to share with you. I made it on my Bloomberg terminal. It shows manufacturing surveys by the different Federal Reserves around the country — Dallas, Richmond, Philadelphia, New York and Kansas City.
In other words, it's a gauge of factory activity in America's important economic regions. And it paints an ugly picture.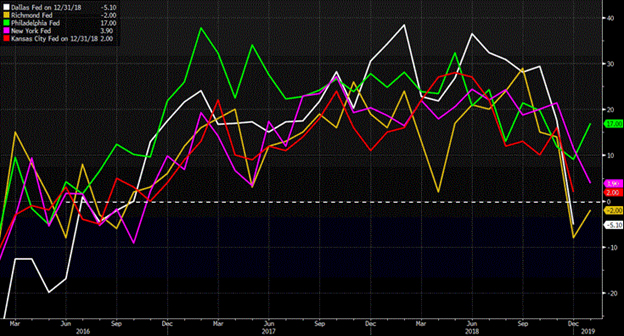 You can see that factory activity is rolling over. Richmond (the blue line) and Dallas (black) are already showing contraction. The Richmond Fed manufacturing survey fell to -8 in December (vs. expectations of +15) before "bouncing" to -2.
Basically, this shows economic momentum is already hitting the skids.
If you like to look on the bright side of things, weaker manufacturing news may lead the Fed to back off on more rate hikes. It might even give them the cover to cut again.
If you're more bearish — and I am — imagine how this trend is going to be compounded by 800,000 federal workers going without paychecks … federal contractors also not being paid … delays in healthcare funding, food stamps and other government programs … slowdowns at U.S. customs … and more.
I'd say a large amount of proverbial manure may be about to hit the fan.
• I don't think the shutdown ends soon. The two sides are talking past each other.

• Even if, by some miracle, the government shutdown ends, there are a half-dozen big problems facing U.S. stocks and the economy. I told you about them recently.

• Most Americans are just scraping by. Nearly 80% of Americans live paycheck to paycheck. Nearly 60% have less than $1,000 in the bank. When things go bad, they could go bad in a hurry.
Just something to keep in mind as you choose your next investments.
Personally, I think gold and gold miners will do well. That's because they're "safe harbors" — the kind of investments people run to when they get scared.
And if you aren't scared yet … well, just you wait.
Again, the government shutdown, along with its ripple effects on workers, businesses and the U.S. economy, is just one of the immediate threats to your own financial well-being. There's also …
• When the next big leg of the bear market will begin

• What the bond market is telling us right now about the Fed's next moves

• When gold will break out to new highs

• My No. 1 gold stock pick

• Which are the most vulnerable stocks and how to make a not-so-small killing when they fall out of bed.
In case you missed my urgent briefing about these threats, and the opportunity they present to you right now, watch it here.
Then, be sure to register for Dr. Martin Weiss' and my next video briefing, "4 Shocking Forecasts and 4 New Fortunes for 2019 and Beyond." All it takes is a single click here, and you'll be all set for Tuesday, Jan. 29 at 2 p.m. Eastern.
All the best,
Sean