2018: The Year of What? Commodities
Friday, March 02, 2018
"Recent information on inflation along with prospects for a continued solid pace of economic activity provided support for the view that inflation ... would likely move up in 2018."
- FOMC minutes of January 30-31 meeting
According to the Chinese zodiac calendar, 2018 is the year of the dog. But for investors, 2018 is going to be the year of commodities.
The commodity boom isn't a new development. Precious metals, base metals, agricultural commodities, and crude oil have all moved higher. Take a look at how commodities have fared over the last few years.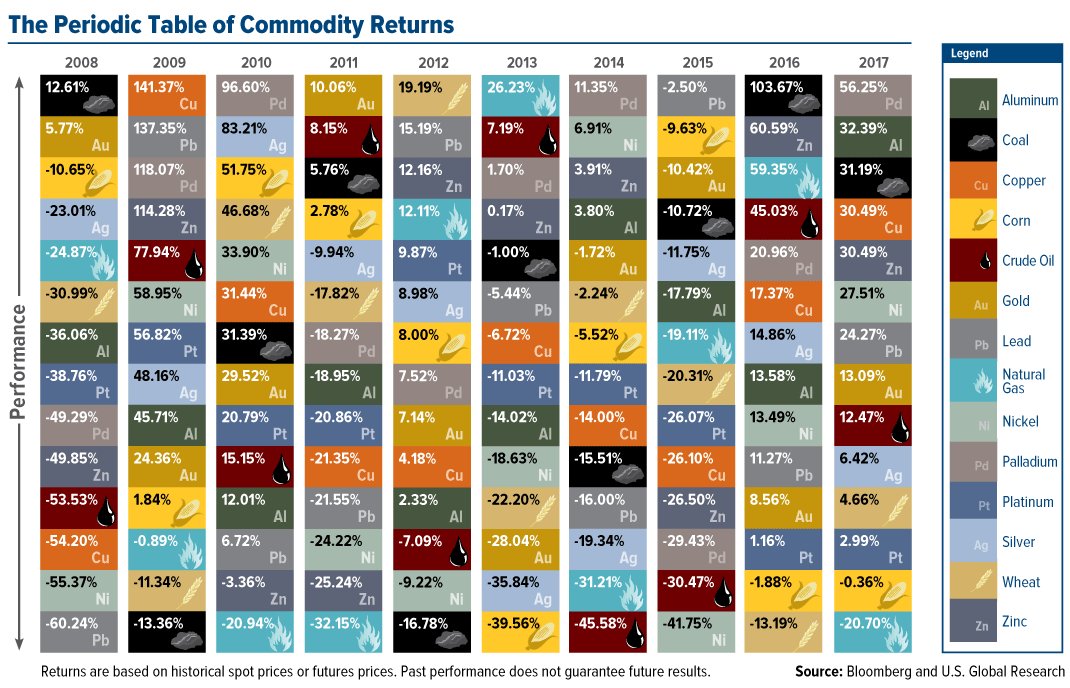 In 2017, for example, cooper, aluminum, coal, zinc, and palladium were all up by more than 30%.
What about 2018? According to highly respected fund manager Jeff Gundlach, 2018 will be even better. He recently said:
"We believe the outlook for commodities this year is simply a continuation of last year's trend with a greater emphasis on EM ex-China, which will make the composition of already robust global growth more commodity intensive. With low and declining inventories in key commodity markets, we expect commodity price volatility will rise from the current historically low levels."
In fact, Gundlach said that commodities are his top investment idea for 2018 because they are as cheap compared to equities as they have even been.
The primary driver for the commodity boom is simple: Inflation is starting to take off. From 2010 to 2015, annual inflation as measured by the Consumer Price Index averaged about 1.5%. But it then climbed to 2.1% in 2016 and 2017, and the most recent CPI numbers came in even stronger than Wall Street was expecting.
The CPI tracks a basket of food, gas, energy, utilities, clothes, automobiles, transportation, medical services, and housing prices, and it showed an alarming 0.5% rise in month of January. That would annualize to a dangerous 6% inflation rate.
Meanwhile, inflation at the wholesale level as measured by the Producer Price Index is also running hot, with a 0.4% increase in January.
Additionally, the U.S. dollar has been moving lower -- and commodities tend to rise when the dollar is falling. Last week, the dollar index dropped to 89, the lowest reading in three years.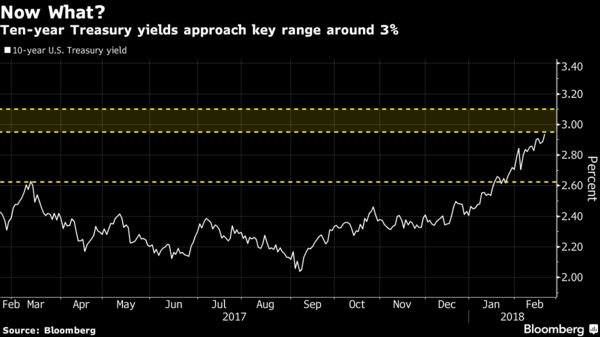 That higher inflation has sent interest rates on a steady rise since Christmas. The yield on the 10-year Treasury note came within a whisper of hitting 3% last week, and looks like it could go much higher.
Bottom line: This trend of higher interest rates, higher inflation, and higher commodity prices could last for several years, so now is the time to add some commodity exposure to your portfolio.
There are plenty of ETFs and mutual funds to consider in our Weiss Ratings coverage universe. For instance, we track 167 ETFs and ETNs focused on underlying commodities and 279 mutual funds that invest in natural resources or precious metals stocks.
But I believe one of the best ways to find individual standouts is to use the Stock Screener technology you have access to as a Weiss Ratings Platinum subscriber (Not signed up yet? Please call 877-934-7778). For instance, you can create a screener that drills down first to the "materials" industry, then sort in descending order by Weiss Rating.

Data Date: 2/27/2018
If you do so, this is the list of the "Top 10" you'd see as of earlier this week. Clearly, these stocks have been great performers over the past year – with total returns of anywhere from 7.8% to 120.4%!
As always, timing is everything so I'm not suggesting that you rush out and buy these stocks tomorrow morning.
However, if you haven't devoted a healthy dose of your portfolio to hard assets like commodities, you're going to miss out on what could be most profitable trade of the year.
Best wishes,
Tony Sagami