How Weiss Ratings Can Help You Unearth the 'Next Apple'
Friday, August 10, 2018
I bet that Warren Buffett had a huge smile on his face last week.
I say that because Buffett's investment franchise, Berkshire Hathaway, owns 240 million shares of Apple (AAPL). And it pocketed a cool $2.7 billion last Wednesday when Apple busted through the $200-a-share mark.
In doing so, Apple became the first publicly traded company in U.S. history to hit the $1 trillion market cap threshold. This goosed the value of Berkshire Hathaway's stake to $48 billion.
Buffett started buying Apple stock last March. While he has already made a bundle, he has only made a fraction of what he could have if he had bought 10 years earlier.
If you had invested in Apple 10 years ago — in August 2008 — you would be sitting on a 922% return, or almost 10 times your money. Wow!
Of course, you can't go back in time to make that trade. But Weiss Ratings can help you identify the candidates to become the "next Apple."
For example, there are a couple of hardware companies — CDW Corp. (CDW) and II-VI Inc. (IIVI) — with even higher ratings than Apple.
Additionally, Weiss Ratings also grades 1,900 ETFs and more than 27,000 mutual funds.
If you're socking away money into a 401(k), I urge you to check the Weiss Ratings on each of the mutual funds and/or ETFs in it.
Our Top 'A'-Rated Stocks Outperform the S&P 500 By Almost 300%…
Let's say you had NOT followed our ratings and instead bought an S&P 500 index fund in 2010. You could have seen a very nice return on your investment of around 115%. If you invested $50,000 back then, you'd now have $107,280 in your pocket. Not a bad return over six years.
HOWEVER ... had you filled your portfolio with just our top 10 'A'-rated stocks (our strongest BUYs out of more than 9,400 stocks), you could have enjoyed a return of more than 270%! Nearly TRIPLING your money, and beating the S&P by 156%!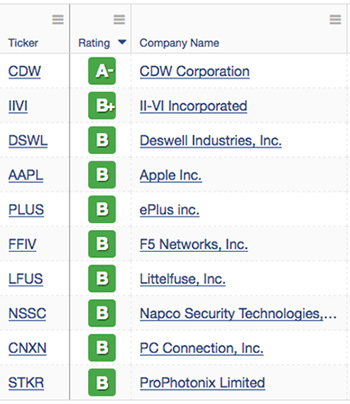 Many other tech stocks get high Weiss Ratings from our unbiased grading system, including two that beat out Apple!
That's why I believe there is no simpler, easier way to profit and grow your wealth ... whether you're investing in stocks, ETFs or mutual funds ... than to use the Weiss Ratings.
Weiss is THE source for accurate, unbiased and safe ratings that you can rely on to make sound, informed financial decisions.
Weiss helps individual investors and business professionals find the best investments with an eye to avoiding unnecessary risks that could lead to financial losses.
Moreover, unlike most other ratings agencies, Weiss Ratings does not accept any compensation from the companies or investments it rates for issuing these ratings. Nor does Weiss give them an opportunity to preview the ratings or suppress their publication, which is sadly a common practice in the ratings world.
Weiss is totally independent and unbiased because its loyalty is to you. To learn more about Weiss Ratings, I strongly recommend that you watch this free 2-minute video of Mike Larson explaining how we can help you become a better investor and make more money.
Best wishes,
Tony Sagami