In an 'Everything is Expensive' Market, Here's Where to Look for Income and Profits
Wednesday, June 24, 2020
"Everything is expensive."
That's how a Longview Economics strategist recently described this environment.
Why? Because more than 80% of the markets his firm tracks are overpriced — the most in a quarter-century!
We know what's behind this of course: trillions of dollars in liquidity and cheap money for Wall Street from the Federal Reserve!
That helped fuel enormous asset inflation over most of the last decade … and it's doing so again now.
Heck, many investors are day-trading shares of money-losing companies — or even BROKE ones — like it's 1999!
Is this healthy in the long term? Of course not.
We all know what happened when too much cheap, easy money fueled enormous bubbles in tech stocks and housing — and how they popped with devastating consequences.
But as I often say, we have to invest for the market environment we have not the one we may want.
So, how can investors like you find income and profits in an "Everything is expensive" world?
No. 1: Focus on "Safe Money" stocks. I'm talking about names that give you market-beating yields, built-in safety cushions and higher Weiss Ratings.
Yes, I've beaten this drum for a long time. But it's for good reason. This strategy WORKS!
Let someone else gamble their money away on bankrupt companies with worthless shares. I'll take a stock like Safe Money Report holding Clorox Co. (NYSE: CLX, Rated "B") any day instead.
A solid "buy" grade from our Ratings model ... Market-beating dividend yield of 2% ... Business that's booming due to heightened cleaning and sanitization needs tied to COVID-19 ... New high after new high. What's not to like?
(I don't normally talk about recommendations here. But I made an exception this time to make my point. If you want more details on CLX, or the complete Safe Money Report model portfolio, just click here.)
No. 2: Seek out gains where the crowd is NOT. All they talk about on financial television is tech, tech, and more tech. But sometimes it pays to look where others aren't. That's certainly the case with off-the-beaten-path assets like gold, silver, and mining shares.
Did you know that the VanEck Vectors Gold Miners ETF (NYSE: GDX, Rated "C+") has trounced the total return of the SPDR S&P 500 ETF Trust (NYSE: SPY, Rated "C") in every single timeframe out to five years? Or that it has beaten the vaunted Invesco QQQ Trust (NYSE: QQQ, Rated "C+") on year-to-date, 1-year and 2-year bases?
It's true! But if you weren't aware, I don't blame you.
Gold miners rarely get talked about on CNBC, unlike flashier tech names. Yet that's actually good news because it means more potential buyers are waiting in the wings. As they climb on board, mining shares could rally even higher.
Meanwhile gold itself was recently trading in the high-$1,700s. If it closes above $1,800-an-ounce, the only remaining overhead resistance will be the 2011 blowoff high around $1,920.
No. 3: Bolster your income with additional strategies tailor-made for this kind of market. Let's face it. Yields stink.
You can't get more than 0.73% or so on a 10-year Treasury right now. And one look at Bankrate.com tells you everything you need to know. CD and savings account yields are low. They're falling. And there's no end in sight.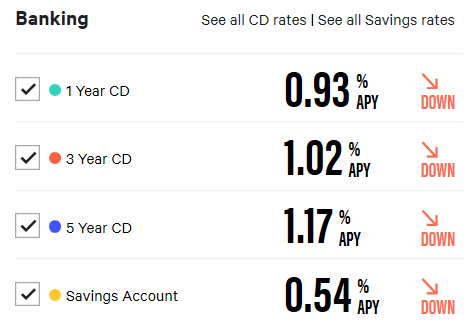 Source: Bankrate.com, 6/23/2020
Bottom line?
It's harder to find great investments at great prices when "everything" is expensive. But you can still earn income and generate profits — if you take the right approach and have solid guidance on your side!
Until next time,
Mike Larson