New Year, Same Problem: How to Generate Steady Income
Wednesday, January 13, 2021
It may be a new year. But investors are facing the same old problem:
How to generate reliable, consistent, lifestyle-sustaining income.
Why? Interest rates and dividend yields were already low at this time last year. But, once the pandemic swept across the globe a few weeks into 2020, they fell off the table.
Policymakers slashed short-term rates ... investor buying drove long-term rates into the gutter ... and the rest is history.
No matter where you turn — U.S. Treasuries, corporate bonds, certificates of deposit, money funds — it's next to impossible to find yields that are even remotely attractive. That's after taking into account a modest rise in recent weeks, too.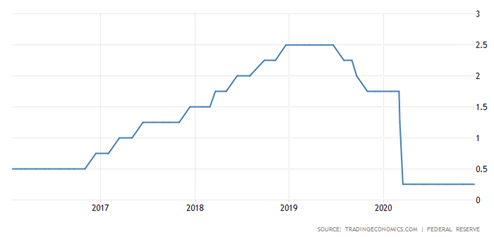 U.S. Federal Funds Rate

I wish I could tell you that was going to change. I mean, we'd all love to earn a few extra basis points of yield on our savings, right?
But it isn't going to change.
Demographics, structural issues, debt-related dynamics and other forces are going to weigh on long-term yields. And the Federal Reserve has pledged to keep short-term rates pegged to the floor for the foreseeable future, while continuing to buy $120 billion in Treasuries and mortgage-backed securities per month.
Moreover, even the incredibly painful and shocking political trauma we've seen in Washington lately won't change things.
That's because neither the incoming Biden administration, nor the Republicans who will oppose it, want the Fed to change tactics. Politicians across the political spectrum want to keep the cheap, easy money flowing — regardless of the impact on the income investors like you can earn.
That's why our team has spent so much time in recent months finding ways to create income the state can't suppress. It's also why I hope you've taken the time to check out Dr. Martin Weiss's recent event, "The South Florida Income Miracle."
Dr. Weiss explains how it's possible to generate up to $1,000 in income a week — with relative safety and reliability. You can catch the first part of this two-part series by clicking here.
Bottom line? This low-rate, low-yield, low-income environment isn't going away anytime soon.
That makes it essential for investors to hunt down their own solutions.
Until next time,
Mike Larson