No Recession, No Bear Market
Friday, February 23, 2018
Every bear market starts as a correction, and the bull market officially slid into "correction" territory when the S&P 500 fell by more than 10% from its January 26 high.
The speed of the correction — which only took 13 days — alarmed a lot of investors, both professional and individual. The last time the stock market lost 10% in less than two weeks was 1928.
Yikes!
The question is whether that correction will accelerate into a full-blown bear market, with the market falling by more than 20%. That would require the S&P 500 to fall below 2,300 – a level it hasn't seen since last February.
Here's what I told my Weiss Ultimate Portfolio subscribers on Thursday February 8, right in the middle of the panicky sell-off.
And here's what I would tell you: Market corrections are actually quite common. We just haven't had one for a long time. Historically, corrections happen a little more than once per year, and the average decline for the S&P 500 during a correction is 18%.
However, the odds of a bear market are quite low because our economy is NOT in a recession. Nothing is guaranteed in the investment business, but history tells us that bear markets rarely happen without an economic recession.
Consider: There have been 11 corrections during non-recessionary times of at least 10% since 1976. Only one time did the correction accelerate into a bear market: 1987.
Yup, that 1987.
In those 11 non-recession corrections since 1976, the S&P 500 dropped by an average of 15% ... took 98 days to bottom out ... then another 84 days to recover to the prior peak. In general, the faster the corrections, the quicker the recoveries.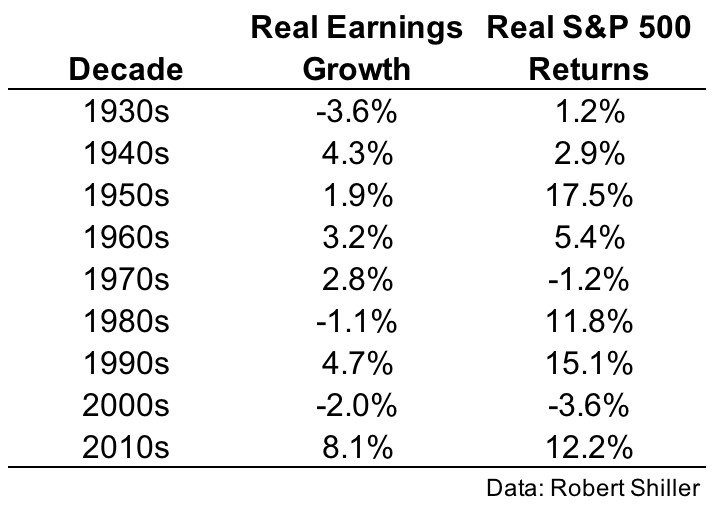 Remember this: Bear markets are born from excessive euphoria, grow on deteriorating economics, and mature on recession.
Sure, it is easy to forget that the stock market is NOT the economy. But that is exactly why I told my subscribers to BUY, BUY, BUY!
We're in one of the rarest periods of spectacular "real" economic growth in our lifetimes. As the below table shows, the real earnings growth (earnings minus inflation) of corporate America is unprecedented.


Unprecedented good!
Moreover, our economy is going to get even stronger. The consensus forecast is for S&P 500 profits to increase by 18% in 2018, which are hardly recession-like numbers.
Additionally, corporate buybacks are taking off like a rocket. Since President Donald Trump signed the tax bill into law, companies have announced about $171 billion in stock buybacks -- a year-to-date record.
Lastly, the Treasury yield curve is flashing a coast-is-clear sign. A steepening yield curve is a sign of economic strength, and the spread between the yield on the 10-year Treasury Note and the 3-month Treasury Bill has widened to 128 basis points. That is NOT what you would see happening in the bond market if a recession was imminent.
In short, the stock market is going to gyrate. But corporate profits are growing so strongly that — other than an unforeseen external shock — I don't see a chance of a recession anytime in the near future.
No recession = More bull market. So stay invested!
Best wishes,
Tony Sagami