Pandemic Spending Is Bullish for Banks
Friday, October 16, 2020
We've all have been affected by the coronavirus pandemic.
For me personally, I don't enjoy wearing masks — though I still put one on when leaving the house, so I limit my reasons for stepping out. My favorite fall activity, tailgating with my college friends before a University of Washington football game, is on an indefinite hold. And worst of all, I haven't been able to see my one-and-only precious grandchild since March.
These major disruptions to my social life naturally mean that my spending habits have drastically changed.
I haven't spent a penny on travel since March, I have drastically cut back on eating out, entertainment and clothes. In fact, I haven't been spending much money at all.
Budgets for millions of American households have been completely reworked.
Bank of America Corp. (NYSE: BAC, Rated "C") knows a thing or two about credit card spending patterns, and according to a recent study, Americans are spending a lot more money on things like pets, education and their homes.
For example, spending on pets is up 23% over the last year to an average of $200 per month.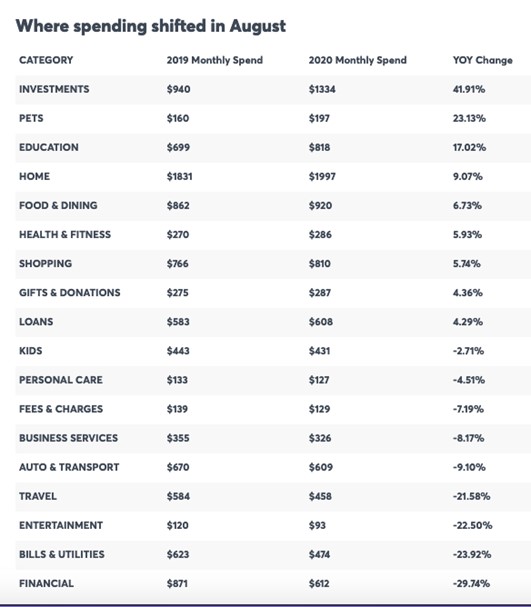 Source: CNBC
On the opposite end, Americans are cutting back in a big way on things like travel and entertainment, which are down 21% and 22%, respectively.
Millions of Americans are out of work and struggling, but for the fortunate ones that are still working, we're simply shuffling our budget from one area to another.
Instead of buying airplane tickets and hotel rooms, we are remodeling and furnishing our homes. Instead of eating at restaurants, we are cooking at home and funneling the savings into investments.
Americans are spending less and saving more. 53% of Americans are saving more money than usual and 51% say they will continue to save more regardless of what happens with coronavirus.
As an investor, you should be asking yourself where all those savings dollars are going: Big national banks like Bank of America Corp. (NYSE: BAC, Rated "C") and JPMorgan Chase & Co. (NYSE: JMP, Rated "C")? Or smaller regional banks? What about credit unions?
The answer is probably all three, and there are a handful of ETFs that will help you profit from the savings wave.
Here are five solid options at your disposal:
SPDR S&P Bank ETF (NYSE: KBE, Rated "D")
iShares U.S. Regional Banks ETF (NYSE: IAT, Rated "D")
Invesco KBW Bank ETF (Nasdaq: KBWB, Rated "C")
SPDR S&P Regional Banking ETF (NYSE: KRE, Rated "D")
First Trust NASDAQ ABA Community Bank Index Fund (Nasdaq: QABA, Rated "D")
If you think the big national banks will be the big winners, you should consider the SPDR S&P Bank ETF or the Invesco KBW Bank ETF.
Megabanks have a sizable cost advantage over smaller banks. The average community bank has less than $5 million in assets per employee, while big banks can have $20 million in assets per employee.
But bigger isn't always better. That size can work against big banks because the rise in savings will only have a modest impact compared to how it can affect the profits of smaller regional or local banks.
The best banking ETF for exposure to smaller banks is the First Trust NASDAQ ABA Community Bank Index Fund. Its portfolio of community banks trades for an average of 11 times earnings, 94% of book value and pays a 3.4% dividend.
That doesn't mean you should rush out and buy any of these ETFs tomorrow morning. Do your research to see which ETF holds positions you believe will benefit the most and keep in mind that timing is half the challenge of investing.
That said, I believe that the coronavirus will have a long-lasting impact on the way Americans think about and spend money. And that means a generationally higher savings rate and big profits for banks.
Best wishes,
Tony Sagami