Stock Market Says: 'You Have to Own Gold!'
Monday, October 28, 2019
If you're just looking at the major stock market averages today, you're probably thinking there is nothing to worry about.
The Dow Industrials are only 500 points or so off their July highs. The S&P 500 is trading around 3,000, putting it within a whisker of its own fresh, all-time high. And volatility, as measured by the Volatility Index (VIX), is relatively subdued at 13-and-change.
So, all good. Right?
Not really, no. In fact, our own proprietary data shows plenty to be concerned about ... and plenty of reasons to own gold, silver and especially miners, which are leveraged to the metals and can pack a big profit punch when precious metals are on the move.
And they are about to move up in a BIG way …
In fact, my colleague Sean Brodrick has discovered three powerful, cyclical forces are converging right now — for the first time — to slow the economy and send gold through the roof.
If you haven't seen his video explaining all this — why we can expect to see gold surge to new, all-time highs, and even double to $3,000 and beyond by 2021 — then I urge you to check it out here while it's still available.
And it's not just Sean who is paying attention to all the forces set to drive gold higher … perhaps MUCH higher. As I said, the Weiss Ratings proprietary data has a lot to say. Let me explain ...
Here at Weiss Ratings, we analyze and issue grades on approximately 16,100 U.S. and Canadian stocks, 2,300 ETFs and 28,100 mutual funds. Those Ratings are updated each and every trading day as new information comes in.
It's a monumental data-processing task. But it's one we feel is well worth it because it gives you the best, most up-to-date information —information you can use to make smarter investment decisions.
In any event, one thing I'm able to do with all this data is follow and chart the evolution of the Weiss Ratings "Buy"/"Sell" ratio. This ratio measures how many stocks are earning "Buy" ratings vs. how many are meriting "Sell" ones.
The higher this ratio, the healthier the underlying market trend is. That's because it signals that breadth is strong. The lower the ratio, the less healthy the trend is. That's because it shows more "average" stocks are failing to keep up with the averages themselves.
With that in mind, look at this chart ...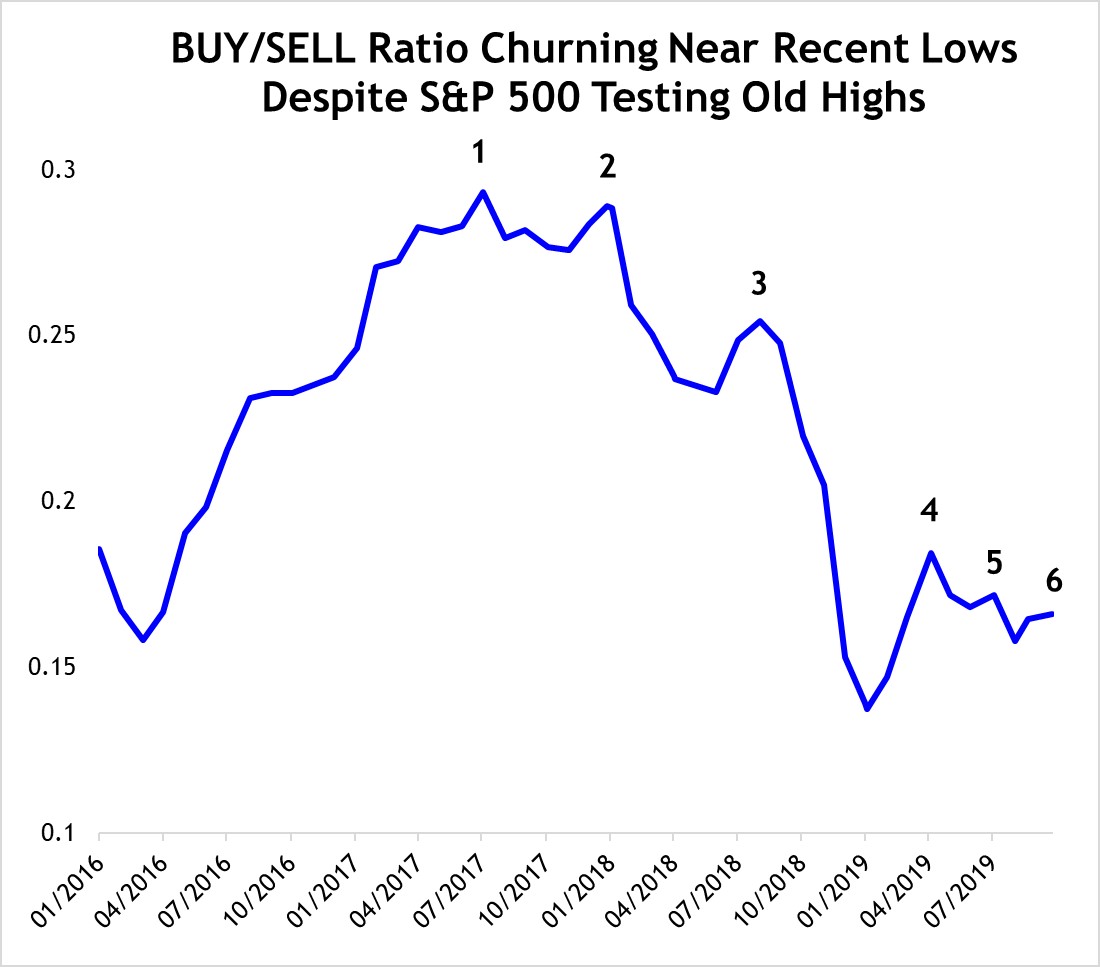 Source: Weiss Ratings, Data Date 10/23/2019
You can see that the "Buy"/"Sell" ratio has continued to make a series of lower highs even as the S&P 500 is trying to make a series of (very modest) higher highs.
That troubling divergence has been in place in both the longer term (since January 2018) and the shorter term (since this summer).
It's also completely unlike what we saw before January 2018. Back then, market advances we're being "confirmed" by our proprietary, in-house data.
So, forget about opinion for a minute. Forget about whether I or anyone else says this is a bull market, a bear market or something in between.
Because the cold, hard data is showing that things aren't as rosy "behind the scenes" as they appear from just a quick glance at the S&P 500 or the Dow or the VIX.
And you know what conclusion that brings me to? You HAVE to own gold, silver and precious metals miners!
They are great "chaos insurance" investments against potential future turmoil. They are exactly what should work best if trust in paper assets wanes … if recession risk rises … and if investors are searching for ways to protect their hard-earned wealth.
So again, I urge you check out Sean's free video if you haven't seen it yet.
He addresses how and why he expects gold to double in price to $3,000 and even beyond by 2021. Better yet, he tells you the smartest way to play this first leg of this gold bull market. For all these details and more, watch here.
Until next time,
Mike Larson