Stock Wars: The Rise of Value Investing
Wednesday, November 20, 2019
Walt Disney Co. (DIS, Rated: "B") took over the "Star Wars" brand name and intellectual property in 2012 when it bought Lucasfilm for $4 billion. Since then, the media conglomerate has been raking in billions by churning out movies, TV shows and even theme-park attractions based on characters in the legendary "galaxy far, far away."
That includes the soon-to-be-released "Star Wars: The Rise of Skywalker." I'm sure it'll make a bazillion dollars at the box office, just like all the other movies have.
Movie buffs and Disney shareholders have a lot of action to look forward to next month ("Star Wars" hits theaters Dec. 20). Meanwhile, there's a "stock war" that's quietly heating up, virtually unnoticed.
But for Disney shareholders (not to mention those in scores of other companies), it's the "Rise of Value Investing" that's really paying off. And that has potentially important implications for your portfolio.
First, some background.
So-called momentum stocks have trounced value names for the last several years. Investors have been chasing companies with fast, non-cyclical growth rather than those that are more economically sensitive and trade at lower multiples.
That, in turn, has led to an incredibly wide gulf in performance. As the Wall Street Journal noted Monday, large-capitalization growth stocks in the S&P 500 have gained 230% in the last decade, compared with just 142% for value names.
You can also see this by looking at a three-year chart comparing the ratio of the iShares Russell 1000 Value ETF (IWD, Rated: "C+") to the iShares Russell 1000 Growth ETF (IWF, Rated "C+"). Clearly, IWD has been dramatically underperforming the IWF for a long, long time.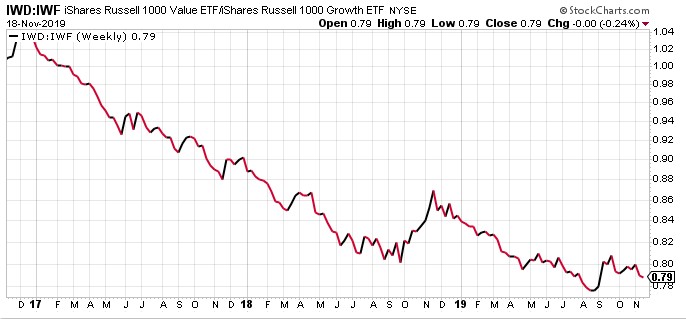 Source: StockCharts.com
Of course, this has left value stocks extremely undervalued vis-à-vis their growthier counterparts.
This graphic from the Journal story shows that forward price-to-earnings ratios for value stocks are about as depressed as they've ever been relative to P/Es for growth stocks. It's something I can't help but pay attention to as a more conservative analyst by nature.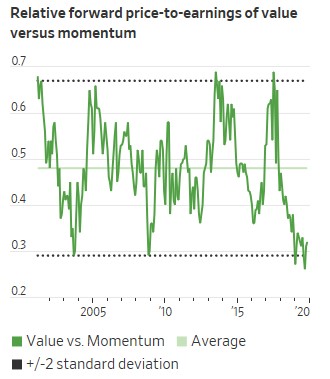 Source: Wall Street Journal
I'm also paying close attention to the shift we've seen in the last several weeks.
More specifically, value names have started to get their revenge on growth stocks!
The IWD has gained almost 8% in the last three months, compared with a rise of around 6.3% for IWF. You can see that reflected in the stabilization on the far right of my ratio chart.
Disney is one of the top 10 names in the IWD, so it's clearly benefiting from this shift. The stock just hit an all-time high above $150.
Other stocks in the financials, healthcare, energy and consumer staples sectors round out the list of value names. They sport an average P/E ratio of 17.8 and price-to-book ratio of 2.1, compared with 28.8 and 8.5 for stocks in the IWF.
So, what does this all mean for investors like you?
Well, I'm still not convinced we have a powerful, lasting breakout here for the averages. I want to see confirmation from credit and volatility markets, as well as our own proprietary Weiss Ratings data before getting more aggressive with long positions.
But given this nascent trend — and my overall view on the economy and the markets — it makes sense to:
1. Stick with the "Safe Money"-style stocks I've been favoring in my newsletter for a long while now. They're performing very well for subscribers, and spinning off hefty dividends in the process. You can click here for more information on specific "Safe Money" picks.

2. Continue buying precious metals and mining shares on pullbacks. It's clear to me we're in a new bull market for bullion, one that is still just beginning.

3. Start combing through the long-suffering value sector to see what stocks might be worth adding IF we get confirmation of a new advance.
I'd avoid names in the financial sector given the likely credit loss issues that could arise in a recession scenario. But stocks in sectors like health care and consumer staples may offer the right combination of yield, stability and slowdown-resistant business models.
That's where I'm going to be focusing my efforts while I wait to see if the revenge of value stocks can prove as compelling and exciting as the latest "Star Wars" flick.
Until next time,
Mike Larson