Uber: The Latest Overvalued Tech Turkey in a Long Line of IPOs to Come
Wednesday, May 15, 2019
Editor's note: The video recording of our Weiss Ratings' Urgent Cannabis Briefing is now offline. But for the next 24 hours, you can still review the full transcript. To view it online now or download the PDF, go to this page.
This morning, I'm getting ready for a full slate of presentations, interviews and panel discussions at the MoneyShow Las Vegas. If you're out here, I hope you can catch them. And if you couldn't make it to in the Silver State, you can livestream my "Final Crash: A Weiss Ratings Perspective" session at noon Eastern/8 a.m. Pacific by clicking that link. It's free to attend in person or online.
We often talk about the best ways to make money. Today, I want to talk about something that's losing money … that you should avoid at all costs. I'm talking about the Uber (UBER, Unrated) Initial Public Offering fiasco, and the long line of tech turkey IPOs that are right in line behind it.
If you avoided the Uber IPO, great. But this disaster has bigger implications for the markets than you might realize …
We all know the ride-sharing company Uber. Many of us use its services. But just like its predecessors from the late, great dot-com bubble, the company has a "slight" problem …
It doesn't make any money!
I'm not just talking about losing a few bucks for a quarter or two. I'm talking about operating losses year-in and year-out, dating back to its founding in March 2009. It's all right there in the company's S-1 IPO filing (for investors who want to read it):
"We have incurred significant losses since inception, including in the United States and other major markets. We expect our operating expenses to increase significantly in the foreseeable future, and we may not achieve profitability.

"We have incurred significant losses since inception. We incurred operating losses of $4.0 billion and $3.0 billion in the years ended Dec. 31, 2017 and 2018, and as of Dec. 31, 2018, we had an accumulated deficit of $7.9 billion."
Despite the obvious risks ... not to mention warnings from concerned analysts like myself, dating back as far as mid-2018, that the IPO mania will end in tears ... Wall Street investment banks and company execs plowed ahead with deal preparations. Then last Thursday evening, Uber sold $8.1 billion worth of stock at a per-share price of $45.
That was lower than originally hoped for. But many bullish tech types said this was fine. They assumed it was so conservative, it would lead to a big "pop" in the shares when they started trading on Friday. After all, the average tech IPO has risen 41% in its first day of trading over the past 24 years, per Dealogic.
Suffice it to say that did NOT happen. Instead, Uber's early price indications kept slipping and slipping. Then when the stock actually opened, it tanked almost immediately. And after a feeble midday rally attempt, it fell anew, ultimately dropping 6.7% to $41.70.
That resulted in a cumulative loss of $655 million in market value. Measured in dollars, that was the worst first-day loss for any IPO in all of U.S. market history.
It also drove Uber's all-in value down to around $76 billion. That compares to the $120 billion valuation its investment bankers were kicking around in late 2018. Or in other words, one of the highest-profile tech "unicorns" effectively lost $44 BILLION in value — around 37% - in just a few months.
Of course, Uber isn't alone.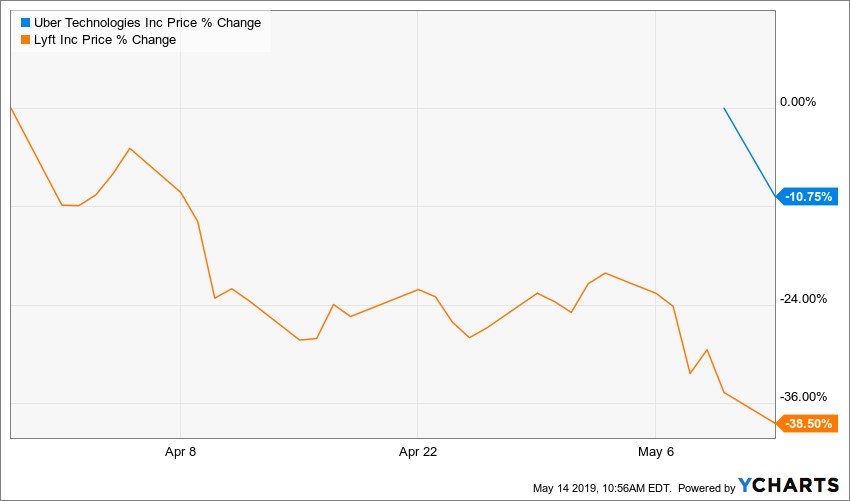 Lyft is down 38% since its March IPO, and Uber is down more than 10% since it debuted late last week.
The stock price of ride-sharing competitor Lyft (LYFT, Unrated) spiked to almost $89 on its IPO day. But it too almost immediately started tanking. In fact, it fell to $47 and change during Monday's market rout, a 47% plunge in just a few weeks.
And while they haven't gotten as much press, dozens of other money-losing, high-risk tech, biotech and Chinese IPOs hit the market since early 2018.
All told, last year featured the greatest percentage of money-losing companies coming public in history – with around 85% of IPO firms losing money in the 12 months prior to their offerings.
The only time we even came close was at the peak of the dot-com bubble in 1999. That's why I'm sharing this slide in one of my presentations today:
Just as I warned they would last summer, many of those smaller, less-visible IPOs are now crashing and burning. This is happening even as more defensive, higher-yielding "Safe Money"-style stocks with higher Weiss Ratings continue to shine, vastly outperforming overhyped tech dreck.
I see no reason for that to change. After all, more and more money-losing tech companies are lined up right behind Uber. They all need continued access to capital to fund ongoing, sizable losses. So, they're going to keep coming hat in hand to Wall Street – and, by extension, investors like you.
My advice? Tell 'em to take a hike!
Instead, invest in companies that actually have a history of making money ... that can continue to make money even in tougher economic times ... and that at least offer you some margin of safety in terms of conservative valuations and generous dividend yield.
Those are the kinds I'll be discussing here in Las Vegas and again at the next MoneyShow in Seattle June 15-16. (You can register for the Seattle event here.) And of course, they're also the kinds of investments I recommend in my Safe Money Report. You can get all the details by clicking here.
As for Uber and its ilk, feel free to use their services. Especially since they're willing to sell them to you at prices so low, they generate nothing but losses. Just think twice before buying their shares!
Until next time,
Mike Larson