Your Favorite Income Stocks are Surging; Now Make the Most from Them
Wednesday, January 15, 2020
It's been a great start to the year for my favorite, income-generating stocks. Several names from my Safe Money Report newsletter are hitting multi-year or all-time highs, with their common traits being:
1) Solid Weiss Ratings

2) Market-beating dividend yields, and ...

3) Business models that shine at this point in the economic cycle.
But frankly, the incredible outperformance of income stocks is nothing new. Look at the data and you'll see they've been leading this market for some time. And they're doing so without all the hype and hoopla of money-torching IPOs, over-loved and over-owned tech stocks, or other higher-risk investments.
Just look at this table below showing TWO-YEAR total returns for various sector ETFs. I went back that far to show that this isn't some flash-in-the-pan trend.
You can see that plain-vanilla, allegedly stodgy, Steady Eddie "utes" have returned around 37.5% in the last 24 months. That gain for the Utilities Select Sectors SPDR Fund (XLU, Rated "B") actually beat the return generated by tech stocks, as represented by the Invesco QQQ Trust (QQQ, Rated "B-")!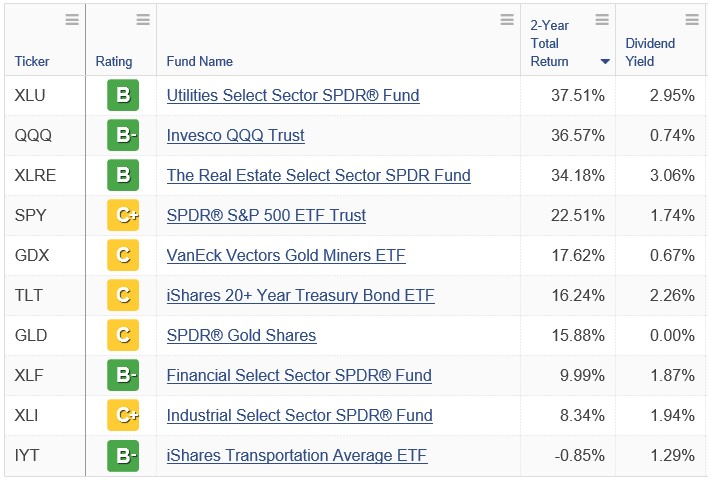 Source: Weiss Ratings, Data Date: January 13, 2020
What about the Real Estate Select Sector SPDR Fund (XLRE, Rated "B"), the ETF that represents higher-yielding, lower-volatility Real Estate Investment Trusts (REITs)? Boom! It's showing gains of more than 34%, trouncing the 22.5% return for the SPDR S&P 500 ETF Trust (SPY, Rated "C+").
Not only are income stocks like utes and REITs generating sizable capital gains, but they're also spinning off much more generous yields. Both XLU and XLRE recently yielded around 3%. That's more than four times the yield on the QQQ and around 125 basis points greater than the yield on the SPY.
Furthermore, they're generating these returns with lower beta and standard deviation readings. In plain English, that means they're doing so with less volatility and/or fewer wild swings than sectors like tech.
Bottom line? Investing for income is a smart, profitable, prudent way to play this market. And to help really turbocharge the income you can spin off from it, my team and I just unveiled the findings of our largest, most in-depth income-focused research project ever!
Speaking of, the Weekend Windfalls Founder's level pricing ends TONIGHT at 11:59 PM! If you haven't yet secured your spot, click here to get in now before this one-time offer expires. Then get ready to collect your $1,000 (or multiples of $1,000) THIS Friday… and every Friday thereafter! Just click here now for instant access.
I recommend you check that out while it's still online. I know you'll be glad you did!
Until next time,
Mike Larson