Overdraft, ATM, and Maintenance Fees Now Cost $16.8 Billion Per Year; Here's How to Avoid Them...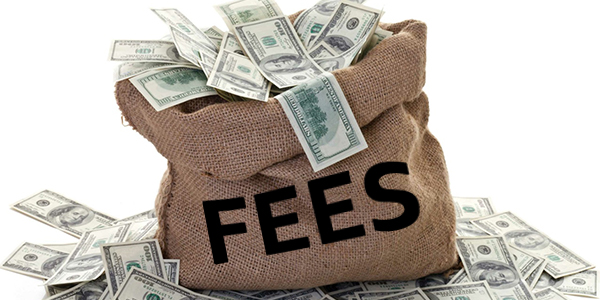 You work hard to earn your money, and you deposit it into a bank account so it can be kept safe and so you can have access to it later. But at what cost?
Around $4.2 billion per quarter, or $16.8 billion at an annualized rate — from the largest banks alone! That was the latest reported amount collected by the largest U.S. banks from ATM, overdraft, and maintenance fees.
Only banks with at least $1 billion in assets are required to report the data, and they represented just 10.6% of the industry in Q1 2017. That means the grand total for all American consumers is much higher.
So, how do these fees work, and how can you avoid them?
First, let's take a look at ATM charges. If you walk into your bank's branch or use its ATM, the transaction is free. But what if you're out of town or in a remote area and your bank is nowhere to be found? Well, be prepared to pay up to get your money.
The ATM service fee can set you back a few bucks depending on where you are. If it's just a random bank ATM on the street, the fee could be low. But if you're out and about in a popular restaurant or bar area, you could end up paying extra to withdraw that twenty-dollar bill.
Bank ATM fees alone added up to $476.2 million in Q1 2017. That was up 9.1% from $436.3 million two years ago.
Next up is overdraft fees. They can be avoided with budgeting and careful money management. But times can get tough and overdrafts do occur. These type of fees totaled $2.7 billion in Q1 2017. That's 12.8% higher than $2.4 billion two years ago.
Finally, a maintenance fee is the amount charged by the bank to hold and service your account. Some banks will waive it if you set up direct deposit or maintain a set minimum balance. Others just charge a fee and you can't do much about it, except look for another institution to bank with.
Maintenance fees have gone up 8.5% over the last two years, from $942.8 million in Q1 2015 to slightly more than a billion dollars in Q1 2017.
Here is the breakdown of the three fee types and how they've changed over the last two years:
As you can see, over-drafting bank accounts generates the most income for banks. Account maintenance fees come in second, while ATM fees come in third. All three types have climbed steadily from Q1 2015, and they now represent 12.5% of the net income of reporting banks in Q1 2017.
When it comes to individual institutions, these 20 banks are the largest fee collectors this year so far:
20 Banks with Highest Q1 2017 Fees
Bottom line: Overdraft, ATM, and maintenance fees can be avoided by careful planning. But we're not always able to do so and end up paying quite a bit to access our own money. Data shows that banks rely on these fees as they represent sizeable portions of their bottom lines and will continue to impose them.
If you think your bank is overcharging you, feel free to browse other banks and their safety ratings on our website — and maybe you'll find something better.
Think Safety,
Remi Lukosiunas
Money and Banking Edition, By Remi Lukosiunas, Financial Analyst
Remi Lukosiunas, a Financial Analyst, joined Weiss Ratings in 2014 with a financial services background in internal audit and the credit union industry. Remi conducts banking, credit union, insurance and investment research. He has also written extensively on stocks and investing using ratings as a guide. Remi is a graduate of Florida State University with a degree in multinational business.