Defense Stocks Powering Sector ETFs Skyward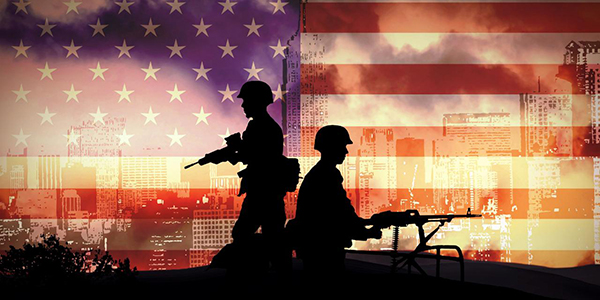 Just over a month ago, I highlighted the defense sector as a great place to invest in 2017. The key reason: Donald Trump has pledged to unleash the biggest boom in defense spending this country has ever seen.
Boy did that call ever pan out! Several individual defense stocks are hitting mutli-year or all-time highs, and that's powering the sector ETFs in my Defense and Cyberwarfare ETF Screener skyward. I linked to that Screener in my January 13 column, and you can see that …
* The PureFunds ISE Cyber Security ETF (HACK, Rated "C-") was up 10.9% year-to-date as of earlier this week, while the SPDR S&P Aerospace & Defense ETF (XAR, Rated "B") was up 6.3%. Those returns handily beat the 4.7% YTD rise in the SPDR S&P 500 ETF (SPY, Rated "B").
* If you look at performance over the past year, the returns are even more spectacular. HACK is up a whopping 50.9%, while XAR is up 47.8%. Even the group laggard for 2017, the PowerShares Aerospace & Defense Portfolio (PPA, Rated "B") has tacked on 39.2% in the last year. That compares to a 27.9% advance for the SPY.
What's more, I believe this move is just getting started. Consider the news we've been treated to over the past several days …
1. North Korea test-fired a medium-range ballistic missile this past weekend. The missile flew for more than 300 miles before dropping into the sea between the Korean peninsula and Japan. Stephen Miller, Trump's senior adviser for policy, responded by saying:
"We're going to be sending another signal very soon, and that signal is when we begin a great rebuilding of the armed forces of the United States … President Trump is going to go to Congress and ask them to invest in our military so once again we will have unquestioned military strength beyond anything anybody can imagine."
In other words, the massive military buildup that I forecast weeks ago is only getting more likely with each passing day. I wouldn't be surprised if we see even more demand for products like the Terminal High Altitude Area Defense, or THAAD, system that Lockheed Martin (LMT, Rated "B") makes. South Korea is due to receive its first such system later this year, but delivery could be accelerated as a result of the North Korea news.
Keep in mind there are several other U.S. companies operating as subcontractors on the THAAD system. So that means additional sales will spread the wealth around. Meanwhile, the Patriot missile defense system from Raytheon (RTN, Rated "A-") continues to see strong demand from friendly nations around the world – a trend that won't change anytime soon. After all …
2. Trump's National Security Adviser Michael Flynn put Iran "on notice" recently after the country test-fired a key missile. Hundreds of thousands of Iranians responded on February 10 by rallying in the streets, carrying banners that read "Death to America" and burning Trump in effigy.
3. Elsewhere in the Middle East, Yemen's proxy war is continuing to grind on, with no end in sight. And China is continuing to build up its military presence in the South China Sea, fortifying reefs, islands, and newly established bases throughout disputed territory.
Look, I wish the world was a more peaceful place. But what I want and what reality is are two different things. We can only make decisions as investors that reflect that reality – and right now, world events are pointing toward even more gains for defense stocks and defense ETFs.
So I urge you to check out my brand new special report, called American Arms Bonanza: How to Profit as Trump Spends Trillions to Make Our Military Great Again. This report contains all the critical intelligence you need to capitalize on this coming spending boom. It also includes five specific stock recommendations – picks that are already trading into profit territory. You can download your copy by clicking here
Until next time,
Mike Larson
ETF Spotlight Edition, by Mike Larson, Senior Analyst
Mike Larson is a Senior Analyst for Weiss Ratings. A graduate of Boston University, Mike Larson formerly worked at Bankrate.com and Bloomberg News, and is regularly featured on CNBC, CNN, Fox Business News and Bloomberg Television as well as many national radio programs. Due to the astonishing accuracy of his forecasts and warnings, Mike Larson is often quoted by the Washington Post, Chicago Tribune, As-sociated Press, Reuters, CNNMoney and many others.