Fed Corruption Fuels the Inflation Fire
Robert Kaplan graduated from Harvard Business School with an MBA. He climbed to the top of Goldman Sachs (NYSE: GS) and was appointed president of the Federal Reserve Bank of Dallas in 2015.
He's also amassed a nearly $1 billion personal fortune.
That's more than enough money for most. But not Kaplan, who was reportedly lining his pockets by front-running Fed announcements.
According to The Wall Street Journal:
Dallas Fed President Robert Kaplan wasn't just trading like an aggressive hedge fund kingpin in 2020.

He's been doing the same thing for five years at the Dallas Fed while simultaneously having access to non-public, market moving information from the Federal Reserve's interest-rate setting FOMC meetings and other confidential communications.

Each of Kaplan's financial disclosures forms dating back to when he first became Dallas Fed President on September 8, 2015 (which we obtained directly from the Dallas Fed) shows that Kaplan was trading in and out of S&P 500 futures, a highly speculative form of trading used by hedge funds and day traders.
Kaplan resigned from the Federal Reserve last week and defiantly claimed no wrongdoing.
To make the matter worse, in accepting his resignation, Fed Chair Jerome Powell praised Kaplan. BARF!
Kaplan should go to jail, but jail is for peasants … and Kaplan is no peasant. Also from WSJ:
Each of Kaplan's S&P 500 transactions is listed at "over $1 million." The phrase "over $1 million" could mean anything from $1,000,001 to tens of millions of dollars per transaction. The phrase is a form of opacity that leads to more loss of credibility at the Dallas Fed.

Unlike other regional Fed bank presidents and all Federal Reserve Board Governors, Kaplan did not list the dates of his transactions for any year of his financial disclosures. He simply placed the word "multiple" where the specific dates should have gone on his financial disclosure forms.
And it gets worse.
Two other Federal Reserve members were caught with their hands in the insider trading cookie jar last week: Boston Fed President Eric Rosengren and Richard Clarida, the vice chair of the Federal Reserve.
Clarida has yet to resign, but his term ends in early 2022.
That trio of degenerates won't go to jail, even though the Federal Reserve has clear trading guidelines in its Voluntary Guide to Conduct.
Voluntary! What a load of crap. Exhibit A: the third point in this "voluntary" guide:
Their personal financial dealings should be above reproach, and information obtained by them as officials of the System should never be used for personal gain.
And don't think for a minute that this type of corruption's limited to the Federal Reserve …
Washington, D.C., is chock-full of politicians and public servants who are engaged in corrupt behavior:
• Nancy Pelosi's husband routinely speculates in companies impacted by her legislative decisions.

• Richard Burr, Jim Inhofe and Dianne Feinstein all engaged in flagrant insider trading shortly after being briefed about the seriousness of COVID-19. The same goes for former Sens. David Perdue and Kelly Loeffler. (Loeffler, by the way, is married to the chairman of the New York Stock Exchange.)

• And according to the WSJ, 130 federal judges failed to recuse themselves from 685 court cases involving companies in which they or their families had investments.
I don't tell you this because abuse of power is sickening …which it is.
Rather, I say this because the ripple effect stands to have a big impact on your portfolio.
How so?
The Federal Reserve will soon have three vacancies — perhaps four if Powell isn't reappointed when his term ends in February 2022. And the central bank could become radically different when President Joe Biden names their replacements.
You can expect that Biden will fill those seats with bankers willing to continue printing money like there's no tomorrow.
And this couldn't happen at a worse time.
Inflation's starting to soar, and the new Fed is going to throw gasoline on that fire.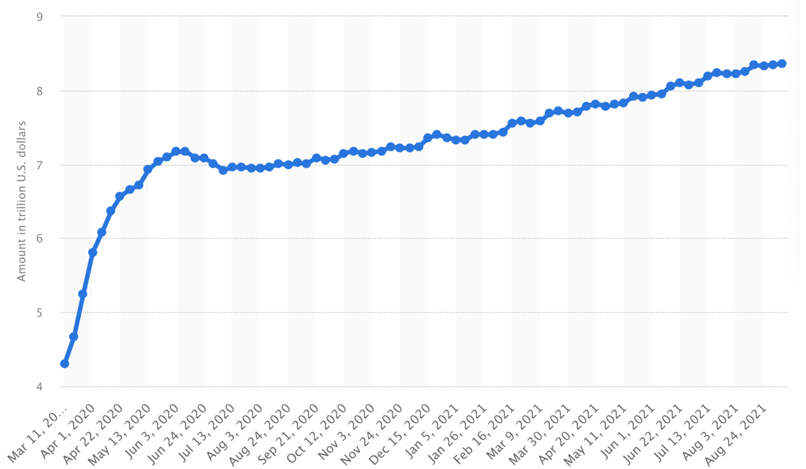 Federal Reserve balance sheet since quantitative easing (QE) measures were introduced in March 2020. Source: Statista
When that happens, it will be VERY negative for the U.S. dollar and long-term bonds. The result is that we could see a repeat of the 1970s, which was a disaster for stocks and bonds … but a great decade for commodities like gold.
If the Fed continues fueling the inflation fire, you'll need to make major changes to your portfolio or else you'll get clobbered.
And one way of keeping abreast of these changes is by signing up for my futurist investing newsletter, Disruptors & Dominators. By doing so, you'll receive my weekly alerts and monthly updates.
Even better, you'll shield yourself from loose Fed policy in the process.
Best wishes,
Tony Sagami