How Michael Jordan's Rookie Card Explains the Stock Market
Did you collect baseball cards when you were a kid? I sure did.
Al Kaline of the Detroit Tigers was my favorite player, and I desperately wanted his All-Star baseball card. I spent what seemed like a fortune to an eight-year-old boy on dozens of bubble gum baseball packs, but I never got that coveted Kaline card.
I did, however, get a Brooks Robinson card. Robinson, a third baseman, had a Hall of Fame career for the Baltimore Orioles. But I didn't like him because he often beat my beloved Tigers with his magical glove.
Baseball cards were king of sports cards back then. None of my friends collected football, hockey or basketball cards. But, of course, times have changed.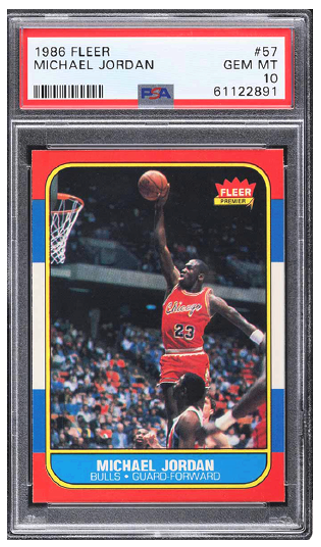 Source: Sports Collectors Daily
I mean REALLY changed.
When the Chicago Bulls won the NBA Championship, the 1986 Michael Jordan Fleer card became the late 20th-century version of the 1952 Topps Mickey Mantle card, which was the iconic piece for card collectors of the previous generation.
Indeed, a 1986 Michael Jordan Fleer, his "rookie card," just sold for a whopping $840,000.
This same card was selling for around $8,000 10 years ago. By January 2020, it had increased to $39,000.
Then, the coronavirus pandemic hit, the Federal Reserve turned on the money spigot, and Congress passed trillions of dollars' worth of stimulus programs.
Those freshly printed dollars had to go somewhere — some went into the stock market, some into real estate. A lot of it went into cryptocurrencies.
And quite a bit spilled over into quirky collectibles, like Hunter Biden paintings and sports trading cards.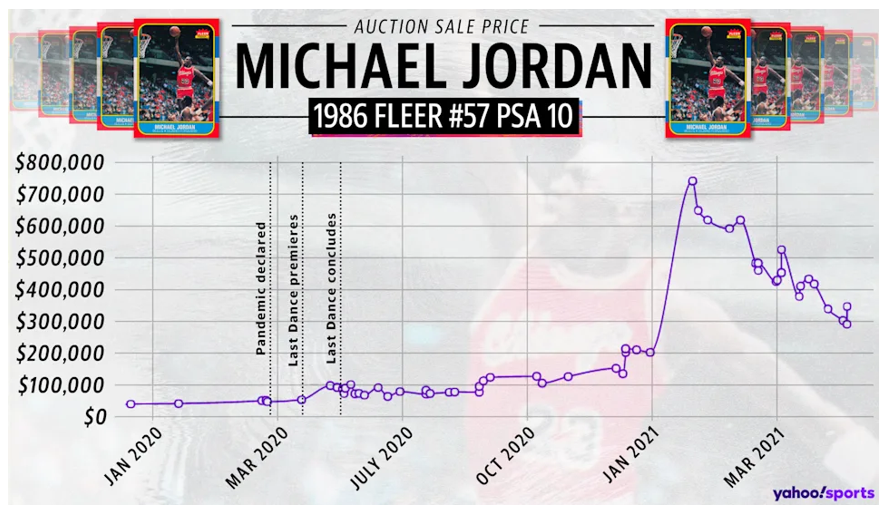 Source: yimg.com
And that Michael Jordan rookie card jumped to $720,000 in January 2021. And then it fetched $840,000 this month.
I get it ... Michael Jordan is considered one of the very best — if not THE best — basketball player of all time. But $840,000?
Heck, there's a Facebook group of 4,500 fans devoted to just this Jordan card. It's fanatical.
Money is gushing into sports trading cards. "It boggled the mind," said Ken Goldin, owner of Goldin Auctions. Goldin's business has grown from $800,000 in annual revenue in 2012 to $100 million in 2020. Goldin says his business is on track to quintuple that this year.
My point isn't to encourage you to invest in baseball or basketball cards but to show you the impact of the flood of money the Fed has released.
Were you a little spooked by the 725-point drop in the Dow Jones Industrial Average (DJIA) two weeks ago? That's nothing to sneeze at, but I can think of 120 billion reasons why the stock market will recover and move even higher.
I'm talking about the $120 billion worth of bond purchases the Fed is making each month, which is creating a monstrous increase in the supply of money.
The Fed, with Congress' endless borrowing and spending, is flooding the economy with dollars. Money supply, as defined by M2, has increased by $2.24 trillion since the start of the coronavirus pandemic.
For perspective, that's almost as much as the $2.8 trillion created by QE1, QE2 and QE3 combined (2008 through mid-2014).
All those dollars have to go somewhere. Some of it is finding its way into things like Michael Jordan rookie cards. But the vast majority of those dollars will go into the stock market, and that's why this is the time to buy, not sell.
Best,
Tony Sagami