How the Biggest Real Estate Boom in 50 Years Could Get Even Bigger
I hear it over and over.
During a recent Zoom meeting, a colleague in Baltimore said she just put her townhome on the market. Within 24 hours, she received multiple, all-cash offers to purchase it … sight unseen.
One even came in with a personal letter pleading for her offer to be accepted. As-is, with no inspection needed!
Another colleague made an offer in the Florida Panhandle. He lives there now … after the seller asked all bidders to come back with their "absolute best" offers.
Still another took out a mortgage on his paid-off house to buy a condo for his kids to rent. That's because rental property prices have spiraled out of control in their college town.
All over the country, scenarios like these have become commonplace.
Fortunately, you can still find value in housing and related stocks. It might be a lot easier than finding values in your neighborhood!
Overheated Market? Yes. A Bubble? Not Necessarily.
In May, 50% of homes sold above their listing price.
And in the first quarter of 2021, 45% of homebuyers said they were outbid on at least one home.
That's assuming they have the cash — or the credit — to make it happen.
Most people know the better their credit score, the less risk they pose to a potential lender. But there's a bit of a twist now …
The Federal Housing Administration (FHA) requires mortgage loan applicants to have a credit score of at least 580. Those seeking approval for a conventional home loan should have a FICO score of 620 or better.
That used to weed out some competition.
But here's that twist I was talking about …
In 2020, Experian reported that 69% of Americans had a score above 670. But in April, the average credit score in the U.S. hit 716 — a 15-year high.
That makes this red-hot housing market different than the subprime lending bubble that led to a crash in home — and ultimately — stock prices.
Fifteen years ago, lenders had no problems giving money to people with "subprime" credit scores (below 620) … if they even asked for much in the way of documentation at all.
There were plenty of homes available and becoming available. It wasn't unusual to hear about people taking on multiple mortgages to get in on the craze.
Not anymore.
Something else has changed: inventory. Rather, lack of it.
In May, Redfin reported that active listings of homes for sale were down 37% from 2020 … and down 49% from 2019.
Builders are still building. But the pandemic has kept many potential sellers from letting go of their properties. After all, they may be able to sell quickly … but finding a place to land in the same time frame is far from guaranteed.
So what happens to all those potential buyers and sellers still sitting on the sidelines?
In many cases, they're saving up their money … and preparing to pay up for what they want.
That's only part of the reason why …
Home Prices Are Skyrocketing!
According to Redfin, the median sales price of existing homes was $352,975 in May, up 24% compared to a year ago.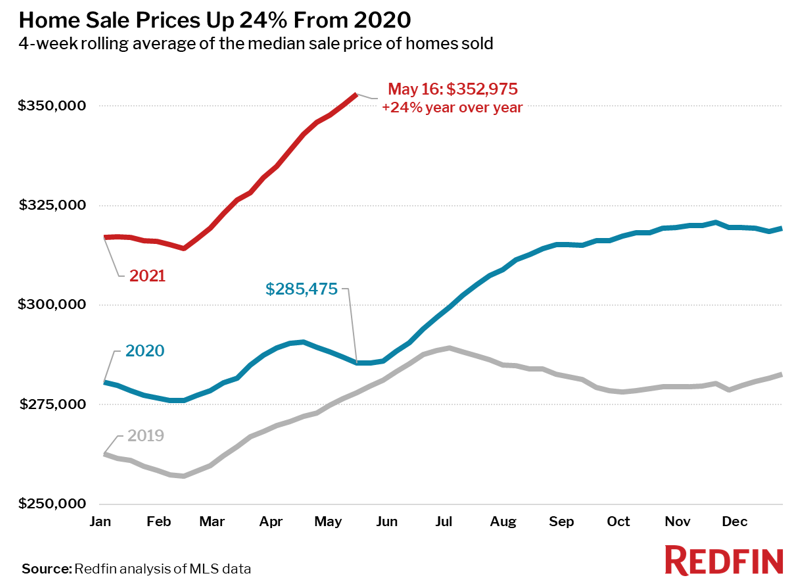 Source: Redfin
We're in the midst of the biggest real estate boom in 50 years. But it isn't just demand that's driving prices higher. We also have …
1. The Federal Reserve. Specifically, its zero interest rate policy (ZIRP) that pushed mortgage rates down to historic lows.

2. One of the biggest population migrations in American history. People all over the country are leaving crowded, high-priced urban settings and heading for suburban/rural locations. But don't count out cities just yet — there's plenty of empty space, and plenty of people who want to live in it.

3. Massive, long-term shortages of building materials. Earlier this year, copper prices hit an eight-year high this year. Lumber and hot-rolled steel both hit all-time highs. And while the prices of these commodities appear to have peaked this spring, demand for them has not.
Pay attention to that last one. After all, if people can't find a previously owned home in the city they want to live in, what do they do? Build their own!
According to Bloomberg:
Homebuyers frustrated with bidding wars, are turning to new construction, which now comprises the biggest share of the property market in U.S. history. In the first quarter, homebuilders produced roughly one out of every four single-family home listings, the biggest share on record.
That should give those housing-related commodity prices an added boost. And it could continue to do the same for home prices.
The National Association of Home Builders estimates that the 12-month increase in lumber prices has added anywhere from $25,000 to $40,000 to the cost of a new single-family home. And that's just lumber.
Depending on where you live and how much house you buy, that extra cost — for lumber that might have been cut a year ago — could be the size of a down payment!
Wow! Twenty-five percent of all home listings are new construction. That's why homebuilders are minting money and why their profits — and their stock prices — are set to skyrocket.
My Disruptors and Dominators subscribers just put on a pair of plays to capitalize on the real estate craze. We are looking at a double-digit gain in both names. And as the hottest real estate market in half a century gets even hotter, I think we will be glad we got in before the next leg higher.
To get the names and tickers, click here.
Best,
Tony Sagami