How to Profit as Trump Budget Gives Defense Sector a $54 Billion Boost!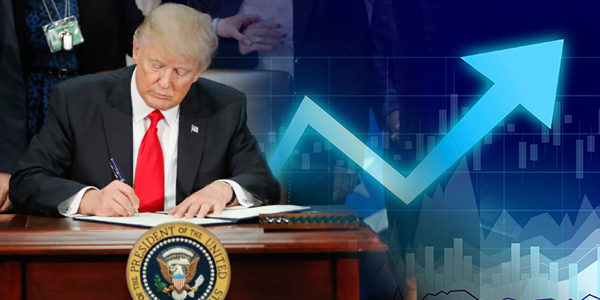 Donald Trump made no secret on the campaign trail about his desire to shell out billions to make America's military great again. Now that he's president, he's following through on his pledge.
Trump just released his 2018 budget blueprint late last week. It's only a so-called "skinny budget" – one that contains broader outlines, and that will be refined with more specific details in the coming weeks. But it promises an absolute bonanza for the defense sector.
Specifically, Trump said he wants to boost Pentagon spending by a whopping 10%, or around $54 billion, to $574 billion for the coming fiscal year. That includes money to fight ISIS militants, boost troop levels, and fund the purchase of key military hardware.
The president is also proposing a $3 billion, or 7%, hike in the Department of Homeland Security's budget to $44.1 billion. That would fund everything from border security technology and infrastructure to additional federal agents.
Again, this isn't a final document. Congress will have its say, and the 2018 budget will ultimately look somewhat different.
But with Republicans controlling both houses of Congress, and some legislators already on the record saying they want even MORE money allocated to defense, the writing is on the wall. We're likely to get the biggest increase in U.S. defense spending ever — something unlike anything our country has even come close to seeing since the early-1980s under Ronald Reagan.
You may remember that I created a Weiss Ratings ETF screener back in January to track the biggest defense and cyberwarfare funds. Four out of five of those ETFs were outperforming the SPDR S&P 500 ETF (SPY, Rated "B") on a year-to-date basis as of late last week. But over a longer-term, 1-year basis, every single one of them is beating the pants off the SPY. The best performer was the SPDR S&P Aerospace & Defense ETF (XAR, Rated "B") — up 32.3% versus only 19.1% for the SPY.
Of course, there are plenty of individual defense and cybersecurity stocks that are either already exceeding those performance figures … or that should do so later in 2017 and beyond. These are individual companies that have the right products, right services, and right connections to make the most of Trump's defense spending boom.
You'll find details about them in my recently released special report, American Arms Bonanza: How to Profit as Trump Spends Trillions to Make Our Military Great Again. It tells you everything you need to know about the Trump spending boom … ranks all the leading defense and cybersecurity stocks by Weiss Rating … and includes my top five sector picks based on additional fundamental research. If you haven't already clicked here to find out more details, the release of Trump's budget blueprint is a great catalyst for doing so.
Even if you aren't ready to take that step, though, don't lose sight of big-picture trend here. Defense is one of my favorite sectors for 2017 and beyond, not just because of Trump's plans, but also because foreign nations in the Middle East and Europe are dramatically boosting their own security budgets. So at least spend some time doing your own research to find sector standouts, starting right here at the Weiss Ratings website.
Until next time,
Mike
Stocks & Sectors Edition , by Mike Larson, Senior Analyst
Mike Larson is a Senior Analyst for Weiss Ratings. A graduate of Boston University, Mike Larson formerly worked at Bankrate.com and Bloomberg News, and is regularly featured on CNBC, CNN, Fox Business News and Bloomberg Television as well as many national radio programs. Due to the astonishing accuracy of his forecasts and warnings, Mike Larson is often quoted by the Washington Post, Chicago Tribune, As-sociated Press, Reuters, CNNMoney and many others.