Is '9-9-6' the Chinese Formula for Spectacular Success?
Longtime readers know I was raised on a vegetable farm in Western Washington. Like all farmers, my father worked like a madman with purpose.
What I mean is he worked like a madman because that's what being a farmer demanded.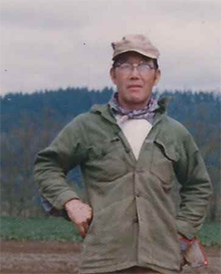 Here's a picture of my father on his farm
As for my father, he had a purpose: He believed working 100 hours a week would get him into heaven.
Yes, 100 hours a week.
That works out to 14 hours a day, seven days a week.
Math, Heritage, Purpose
Truth be told, 100 hours a week is pretty typical for every farmer/rancher during harvest season.
Unfortunately, my father thought his sons should work almost as much. There was no such thing as a 40-hour work week on our farm, and my brother and I learned about hard work at a very early age.
My father loved being a farmer, but I really hated farm life. That hate peaked when I was in high school. My friends were joyriding around with beautiful girls, swimming at our local lake and having the time of their young lives.
Not me!
Here's the thing, though: Those toughening times taught me how to outwork everybody — with the exception of Weiss Ratings founder Martin Weiss — at every job I've ever had.
I confess, I don't work 100 hours a week like my father did. But I religiously put in 60-plus hours a week, as I have since my early 20s.
Indeed, one of the "rules" I've set for my three sons is that they need to work 60 hours a week for three decades if they want to get ahead in life.
Perhaps that sounds like a lot, but it's below average for Asians in Asia. It's how they roll over there.
The Dreaded 9-9-6 Schedule
Japan, Korea, Taiwan — and now China — have become global technology powerhouses. That growth is fueled by a maniacal work ethic.
Take China, for example.
China has always had a culture of putting one's job ahead of family, and its rise as a global tech powerhouse is, at the bottom line, the result of having a massive army of workers that work long, long hours.
Employees of tech companies routinely work a "9-9-6" schedule: 9 a.m. to 9 p.m., six days a week.
The grueling schedule is mandatory, and there's no overtime pay. "9-9-6 is an unspoken rule at tech companies in Beijing," reports The Wall Street Journal.
Consider Alibaba Group Holding Ltd. (NYSE: BABA), the "Amazon of China," for example. "We ask three people to accomplish a job of five people, and pay them for four," said former CEO Jack Ma.
In fact, Alibaba provides back-braces for its engineers so they could sit at their desk for hour after hour without collapsing from back pain, according to TechNode.
Huawei Technologies, the privately-held Chinese equivalent of Cisco Systems, Inc. (Nasdaq: CSCO), requires its staff to sign a "dedicated employee agreement" that voluntarily forgoes paid vacation and overtime pay.
Good luck to any company trying to get its U.S. workers to agree to that!
Work It Out
China has completely recovered from the coronavirus recession ... and then some.
Gross domestic product (GDP) growth in the Middle Kingdom was an eye-popping 18.3% in the first quarter and it's showing no signs of slowing down.
You can profit from China's maniacal work ethic and booming economy by investing in China-focused exchange-traded funds (ETFs) such as ...
• iShares China Large-Cap ETF (NYSE: FXI). FXIseeks to track the performance of the FTSE/Xinhua China 50 Index. This index consists of the 50 largest Chinese companies listed on the Hong Kong Stock Exchange.

• SPDR S&P China ETF (NYSE: GXC). GXCseeks to replicate the total return performance of the S&P/Citigroup BMI China Index. This index consists of the largest 342 companies that are publicly traded and domiciled in China.

• Invesco Golden Dragon China ETF (Nasdaq: PGJ). PGJ seeks results that correspond to the returns of the Halter USX China Index. This index consists of 103 Chinese companies whose common stock is publicly traded in the United States. It uses a formula that prevents the largest market-cap companies from becoming too large a component of the index.
If you're more of a technology investor, there are tech-focused China ETFs, too:
• Invesco China Technology ETF (NYSE: CQQQ) tracks the GICS Information Technology Index.

• Global X China Innovation ETF (Nasdaq: KEJI) invests in disruptive technologies. Think of it as the Chinese equivalent of the ARK Innovation ETF (NYSE: ARKK). KEJI invests in companies that track the performance of the Nasdaq-OMX China Technology Index.
ETFs are fine for broad-based exposure to the theme. You can do much better return-wise with a basket of carefully selected individual Asian stocks.
And investing in Asian stocks is easy. In fact, there are more than 100 Chinese stocks listed in the U.S. on the New York Stock Exchange (NYSE) and the Nasdaq Composite.
Yup ... more than 100 Chinese stocks are as easy and accessible to buy/sell as General Electric Co. (NYSE: GE) or The Boeing Co. (NYSE: BA).
You don't have to work 100 hours a week to make a fortune. But investing in companies with that type of dedicated work force could make you a mountain of money.
Best,
Tony Sagami