"Made in China" Taking on a Whole New Meaning Amid Robotics, Automation Push
Times have sure changed.
When I was in first grade, a few of my classmates gave me a hard time because "Made in Japan" toys were so poorly constructed that they often fell apart after a few days.
Back in the 1960s, Made in Japan was a mark of shabby craftsmanship and I hated the negative attention that it brought to me.
What a difference from today, where the label Made in Japan signifies superior quality and longevity. Japanese cars, for example, routinely last for 200,000 miles ... or more.
Today, cheap goods are now produced in China — but Made in China is going to mean something very different in a few years. In fact, Made in China may lead you to some of the most profitable investments you can find.
I'm talking about "Made in China 2025", a new, broad industrial policy launched by the Chinese government with multiple goals:
1. Improve manufacturing productivity

2. Build up technology-intensive sectors

3. Gain 70% self-sufficiency in key materials and components
On the surface, that may not sound groundbreaking, but it is going to dramatically transform the Chinese economy and catapult it into a technology powerhouse.
The end of 'cheap China'
China has launched a 10-year action plan designed to transform China from a manufacturer of cheap goods — such as tennis shoes, t-shirts, toys, and small appliances — into a global technology leader.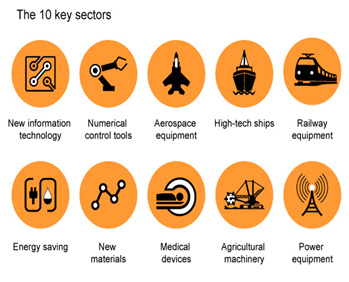 Click image for a larger view.
The new Chinese manufacturing industry will be centered around 10 specific sectors and will promote automation and robotics.
Chinese factories will replace cheap migrant workers with automated, industrial robots. China currently has 30 industrial robots for every 10,000 manufacturing workers, compared to 300 per worker in Germany and 450 per worker in South Korea.
Chinese Premier Xi Jinping is calling for an "industrial robot revolution" and backing it up with tax deductions and government subsidies for advanced automation. For example, Guangdong's provincial government has a three-year program to subsidize robot purchases at nearly 2,000 of its largest manufacturers.
In 2016, government-sponsored R&D hit a staggering $232 billion.
By the way, a new Chinese government commission is charged with overseeing the "integration" of this technology development for military use.
In short, companies that make industrial robots are in for a big shot in the arm from a massive wave of Chinese orders. Who would those be? ABB Ltd, KUKA, Yaskawa Electric and FANUC.
Of the above, FANUC could be the biggest winner of all.
FANUC? Odds are that you've never heard of the company, but it dominates the industrial robot industry as the largest maker in the world. Moreover, I bet you own something that was built by a FANUC robot, such as a Ford car or an Apple iPhone to name a few.
FANUC, originally a division of Fujitsu, stands for Fuji Automatic Numerical Controls and is a component of the Nikkei 225, the Japanese equivalent of the S&P 500.
FANUC manufactures a wide range of robots for the aerospace, automotive, consumer goods, food, metal fabrication, medical, pharmaceutical, solar panel, and many other industries.
How much of a market leader is FANUC? According to Arc Advisory Group, a staggering 60% of the robotic tool systems — lathes, grinders, and milling machines that turn metal into just about any manufactured product — in the world use FANUC controls.
FANUC has over 100,000 robots installed in the Americas and another 220,000 robots installed around the world. That number is about to explode thanks to Made in China 2025.
To be clear, I want to disclose that my Weiss Ultimate Portfolio subscribers already own FANUC. But the more, the merrier because Made in China is going to mean huge profits instead of cheap trinkets.
Best wishes,
Tony Sagami