I'm a big boxing fan.
Muhammad Ali is the greatest, but I've always enjoyed the lighter-weight fights more.
I watched every Sugar Ray Leonard fight, especially the epic battles against Tommy "The Hitman" Hearns, "Marvelous" Marvin Hagler and Roberto Durán in the 1980s.
Today, my favorite fighter is Floyd Mayweather.
He's extremely talented, but I was shocked that Logan Paul was able to go the full eight-round distance against him recently.
Even more surprising was the unusual necklace that Paul wore into the boxing ring.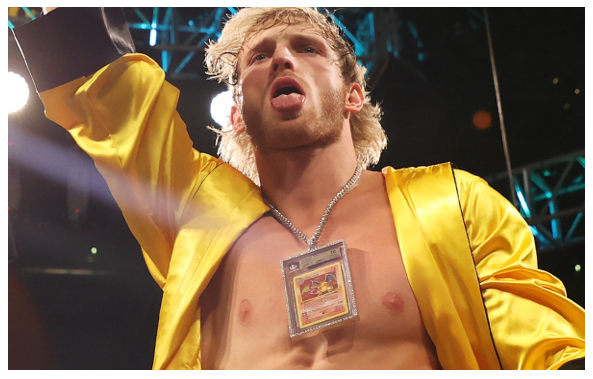 Source: Hypebeast.com
Most fighters adorn themselves with gold and diamonds, but Paul entered the ring wearing a "Pokémon" card around his neck.
And not just a regular "Pokémon" card — a rare, first edition gem mint 10-graded Charizard card that is valued at $1 million dollars. Yep … $1 million bucks!
I don't know the first thing about "Pokémon," and I wouldn't pay $10 dollars — let alone a million dollars — for a trading card.
The price of all sorts of collectibles has reached a mania stage.
Barbie, Cabbage Patch and G.I. Joe dolls are skyrocketing in price. The most coveted baseball, basketball and football cards are routinely selling for $1 million-plus. Even vintage whiskeys and wines are selling for insane prices.
Am I surprised? Nope! That's one of the results when central bankers and politicians flood the economy with money.
The Fed — with Congress's endless borrowing/spending — is flooding the economy with dollars. Money supply, defined as M2, has increased by $2.24 trillion since the start of the pandemic.
For perspective, that's almost as much as the $2.8 trillion created by QE1, QE2 and QE3 combined (2008 through mid-2014).
All those freshly minted dollars have to go somewhere … and it's a big reason why cards, dolls and booze are soaring in value.
And it doesn't stop there. Take a look at the price of stocks, where a majority of those dollars have been going.
Money's been pouring into the stock market this year, and 2021 is on pace to smash records for inflows.
In the first seven months of 2021, $488.5 billion has been shoveled into exchange-traded funds (ETFs), far surpassing the previous full-year record of $497 billion from 2020.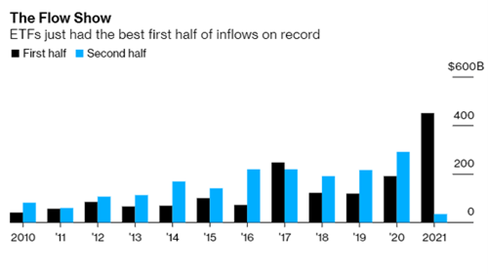 Source: Zero Hedge
A whopping $77 billion PER MONTH is being poured into S&P 500 index funds, and total assets in U.S. funds are now at $6.6 trillion, up from $3.7 trillion last year.
Supplementing that tidal wave of money pouring into the stock market is the return of one of the most powerful stock market catalysts: stock buybacks.
In the first three months of 2021, S&P 500 companies bought back $171.5 billion of their own stock, a 42% increase over the $120 billion spent in Q1 2020.
Buybacks took off in Q2, jumping to $260 billion, bringing the six-month total to $431 billion. That's more than all of 2020 combined, and we could easily see the previous yearly record of $1 trillion get smashed.
With stock buybacks and the Fed's money flood returning in a big way, higher stock prices seem even more certain.
Asset prices — even "Pokémon" cards and Barbie dolls — are headed even higher.
Don't get scared out of this market.
Best,
Tony Sagami