The "Weirder" the Market Action Gets, the More Cautious I Get
You know what worries me more than anything? When I see market action that doesn't "make sense" on the surface. Consider the following …

  An esoteric, obscure interest rate market "risk" indicator, called the LIBOR-OIS spread, has been going nuts to the upside lately. In fact, it just soared to the highest level since the tail end of the last financial crisis in 2009.
Some of the smartest minds on Wall Street have been trying to explain "why" it's happening. But none of the explanations have proven satisfying. Meanwhile, the rise has continued virtually non-stop.

  On Tuesday, the Dow Industrials soared more than 500 points on an intraday basis. But Treasury bond prices barely dipped, gold rallied a few bucks, and the VIX measure of market volatility has essentially unchanged.
Huh? You'd expect bonds, gold, and volatility to plunge on that kind of stock rally — but it didn't happen.

  Then yesterday, gold prices exploded by as much as $12 an ounce. That put them within a whisker of breaking out from a five-year trading range.
Treasury bond prices rallied again, driving the 30-year yield ever closer to an extremely important downside level of 2.65%. Yet measures of stock volatility failed to surge as high as they "should" have, given these other "Risk Off" market indicators.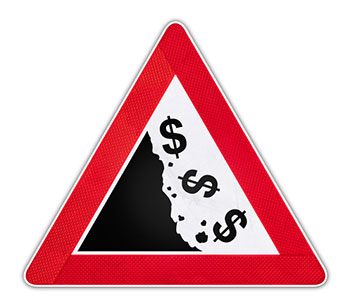 Investors should become more cautious
Look, we all have plenty of "real world" things to worry about. That includes the renewed threat of hostilities in Syria, ongoing political dysfunction in Washington, the potential for a trade war with China, and more.
But as an investor, you shouldn't just pay attention to the news and the headlines. What's more important is how markets REACT to them. And right now, I'm seeing downright weird (for lack of a better word) market action all over the place.
When that happens, you know what I do? I get more cautious — and I think you should, too. You don't have to sell everything. But consider paring your equity exposure somewhat, or hedging against downside risk using put options or inverse ETFs.
Make sure you own some gold, gold miners, or both, too. They've been throwing off bullish technical signals, and if we get an upside breakout here, it should be a doozy!
Above all: Stay alert. The bull market began more than nine years ago. Mixed signals are becoming increasingly common, and volatility is higher than it's been in a long time. That all argues for a more cautious investment stance.
Until next time,
Mike Larson