Set Up for Success Before the Buy Signal
Welcome back to Wealth & Wisdom, my weekly video update for Weiss Ratings Members.
I don't have a video for you this week, but I do have something a little different.
I want to talk about the crypto market, which is undergoing a monumental shift even as we speak.
Juan Villaverde, who is editor of the Weiss Crypto Portfolio and our resident crypto cycles expert, sent out an alert on Friday, letting his members know it was time to get more exposure to Ethereum (ETH).
His analysis led to one conclusion: Ethereum's bear market bottom was in.
In the days since that alert went out, ETH has rallied nicely.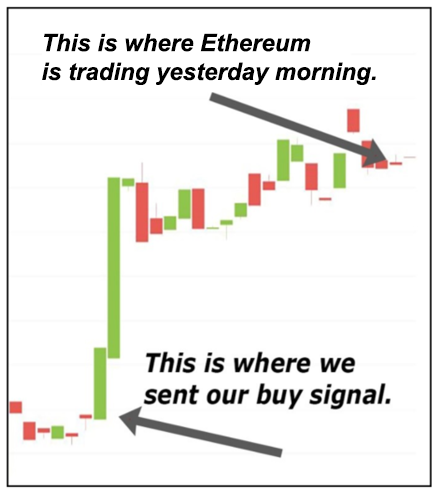 Now, Juan anticipates the first major Bitcoin (BTC) "Buy" signal of the new bull market could come in just days.
He says the time to get ready is now!
He's not talking about run-of-the-mill trades. Rather, Juan sees this as a unique point in the four-year crypto cycle.
If you're unfamiliar, the young crypto market follows a pattern of consecutive cycles that give indications of broad price action.
A short-term cycle — measured from low to low — lasts roughly 20 days. Four 20-day cycles make up an 80-day medium-term cycle, and four 80-day cycles form a long-term 320-day cycle.
Of course, cycles can be shorter or longer than their averages. But they still give us an advantage when it comes to understanding broad market action. That's because those long-term cycles generally follow a pattern.
• First comes the bear market cycle, where the 320-day period ends with prices lower than where they started ... like what we just saw in 2022.

• Next comes the neutral market cycle, where prices are expected to remain more or less unchanged over the 320-day period.

• Then comes the bull market cycle, followed by the parabolic cycle. Remember how crypto explodedin 2020–2021? Bitcoin went from roughly $6,000 in March 2020 to a high of $69,000 in November 2021.
Yeah, those years were the bull and parabolic cycles, respectively.
That means that right now, we're on the precipice of a transition to the neutral market, which is rife with opportunity.
Why? Because the risk of extreme bear market downside is behind us ... and the low prices of the neutral market will be things of the past once the bull market starts.
Meaning we anticipate seeing key opportunities to get into exciting crypto positions at incredible prices this coming year.
And all this is happening as our research tells us that:
• The bad news (like FTX, Genesis, etc.) is OLD news …

• The weak players who wanted to sell have ALREADY sold …

• The strong players are holding firm and about to BUY …

• The downside risk is as small as it gets …

• And the upside potential is near the greatest of the entire four-year crypto cycle.
The last time Juan declared the big bear market bottom in crypto was four years ago, on Dec. 12, 2018.
Makes sense based on the cycles, right? Well, investors who bought Bitcoin on that day could have seen more than 20x returns.
Ethereum rose 54x.
Cardano (ADA) skyrocketed 102x.
And Chainlink (LINK) beat them all by a country mile, soaring nearly 234x — enough to turn a $10,000 initial investment into $2,333,746.
Unfortunately, most investors back then were too scared to touch crypto. So, they missed it!
Whatever you do, please do not fall into that pattern.
Instead, I suggest you prepare now, so you can act the moment a juicy opportunity emerges.
And there are two steps you can take right now to get started.
First, make sure you're ready to trade.
Even if you have some experience in crypto trading, I suggest you read our Crypto Quick-Start Guide to brush up on the fundamental resources you'll need to be an efficient, savvy crypto investor and how to navigate the crypto space.
Second, minimize your risk exposure by setting up your own non-custodial crypto wallet. This allows you to maintain control of your crypto by storing them in an account only YOU can control.
To that end, I suggest reading through The Weiss Guide to Crypto Wallets.
It explains why maintaining custody of your assets is vital to investing in crypto and what types of wallets are available.
Then, you can follow along with the step-by-step instructions for how to open two specific wallets as examples.
To your Wealth & Wisdom,
Kenny Polcari
Host