VIDEO: Finding Market Income in Turbulent Times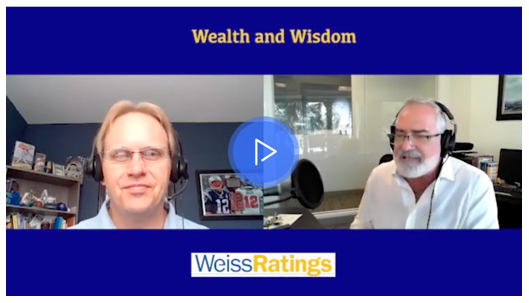 Welcome back to Wealth & Wisdom, my new weekly video update for Weiss Ratings Members.
In this week's episode, I speak with Mike Larson, income specialist and senior editor of Safe Money Report.
Mike, one of Weiss Ratings' senior editors, has been with the company for over 21 years. His service, Weekend Windfalls, is the result of years of back-testing that's identified a system that allows investors to pull income from the markets by selling put options and put spreads — strategies that use options to boost income that investors' portfolios are spinning off.
Mike explains:
"This i is a market, an environment where interest rates are dismal. Even after the Fed hikes we've seen so far, our interest rates are still far below inflation … But here, the idea was, "Let's see if you can generate yields that allow you to beat inflation, not just have inflation be picking your pockets every week in and week out."
In today's video, Mike and I discuss:
• The Weekend Windfall methodology.

• How the system generates a win rate of nearly 98%.

• Safe Money investments for a volatile market.

• And an exchange-traded fund and certain stocks poised to continue profiting as their sector surges alongside inflation.
Click here to watch this brand-new video now.
To your Wealth & Wisdom,
Kenny Polcari
Host