3 Truths to Combat Financial Fake News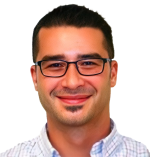 By Jordan Chussler
Last week, I received a copy of Neil deGrasse Tyson's recently published book, "Starry Messenger."
I'm a few chapters in, but I keep returning to one line in the preface:
"We've lost all sight of what distinguishes facts from opinions."
Perhaps I keep rereading it because, as a country, we're now in a place where it's increasingly common to hear people contend that the Earth is flat.
Or that climate change isn't real.
Or that JFK, Elvis and Bigfoot are all cryogenically frozen in a top-secret bunker awaiting the apocalypse.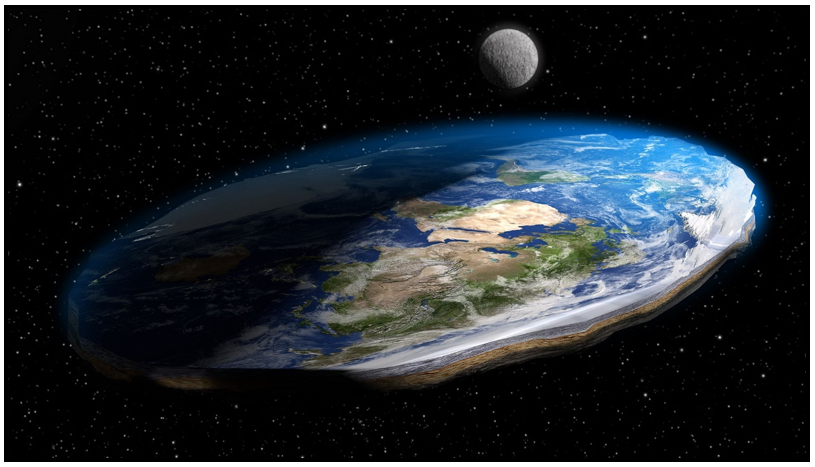 The flat Earth model increasingly popular among conspiracy theorists.
Click here
to see full-sized image.
But I digress … facts from opinions.
We've all heard the expression that opinions are like a certain body part, everyone has one … and they usually stink.
So, while ruminating on Tyson's line on the first page of his new book, I felt the urge to apply it to some market realities.
After all, being able to separate fact from opinion will make you a more informed investor. And informed investors are better investors.
Opinion No. 1:
Dividend Stocks Are Boring and Don't Have the Upside Tech Stocks Do
Fact No. 1: If you happened to be one of the lucky ones who bought shares of Tesla (TSLA) at the beginning of 2020 when they were trading under $30, sure, you're going to have the opinion that tech stocks outperform value stocks.
And it's easy to see why. A one-year gain of 893% by January 2021 is nothing to sneeze at.
But growth stocks, like those in the tech sector, are more prone to market volatility, the companies are often unprofitable and — unlike their value stock counterparts — they rarely pay dividends.
Tesla's enormous growth — and other companies that experience similar parabolic share appreciation — are the exception, not the rule.
On the other hand, over the past 90 years, value stocks that pay dividends account for more than 40% of total market returns. Forty percent!
That's precisely why Senior Analyst Sean Brodrick has members of his trading service, Wealth Megatrends, receiving regular dividend income in nearly every position of the model portfolio.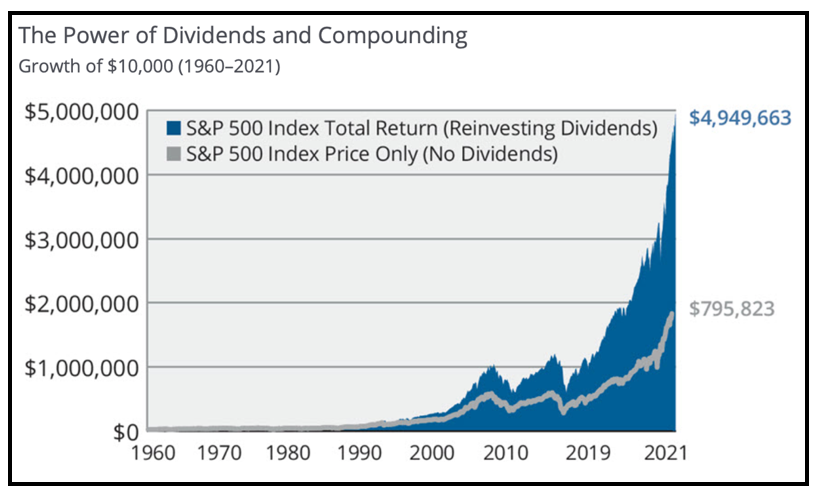 S&P 500 index performance with no dividends vs. dividend reinvesting.
Source:
Hartford Funds
.
Click here
to see full-sized image.
Here's an opinion: Most people are impatient.
Here's a fact: Patient investors holding value stocks like Costco (COST) have seen gains of 1,453% over the past 20 years, NOT even factoring for dividend reinvestment.
Here's another fact: Tesla is down nearly 14% just in the past month. Over the same time frame, Costco is up almost 5%.
Opinion No. 2:
Bear Market Investing Is for Pros
Retail Investors Should Stay on the Sidelines or Turn to Safe-Haven Assets
Fact No. 2: Profits can be made in any market, bear or bull. What matters is knowing WHERE to allocate your funds.
So-called safe-haven assets are getting beaten down this year along with the broad market:
• Gold is down over 9% in the past six months and over 6% on the year. Silver is down over 12% in 2022.

• Bonds are on pace for their worst year in history.

• And real estate is in the midst of the second-largest correction since WWII.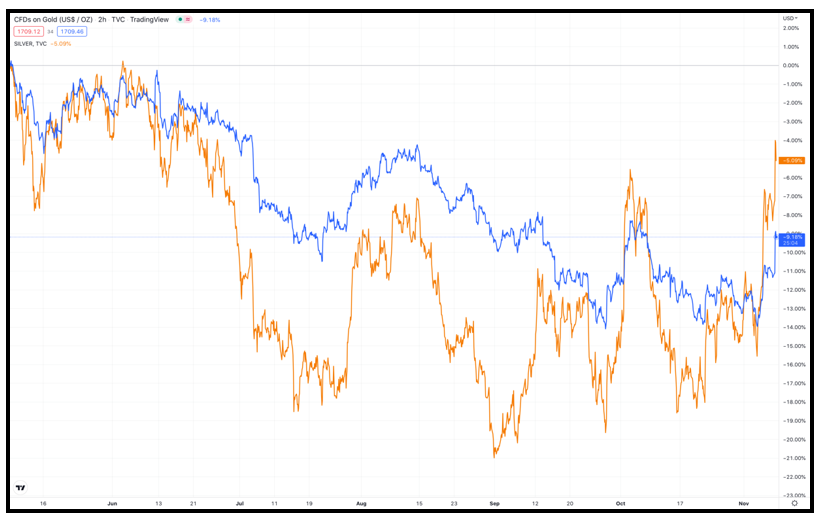 Six-month performance chart of gold (blue line) and silver (orange line).
Click here
to see full-sized image.
On top of that, the S&P 500 is down over 20% on the year.
However, there are 11 sectors in the S&P … and their year-to-date performances are telling.
So far in 2022, 10 of the sectors are down anywhere from 6.2% to 42%.
Only one sector — energy — is in the green with a YTD gain of nearly 69%.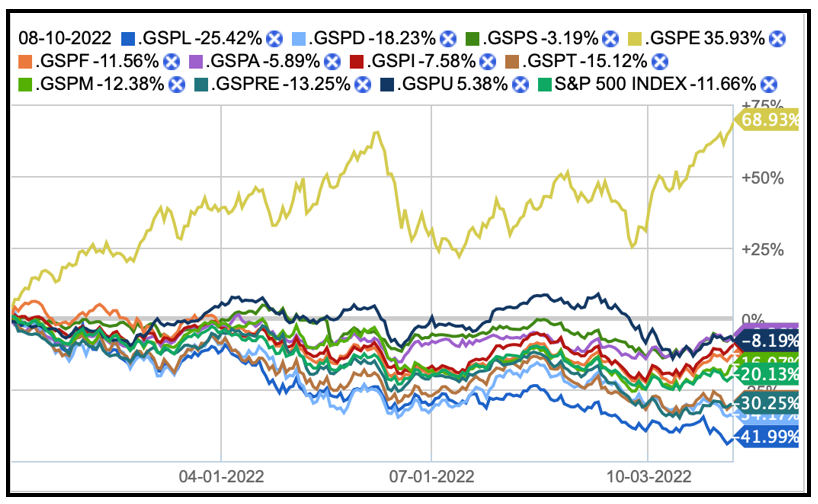 YTD performances for the 11 sectors of the S&P 500. Source: Fidelity.
Click here
to see full-sized image.
Turning to the Weiss Ratings, that's reflected in the fact that:
• At least 25 energy stocks currently receive a "Buy" rating.

• And 14 energy-focused exchange-traded funds are "Buy"-rated.
Here's the truth about professional traders: They're no better than the average investor.
According to an S&P SPIVA report, over a 15-year period, nearly 90% of actively managed investment funds failed to beat the market.
And in 2022 alone, 80% of active fund managers are behind the major indices.
Knowing where and when to invest your money is the key to finding profit potential, regardless of whether it's in a bear or bull market.
Understanding the S&P 500's sector-by-sector performance is one way of accomplishing that.
Opinion No. 3:
Timing the Market Is the Secret to Maximizing Gains
Fact No. 3: I don't own a crystal ball. And unless you're a charlatan charging $20 on a Jersey Shore boardwalk to prognosticate people's futures, I suspect you don't, either.
The hard truth is that nobody can time the market. You can look for a bottom. You can suspect, based on any number of technical indicators or fundamental analysis, that a bottom is in.
But there's no guarantee.
The old adage, "Time in the market beats timing the market," still holds true today.
Warren Buffett can't time the market. Peter Lynch can't. And neither can you.
Sometimes Jim Cramer thinks he can, though. However, the host of CNBC's "Mad Money" has proven time and time again that he cannot.
In fact, Cramer has been wrong with market timing so often, there's now a parody Twitter account called Inverse Cramer ETF, which tracks the TV personality's recommendations so investors can do the opposite.
Here's one example why …
In November 2012, Cramer urged investors to exit Best Buy (BBY). Six months later, shares had risen nearly 125%.
Had investors disregarded his flawed market timing advice and held their positions from then until today — 10 years later — they would be up nearly 425%.
The Truth Can Be Upsetting
In the field of psychology, cognitive dissonance refers to people's propensities to avoid facts that contradict their firmly held worldviews because being introduced to that information results in discomfort.
Our mothers knew this when they taught us that the truth can hurt.
But ignoring the facts doesn't — and never will — change them.
The world is round and rapidly warming.
Elvis is dead.
And being an informed investor increases your likelihood of success.
Don't shoot the messenger — these are just the facts.
Until next time,
Jordan Chussler
Managing Editor
Weiss Ratings Daily