4 Powerful Tools Await You Online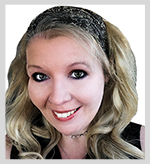 By Dawn Pennington
Happy Friday!
I wanted to take a moment to tell you about one of the most important features you get as a Weiss Ratings Daily reader, even if this is the only service you read.
First, a little history …
In 2001, we issued our first ever Weiss Stock Ratings. This was long in coming, after decades of bank, insurance company and mutual fund ratings coverage.
The task was a big one. After all, there are thousands of companies that have publicly traded shares just in the U.S. That number jumps to the tens of thousands when adding in foreign exchanges.
Why did we do this? Because we've long known that other ratings were ineffective at best, biased at worst.
That's why, from Day 1, we've committed to our own proprietary system and a 100% unbiased approach.
Over the years, we've only improved our model and added features.
Take 2020, when — during the pandemic — we made our entire ratings free for everyone.
Today, in addition to thousands of ETFs, banks and insurers — not to mention tens of thousands of mutual funds — we rate 13,025 individual stocks.
You should be familiar with Gavin Magor, our Director of Research & Ratings. He writes every Monday about various aspects of our ratings system.
Well, a few weeks ago, he told you that if you just look at the last 20 years, the performance speaks for itself. He wrote, "Based on our "Buy" ratings, a total of 12,557 stock trades were possible over the past 20 years, and the average return was 296% per trade."
He's proud of this system. And so am I. But I know some don't fully utilize all it has to offer, often because they don't know what that is!
So, let's solve that problem. Here are …
4 Weiss Stock Ratings Tools You Need to Know About
First, and most important, Weiss Stock Ratings is easy to sort and use to screen for investment ideas.
You can quickly search stocks by name, rating, market cap, price and much more.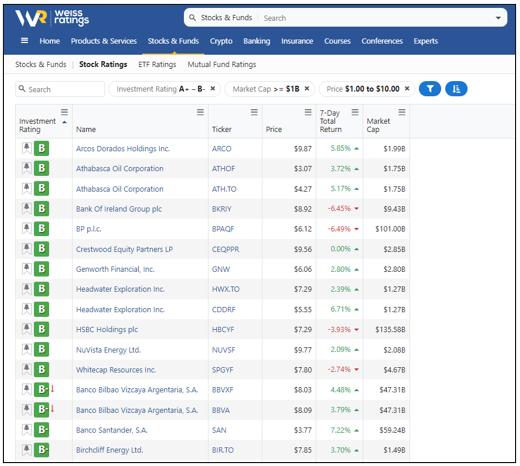 We update these daily. Prices and other metrics can change at any time, which means so can the ratings. So, you'll want to check back regularly to see what's new.
Second, in-depth Reports on all the stocks we rate.
Click on the name of any stock, and you'll see our most up-to-date data. Plus, you can hit the "Report" button and download the highlights to read offline.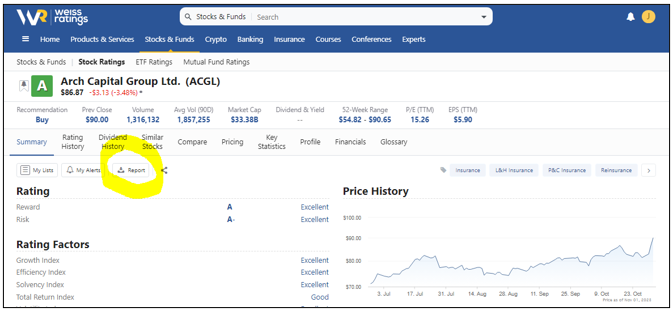 Note that this is a snapshot in time. View any company's most recent performance metrics and rating at any time.
Click here
to see full-sized image.
We also have a pair of simple ways to help you keep track of the stocks you are most interested in, starting with …
Third, Lists make it convenient for you to follow your favorite investments.
Hit the "My Lists" button (to the left of "Report") and start curating lists of the assets you want to watch most closely.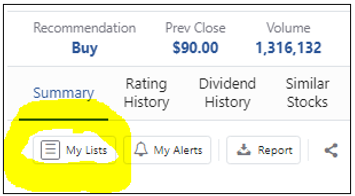 You can create an unlimited number of lists, and you can track an unlimited number of investments. You can also receive alerts on some (or all) of them, which we outline in the feature below …
Fourth, your Watchlist feature notifies you when there is a change.
Simply click on the "My Alerts" button between "My Lists" and "Report" (see image above), and we'll let you know whenever your favorite stocks get downgraded or upgraded.
The Watchlist feature also tracks price moves.
Click here
to see full-sized image.
The best part — when we say "unlimited," that refers not just to the number of:
Investments you can put on Lists.
Lists you curate.
Notifications you can set up about ratings or price changes, but also …
It means you can follow ANY of the 52,000-plus assets we rate beyond stocks. That includes cryptos, ETFs, mutual funds and more!
There's a tiny catch for the third and fourth tools. You do need to create an account. Don't worry, that's 100% free, as well. Just click on "Create Account" in the top right of your screen and follow the steps.
That's it! There's absolutely no good reason to avoid these fantastic tools. After all, as Gavin likes to remind us all, the performance speaks for itself.
Have a great weekend!
To your wealth,
Dawn Pennington
Editorial Director
P.S. Of course, stock investing is only one way to both build wealth and protect yourself. There are others, including building your American Escape Plan. Click here to find out how to get started.