Beat Inflation With This High-Income Stock
I'm sure you've read that inflation is soaring. And it's likely to get worse, as my colleagues have reported.
It doesn't help that investors are faced with abysmal yields accompanying said inflation.
But I'm not going to beat a dead horse and tell you everything the Federal Reserve is doing wrong to fuel the inflationary fire.
Instead …
I'm here to help investors successfully navigate these tumultuous economic and market conditions.
For years, I've been pounding the table about the benefits of income-focused investing ...
What I call "Safe Money" strategies, which tend to do well during times like these.
Things like:
Higher-yielding stocks, exchange-traded funds (ETFs) and mutual funds.


Using the Weiss Ratings stock screener to find companies rising or falling in our ratings.


And turning the tables on Wall Street by SELLING options.
Today, I'm going to focus on …
One of the Top Income Stocks in the Weiss Ratings Universe
At Weiss Ratings, we aim to zero in on today's best stock market opportunities with unprecedented accuracy.
One way I do that is with "Heat Maps" that show me the best stocks in the market each day … and which ones to avoid. That includes dividend-paying stocks.
We update our data every day the markets are open. Which means that their ratings can change. And when their ratings go up, it often pays to pay attention!
Here's something that's "heating" up right now …
SLR Investment (Nasdaq: SLRC) recently moved up in the Best High-Income Stock rankings.
The Milpitas, California-based firm is a yield-oriented business development company (BDC) that makes investments in developing companies and firms that are financially distressed.
Here's the thing about BDCs: They are required by law to pay at least 90% of their annual taxable income to shareholders.
SLRC pays out 95.91% of its income!
At the time of writing, shares are trading at $18.65, just off its 52-week high of $20.05 and up 7.28% over the past year.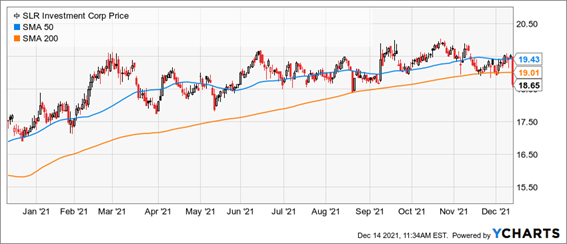 The stock recently experienced a large sell-off that sent shares under its 200-day moving average and its relative strength index (RSI) down to 36.20.
An RSI number below 50 generally reflects a downtrend, while a number above 50 suggests an uptrend. An RSI near 30 can indicate either an oversold or overvalued condition.
Because SLRC has many positives in its favor, its RSI — as well as the share price — should ultimately move higher.
In the meantime, potential investors can focus on what makes this stock a longer-term income-oriented play …
SLRC pays a whopping 8.79% dividend!
In fact, since 2020, the company's dividend has fluctuated between an enormous 8.26%–11%.
The company's fourth-quarter ex-dividend date is today, Dec. 15. So shareholders of record will qualify for SLRC's next dividend payment on Jan. 5. Volume can be light at times … but the idea here is that investors will be paid handsomely to hold on to their shares.
If you'd like to learn more about companies like this — and the enormous potential of high-income stocks — I suggest you sign up for my Heat Maps service.
I send out bimonthly updates to subscribers pinpointing: the highest-rated stocks, lowest-rated stocks, best low-priced stocks, best value stocks, best growth stocks, fastest-rising dividend stocks, best energy stocks and more.
In all, I provide 12 Heat Maps aimed at helping investors like you beat the inflationary beast.
And if you're interested in learning a newer approach to income-oriented investing, our own Chris Coney just conducted a decentralized finance (DeFi) MasterClass.
In it, he explains how enormous yield potential exists in the world of crypto.
I recommend you check it out.
Best wishes,
Mike Larson