Biggest Market Shift in Centuries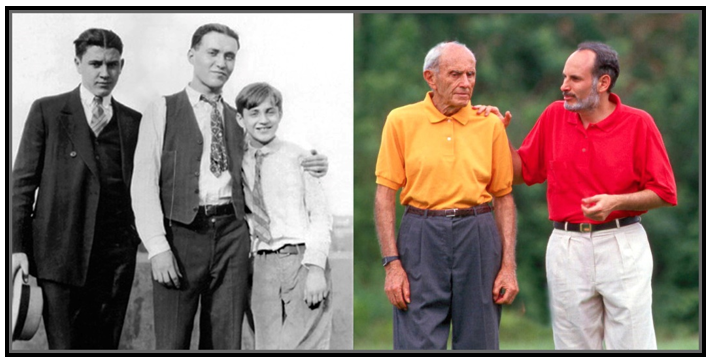 Left: Irving, Abraham and Rubin Weiss (circa 1928). Right: Irving and Martin Weiss in 1989.
In 1929, when stocks were crashing, my father and my two uncles had no way to invest outside of the market.
Dad worked as a "customer's man" (stockbroker) for a boutique Wall Street firm. So, he had easy access to sophisticated trading strategies, including short selling on margin.
But growing up in Harlem as the son of a poor immigrant family, he had no access to private funding deals that were happening outside of the stock market.
That was unfortunate for three reasons:
First, because buying early into those deals was a good way to avoid overpriced shares that were bid up to the stratosphere by big Wall Street money.
Second, because with some of those deals, I think Dad could have made even more money than the 200x gain he made by short selling during the crash.
And third, he could have done it with no margin, no leverage and no sharp market gyrations that kept him up at night!
Like deals to buy "Telephone" (AT&T) for pennies a share … or General Motors for even less.
Trouble is, only the very wealthy had access.
And four decades later, when I started my own stock research company in 1971, you'd think that would have changed.
You'd think they would have leveled the playing field for the average investor.
But they hadn't.
The soonest average investors could buy was at the initial public offering (IPO). And by that time, many stocks were already way overvalued.
So, the smart money on Wall Street usually avoided buying into IPOs like the plague.
"Either get in way before the IPO if you can … or wait until after the IPO when stock prices typically fall back to Earth," they advised. "Otherwise, you get ripped off."
The good news is that's all changed now. Finally.
Thanks to new legislation, average investors can finally be among the first to participate in choice private deals.
Now, instead of becoming victims of big Wall Street money, they can count themselves among the beneficiaries.
How much of a difference can that make? Consider these examples:
Facebook: 263% gains possible for IPO investors vs 200,000% for early, pre-IPO investors.
Asana: 428% gains possible for early IPO investors vs 422,317% for pre-IPO investors.
Airbnb: 125% gains possible for IPO investors vs up to 4,121,525% for early pre-IPO investors.
Of course, these are rare unicorn examples and therefore not typical.
But this coming Thursday, Weiss Members will be the first to invest in a private investment that's our experts' candidate for the No. 1 such deal of 2022.
The company is rapidly claiming an unassailable advantage over competitors in a largely recession-resistant industry.
Its founders have signed deals with makers of global, multibillion-dollar brands.
They have distribution locked in with major retailers like Walmart, Amazon, Walgreens, CVS and more …
And they're already so profitable, they're offering a fat dividend to everyone who invests, even before any future IPO.
The deal opens this week on Thursday.
So, I suggest you get the facts from this presentation and, if it intrigues you, be sure to make a decision before Wednesday.
Good luck and God bless!

Martin D. Weiss, Ph.D.
Weiss Ratings Founder