Buy Your Straw Hats in January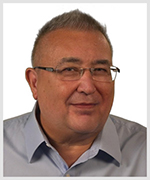 By Tony Sagami
My retirement account has lost more than $100,000 this year.
That sounds like a lot, and it is. But on a percentage basis, I'm doing much better than the overall stock market. Through Oct. 21, the S&P 500 has dropped by 20% this year. Ouch!
The Nasdaq has fared even worse, down almost 31.9% so far this year.
I'm not alone, either. I have a lot of company swimming in this sea of red ink. According to a fresh study from two well-respected economists, Stephen Moore and E. J. Antoni, the average American's 401(k) plan fell by $34,000 this year, a 25% year-to-date loss.
"The average 401(k) plan had over $135,000 at the start of this year. Today, those assets have shrunk on average to about $101,000. In other words, the average 401(k) plan is down about $34,000; more than 25% in less than one year."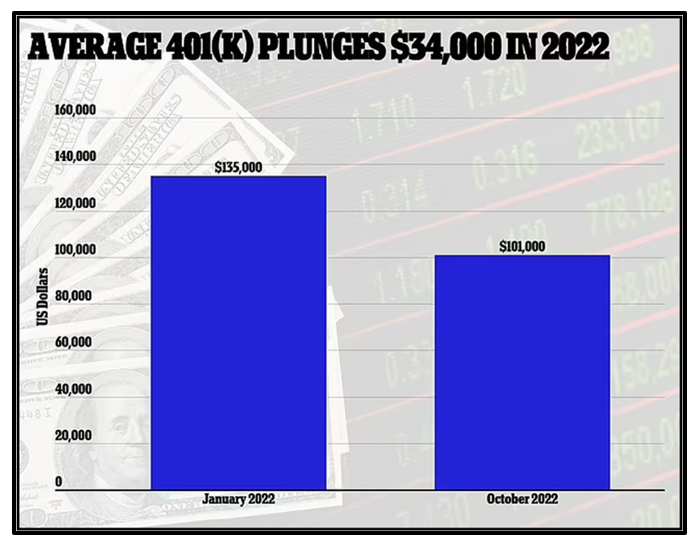 Average 401K plan chart.
Click here
to see full-sized image.
All totaled, Americans' retirement savings have dropped $2.1 trillion this year.
Even the people who are supposed to know what they are doing — pension funds — are losing mountains of money. At the beginning of 2022, pensions in the U.S. had $27.8 trillion, but that amount has fallen below $24 trillion.
Those are some alarming numbers, but Moore and Antoni say the damage is even worse if you take inflation into account. Because of inflation, the returns drop by another 13%.
401(k) Statement Shock
That's right. On an inflation-adjusted basis, the average 401(k) is down by 33% (20% nominal loss + 13% inflation loss).
Another even more insidious side effect of inflation is that Americans are saving less money. Americans are saving 83% less money each month since January 2021.
The Commerce Department reported that the consumer price index jumped by 8.2% in September. And that's on the heels of an 8.3% jump in August. Over the past 20 months, the average American family has lost nearly $6,000 in purchasing power due to the rise in prices over wages.
Because of inflation, millions of Americans are now living paycheck to paycheck and just don't have the money to fund their 401(k) accounts.
But there are some silver linings to these inflation clouds …
Starting next year, you will be allowed to contribute up to $22,500into your 401(k), 403(b) and the Thrift Savings Plan for federal employees. That's $2,000 — or roughly 9.8% — more than the current $20,500 contribution limit.
The catch-up provision for savers over 50 years old also gets a big boost from $6,500 this year to $7,500 in 2023: a 15.4% increase.
If you're over 50, you will be able to save $30,000 ($22,500 + $7,500 = $30,000) next year.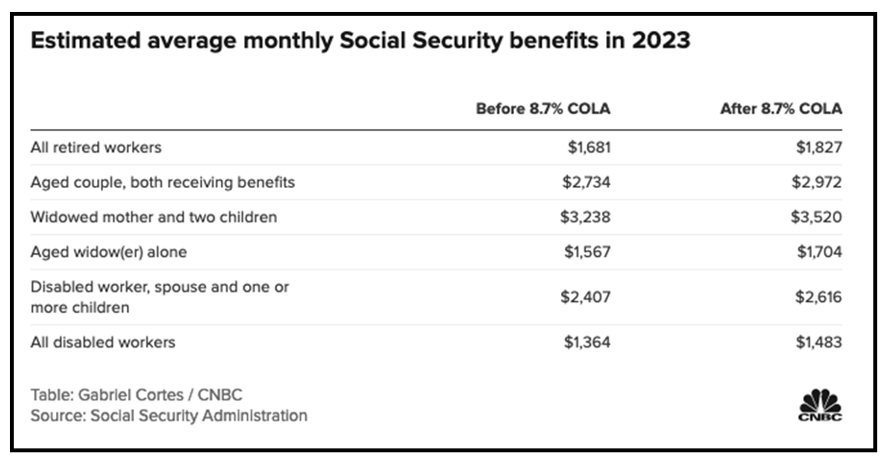 Average Social Security benefits chart.
Click here
to see full-sized image.
And the inflation adjustments for Social Security will increase the maximum payment by $140 a month, an 8.7% increase, to a maximum of $3,627 a month.
Sure, your 401(k) may be swimming in a sea of red ink this year, but the best thing you can do is take advantage of the higher 2023 contribution limits and buy your favorite deeply discounted exchange-traded funds and stocks.
Because of the S&P 500's 20% decline, you're paying 20% less for the same ETFs and stocks today.
Like my father used to say, "Buy your straw hats in January."
All the best,
Tony
P.S. Weiss Ratings Members once again get first dibs on something normally reserved for the likes of angel investors like Mark Cuban: the chance to invest in rapidly growing companies before they're listed on public stock exchanges. Click here to get access.