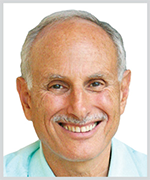 By Martin Weiss
Yields on stock dividends stink. And now they're sinking further.
Bank CDs' yields are even worse. Even if you lock up your money for five years.
We have a good solution. But first, the facts …
The average yield you could make with stock dividends was already historically low.
Now, it's even lower, as you can see here: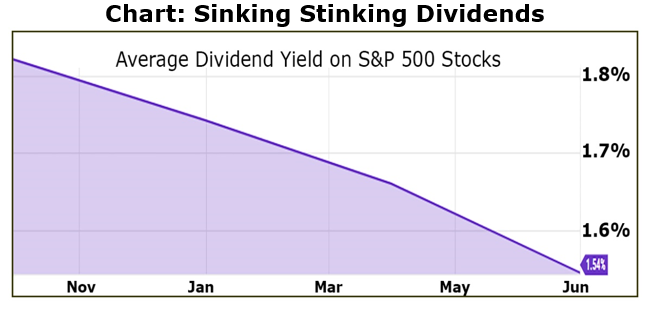 The latest dividend yield on S&P 500 stocks: A meager 1.54% per year.
What's the alternative?
Many investors would naturally check to see what they could make in bank CDs.
Trouble is, even if you lock up your money for five long years, the average CD now gives you only a meager 1.37% per year.
My view: This whole story is absurd, especially when you consider the long list of downsides …
Downside #1 is inflation:
Right now, everyone seems to be celebrating last week's news that the government's CPI measure is up "only" 3.2%.
But even at that rate, the 1.54% you can squeeze out of S&P 500 stocks for the year is wiped out by June 24.
And the 1.37% you get on the average 5-year bank CD is all gone by June 5.
For the remaining months, your money just sits there losing value. And for the year …
You lose 1.66% on the dividends. Or …
You lose 1.83% on the bank CDs.
Downside #2 is the government's manipulation of inflation rates:
According to Shadow Government Statistics, if you calculate the CPI the way the government used to in 1980 (before they began jury-rigging the numbers) …
The true inflation rate today is 12.1%.
At that pace, your dividend yield for the year is wiped out by Feb. 15, and your CD yield is gone by Feb. 10. For the year …
You lose 10.56% on the dividends. Or …
You lose 10.73% on the CDs.
Downside #3 is the obvious risks of holding stocks:
Bad earnings. Bad economic news. Bad stock performance. Political risk.
Downside #4 is the not-so-obvious risk of holding bank CDs:
Big bank failures despite the FDIC's limited capacity to cover all of their deposits. The Fed's new powers to gain control over your bank account. And more.
Downside #5 is the worst of all, in my view:
The danger that the rising cycle of war will prompt the government to crank up the money printing presses … push interest rates back down toward zero … and drive inflation back up to last year's 40-year highs (or beyond).
I call this America's Great Income Emergency.
To learn more about it and get our high-income, lower-risk solution …
Be sure to watch my just-released presentation before we take it offline a few days from now.
Good luck and God bless!
Martin