Dust Off the Playbook as Rates Rise
We're only a few weeks into 2022. But one trend is becoming very clear: Interest rates are rising!
Just since the start of the year:
Two-year U.S. Treasury note yields have climbed to 1.02% from 0.73%. Since these are among the fixed-income securities most sensitive to Federal Reserve policy, the move shows investors are increasingly worried about an aggressive Fed.
Five-year Treasury note yields have risen to 1.62% from 1.26% … the highest in two years.
At the longer end of the yield curve, the 10-year Treasury note yield just hit 1.83% … up from 1.51% at the start of 2022 and also the highest since right before the pandemic struck.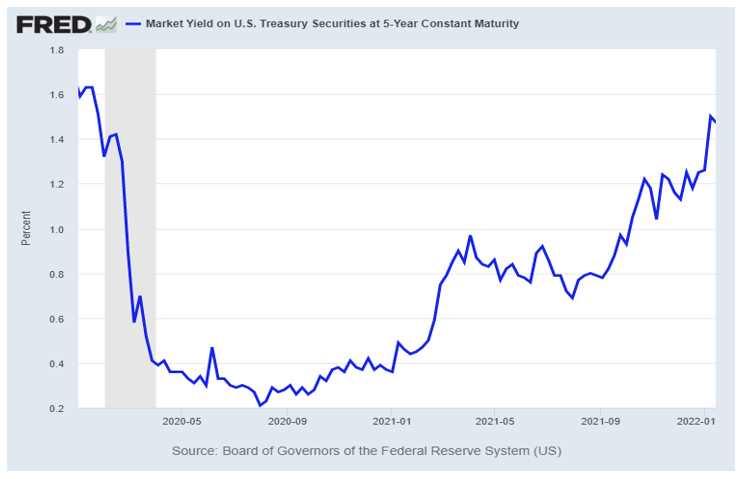 You don't need to be Sherlock Holmes to identify the culprits here ...
… Start with rising energy prices.
Crude oil just jumped to $85.74 per barrel after the three-day weekend … its highest level since October 2014.
Goldman Sachs (NYSE: GS, Rated "B-") is now calling for oil prices to hit $100 a barrel later this year and to continue rising in 2023, signaling even higher prices at the pump are on the way.
Or how about inflation overall?
We just learned a few days ago that the Consumer Price Index (CPI) soared 7% year over year in December … the biggest increase going all the way back to 1982.
Even core inflation — inflation excluding food and energy — surged 5.5%, the greatest gain since 1991.
And as I mentioned at the outset, markets now expect the Fed to start raising interest rates sooner — and more aggressively — than they did just a few months ago.
The following chart shows what potential Fed rate actions are being priced into the short-term interest rate market.
I zeroed in on the June 15, 2022, Fed meeting since it's almost halfway through the year: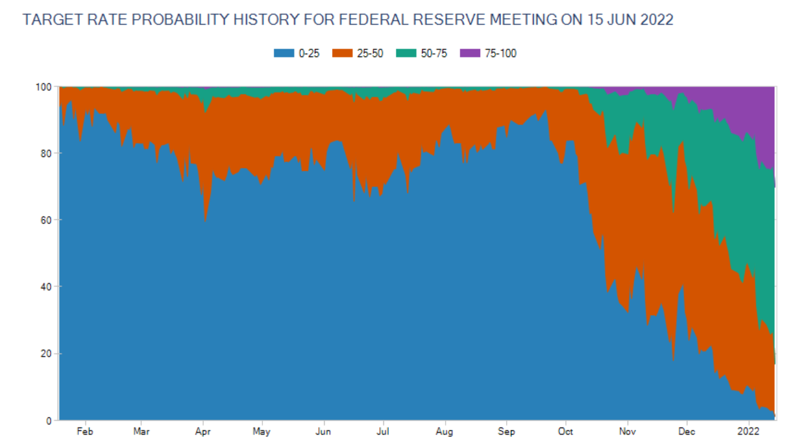 You can see that a few quarters prior, this chart was mostly light blue.
That meant rate traders almost universally expected a funds rate of 0% to 0.25% — unchanged from where it is now.
Only a small percentage expected one 25-basis-point hike to a range of 0.25% to 0.50% at or before then.
But those odds have changed drastically since September.
Hardly anyone is betting on no hikes in early 2022.
Instead, the percentages of investors betting on one (orange), two (green) or even three (purple) 25-point hikes before then are all rising sharply.
What's happening as a result?
Powerful sector rotation behind the scenes!
Consider these two examples:
1. Banks and other financial stocks tend to like higher rates because they help goose profit margins. That's why the Financial Select Sector SPDR Fund (NYSE: XLF, Rated "B") is sporting a 4.5% year-to-date gain even in a troubled market.

2. On the flip side, richly valued and/or money-losing technology stocks dislike higher rates. Those higher rates reduce the amount investors are willing to pay NOW for earnings those companies might generate in the FUTURE. So it's no surprise that the Technology Select Sector SPDR Fund (NYSE: XLK, Rated "B+") is DOWN about 4.6% so far this year.
That's not all.
We're also seeing more money migrate to cheaper value stocks from more expensive growth stocks.
The iShares Russell 2000 Growth ETF (NYSE: IWO, Rated "C") has already shed 7.6% in just the first few weeks of the year.
Meanwhile, the iShares Russell 2000 Value ETF (NYSE: IWN, Rated "B-") has inched up 0.5%.
I can't say for certain how long this pattern will last ... but these moves do fit what you'll find in the ol' rising rate playbook.
So, rather than try to fight them, my advice is to recognize and adapt to them.
Dust off that playbook and follow the moves you'll find in it. That's certainly what I'm recommending to my Safe Money Report subscribers, and I encourage you to check out the latest issue.
Until next time,
Mike Larson
P.S. If you're interested in other ways to diversify your portfolio with the aim of beating runaway inflation, I highly suggest you check out this video of the NFT Investor Summit.
You'll learn all about non-fungible tokens (NFTs) and ways you can play the emerging trend. But this video is only available until 11:59 p.m. Eastern on Thursday, Jan. 20 ... so act fast.
For more information, click here now.