Finally, a Solid Plant-Based Investment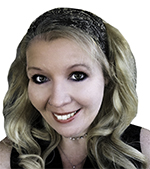 By Dawn Pennington
Did you see the news that Kellogg (K) will be splitting into three separate companies?
In the end, Kellogg will continue to keep its attractive snacking categories and international cereal brands.
And it will spin the rest of its portfolio off into two separate companies. Both of these companies have yet to be named.
But the first will be a North American cereal company.
These brands are all highly recognizable and include five of the top 11 brands in the U.S.
The second will be a plant-based food company built around the Morningstar Farms brand.
Last year, the company saw total net sales of $14.2 billion. Over $11 billion of that was generated by the snack division.
It's no wonder that Kellogg is keeping that part for itself. Net sales from cereal came in at $2.4 billion. And net sales from plant-based sales came in at $340 million.
But even though its plant-based food contributed the least amount of net sales, it might be the company you should watch the most.
Not Just a Trend
The plant-based food sector is still a high-growth opportunity for investors.
Research firms expect a 12% compound annual growth rate over the next several years. Some have estimated that number could go as high as 18%. Bloomberg Intelligence has estimated that the plant-based foods market could reach more than $162 billion by 2030.
Last year, several plant-based companies garnered more than $100 million in 13 separate funding rounds. Privately held Impossible Foods completed a $500 million raise, for lifetime funding of over $2 billion.
There have been more and more plant-based food companies going public ... but just because something is public in a booming industry doesn't mean it's a good investment.
Take a look at shares of Oatly Group (OTLY):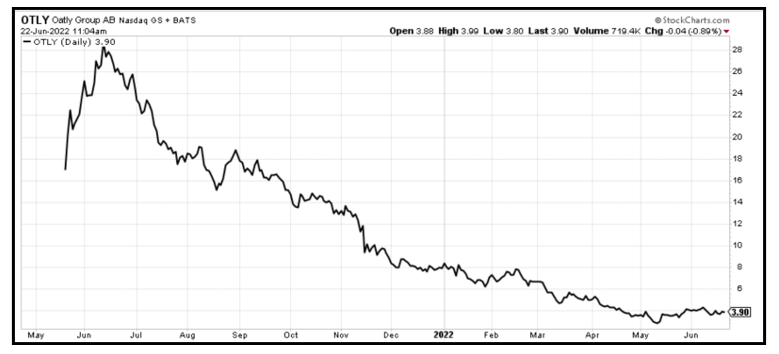 If you're not familiar, Oatly is the largest oat drink (milk) company, and its products are sold at over 14,500 retail locations. The company just went public last May, but now shares are down 86% off their recent highs.
Beyond Meat (BYND) doesn't look much better: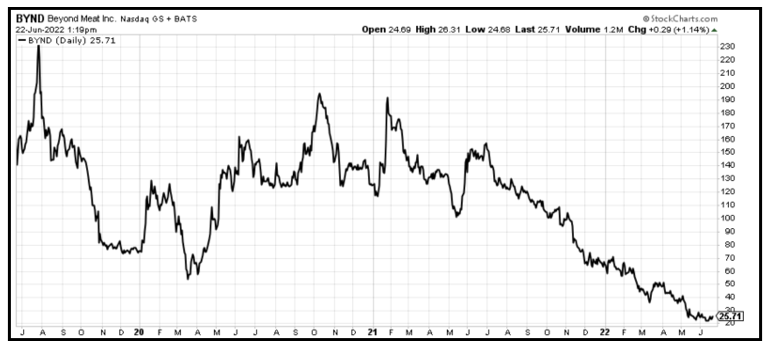 Beyond Burgers are increasingly popping up on restaurant menus. Plus, its plant-based burgers and sausages have managed to find their way into the meat aisle of grocery stores instead of being exiled into the small, hidden vegetarian section of supermarkets.
Shares have been public since 2019, but they have plummeted over the last year and are now down 84% off last year's high.
The Weiss Ratings grades help to tell all these plant-based foodmakers' tales …
Oatly Group, Beyond Meat, Tattooed Chef (TTCF) and Benson Hill (BHIL) are all in the "D," or "Sell," range.
The only "Buy"-rated plant-based stock we could find using the Weiss Ratings is Ingredion (INGR). And it actually was just upgraded to its "B-" at the beginning of last week. Prior to that it hadn't seen the "Buy" range since 2018.
Ingredion is different than the companies above because it's not associated with any one brand in particular. Instead, the company produces and sells starches and sweeteners to various food producers around the globe.
If you're looking for a pure plant-based food play, this one lacks some ingredients that would make Ingredion digestible.
Its raw materials can end up as feed for chickens or ingredients in mayonnaise. But it does offer a lot of exposure to the plant-based market.
Ingredion's pea protein isolate is 85% protein and is used to boost the protein content of a variety of plant-based products. Plus, its pea starch can be used in a number of ways including the production of plant-based cheese.
Kellogg's Morningstar Farms just might be able to give all these companies a run for their money.
Morningstar Farms is a legacy player in the vegan and vegetarian landscape. Founded in 1975, it's been on grocery store shelves for 47 years. According to research firm IRI, it's the top seller of meat alternatives, with 27% of dollar share.
Kellogg purchased Morningstar Farms as part of its Worthington Foods acquisition in 1999. It's since sold off the rest of the brands as part of that deal.
In addition, Kellogg recently invested $43 million into expanding the brand's manufacturing capabilities. And just last year, all the brand's products went 100% vegan.
And don't forget that Kellogg has paid uninterrupted dividends since 1925.
You won't find it on the dividend aristocrats list, since it can't claim an unbroken streak of payout hikes. But still, with that track record, the management must be doing something right.
This is a piece of news that I'll be following until the end of the year. We're in a time of high inflation, but we're all still buying the things we need. That makes consumer staples great investments.
This new plant-based spinoff could offer the perfect way to invest in the plant-based food trend. It will have the MorningStar Farms brand as the bedrock of its portfolio, and hopefully the management experience coming from Kellogg.
If you'd like tailored picks, my colleague Sean Brodrick's model portfolios have capitalized on this consumer staple trend. Members of his Wealth Megatrends service are sitting on open gains of over 71%, 33% and 19%.
As always, remember to do your own due diligence before entering a trade.
To your wealth,
Dawn Pennington
Editorial Director