5 Ways to Play the Semiconductor Shortage
Modern vehicles are essentially high-tech computers on wheels. And as car manufacturers wait out the semiconductor shortage, potential profits are primed for the taking.
My father was a farmer, and a farmer needs to be a jack-of-all-trades. In addition to successfully growing crops, he was part carpenter, part plumber, part electrician and part mechanic. He could fix just about anything.
But if he looked under the hood of one of today's vehicles, he'd be scratching his head.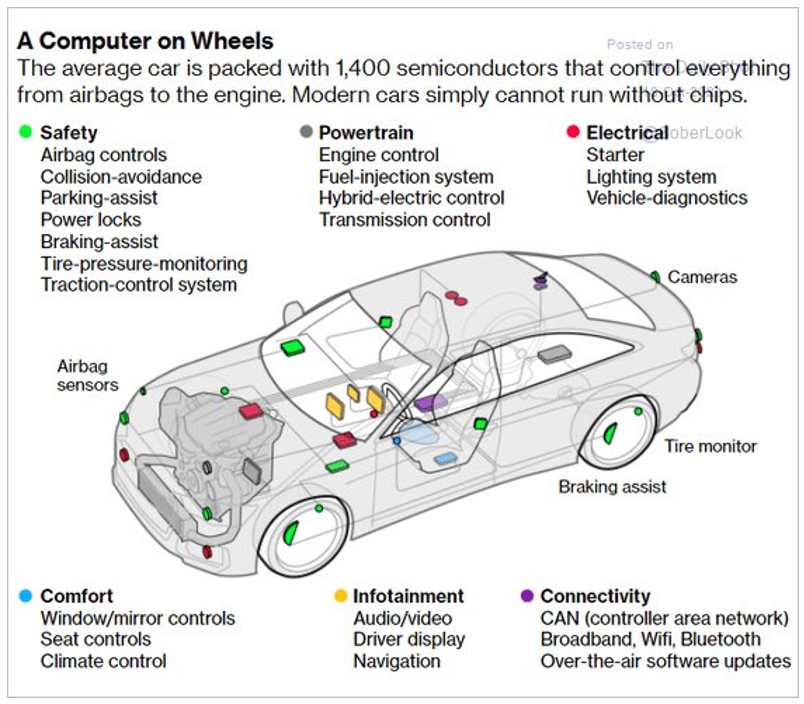 Source: Twitter
New cars have over 1,400 semiconductor chips in them and are increasingly complex. In fact, according to consulting firm Deloitte …
• Electronics are responsible for 40% of a new car's total cost, up from 18% in 2000, and that's expected to hit 45% in 2030.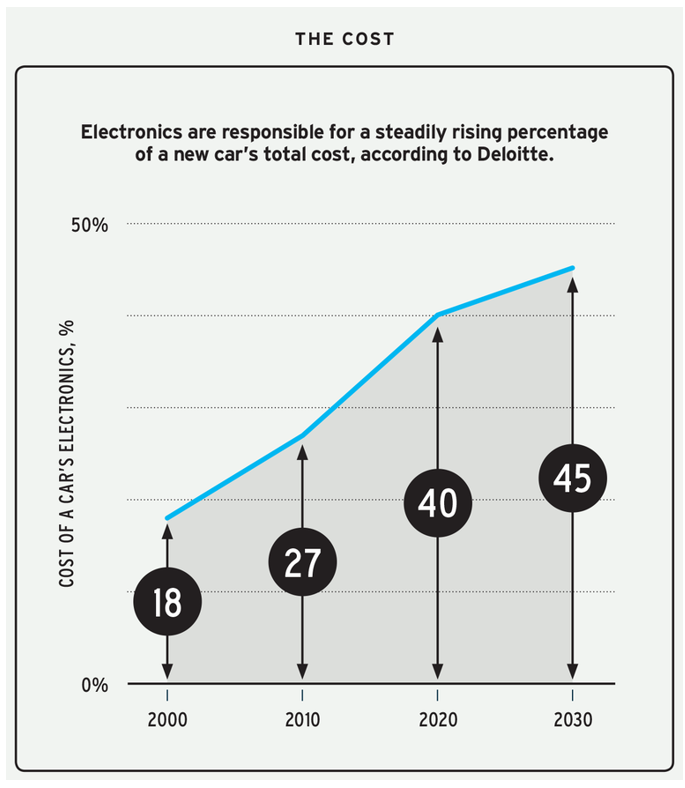 Source: Car and Driver
Those semiconductors are small … some smaller than the size of a dime. But those itty-bitty chips are bringing the automobile industry to a halt.
If you've been in the market for a new or used car, I don't have to tell you how crazy things have gotten.
Auto dealership lots are nearly empty, and new car buyers are waiting months for their new vehicles to be delivered — or, rather, built.
Tens of thousands of new vehicles are sitting in parking lots while they wait for parts — specifically for semiconductor chips — before they can be shipped to dealerships.
When the COVID-19 pandemic began, auto manufacturers mistakenly assumed that demand would plummet and sharply reduced their orders of parts — including semiconductors.
At the same time, the work-from-home explosion created massive demand for electronics — phones, computers, video games — and the electronics industry bought every chip they could get their hands on.
When automakers restarted their factories, the stronger-than-expected demand for new vehicles outpaced production and has yet to catch up.
The bad news for the auto industry is that the shortage in chips is going to last well into 2022.
According to the Alliance for Automative Innovation, the trade group that represents automakers …
• Chip shortages will last another six months and result in 1.28 million fewer vehicles being made in the U.S. this year.
General Motors (NYSE: GM) CEO Mary Barra said the shortage will cost the company $2 billion in lost earnings in 2021.
How to Consider Playing the Chip Shortage
Many American semiconductor companies outsource the manufacturing of their components to semiconductor foundries.
Not only do American chip makers not have in-house manufacturing capability, semiconductor production is dominated by three (non-U.S.) companies:
1. Taiwan Semiconductor (NYSE: TSM).

2. STMicroelectronics (NYSE: STM).

3. Samsung Electronics (OTC: SSNLF).
Those three companies have business coming out the wazzu and are in the catbird seat of the semiconductor industry.
Of the three, STMicroelectronics has looked the most promising of late.
After being range-bound for most of the last year, this stock recently used its 100-day moving average as support, bouncing off of it and up to $47.64 at the time of this writing.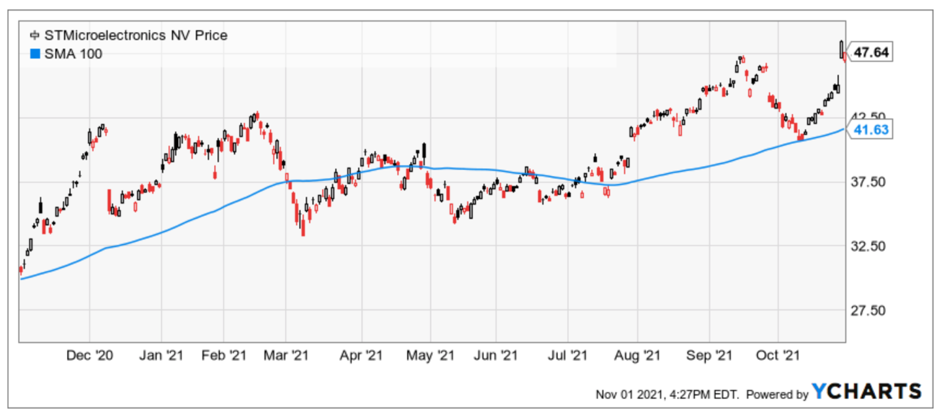 Source: YCharts
If you're more of an exchange-traded fund (ETF) investor and like more broad exposure, I have two more ideas for you:
1. The iShares Trust - iShares Semiconductor ETF (Nasdaq: SOXX).

2. The Van Eck Vectors Semiconductor ETF (Nasdaq: SMH).
Both of these ETFs are up nearly 57% in the past year.
Our world is becoming more electronic and more mobile by the day … and semiconductors are a crucial part of our modern evolution. They should be part of your technology holdings, too.
And speaking of holdings, if you're searching for higher yields that blow away the crummy current norms, I highly suggest you check out Dr. Martin Weiss' new Superyield Conference event.
Martin is so confident in this strategy that he is putting $1 million of his own cash to work.
The conference was hosted live on Tuesday, but there's still a limited time to attend.
I highly suggest you check it out now.
Best wishes,
Tony