Food Inflation & Sri Lanka's Warning Call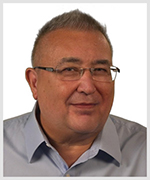 By Tony Sagami
"We are on the precipice of a global food crisis." — Bob Unanue, CEO of Goya Foods
Every time I go to Costco Wholesale (COST), I end up spending a couple hundred dollars more than I expected. I admit I have a hard time passing up good deals.
So, when I stumbled onto a super-duper airfare sale to Sri Lanka — a country that always interested me but I thought I'd never travel to — there I went.
On top of the cheap flight, my dollars went a lot further. Sri Lanka was already an inexpensive country to visit, but Sri Lanka's rupee lost over 50% of its value in the last two months … going from 200 rupees per U.S. dollar in March to 380 as of this writing. The result is that Sri Lanka is now ridiculously inexpensive to visit.

That's good news for tourists, but horrible news for the Sri Lankan people because its country is facing the worst currency crisis in its history. The problem is that years of deficit spending and money printing has caught up to it. Sound familiar?
For the Sri Lankan people, that currency collapse has pushed the rate of inflation to the moon. In April, inflation skyrocketed to 30%, up from 18.7% in March.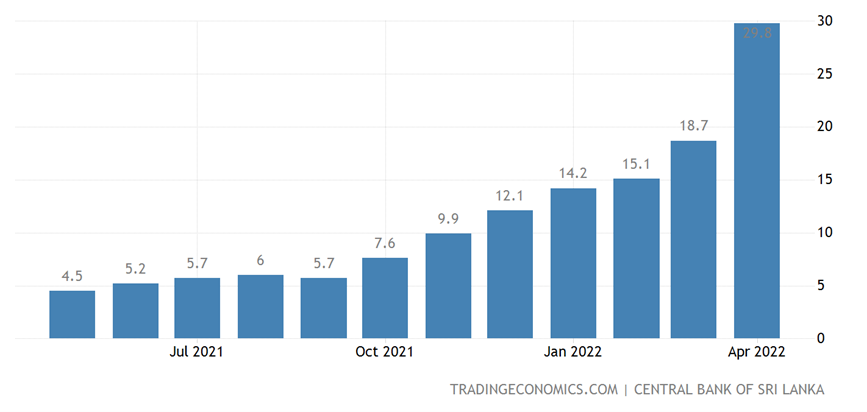 Inflation in Sri Lanka is now up to 30%.
Food Inflation
Food inflation is even worse at 46.6%, up from 30% in March. Essential food items, including rice and vegetables, have surged and destroyed the budgets of the working class. Examples:
Rice has gone from 50 rupees to 250 rupees a kilo (2.2 lbs).


Dal (lentils) has jumped from 200 rupees to 500 rupees a kilo.


A loaf of bread has increased from 60 to 140 rupees.
Makes our rate of inflation seem tame, doesn't it?
Last month, the Labor Department reported that the Consumer Price Index (CPI), which measures a commonly consumed basket of goods including gasoline, healthcare, groceries and rents, increased by 8.5% from a year ago. That's the fastest increase in inflation since December 1981.
Dangerous market conditions are fueling uncertainty. Dr. Martin Weiss just issued a new warning about how events like these unleashed three great threats to investors' wealth. Click here to get the facts and discover his steps for navigating this crisis.
Food prices have climbed 8.8% higher over the year, but many basic necessities are up even more.
Flour and prepared flour mixes: 2%
Butter and margarine: 14%
Meat, poultry and fish: 8%
Forget about Republican or Democrat … Black or white … rich or poor for a minute. A more important divide is between Americans who eat well and Americans who go to bed hungry. That's a divide that everyone should want to close.
Make no mistake — food inflation hurts the poor the most. According to the United Nations, 690 million to 811 million people worldwide were "chronically undernourished."
Food inflation is accelerating and global food prices are at a 40-year high, jumping by 12.6% just in the month of February alone.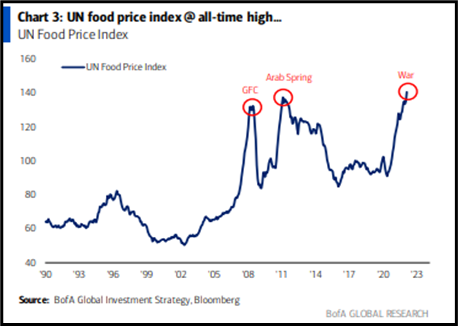 Climbing Commodities
Commodities are ground zero for inflationary pressure and I have been regularly encouraging readers of this column to load up on hard commodities: gold, industrial minerals and energy — but don't forget about "soft commodities."
Soft commodities, as opposed to hard commodities, are things that are grown or cared for like cotton, wheat, livestock, corn, sugar and coffee.
One exchange-traded fund (ETF) to consider is Invesco DB Agriculture ETF (DBA), which tracks a diverse basket of agricultural futures, such as wheat, corn, soybeans, livestock, coffee, and sugar.
The ETF has an expense ratio of 0.85% and has produced a +12% return over the past year. The fund is heavily weighted to corn, and in case you haven't seen it in the news, corn prices have been surging largely in part to the war in Ukraine.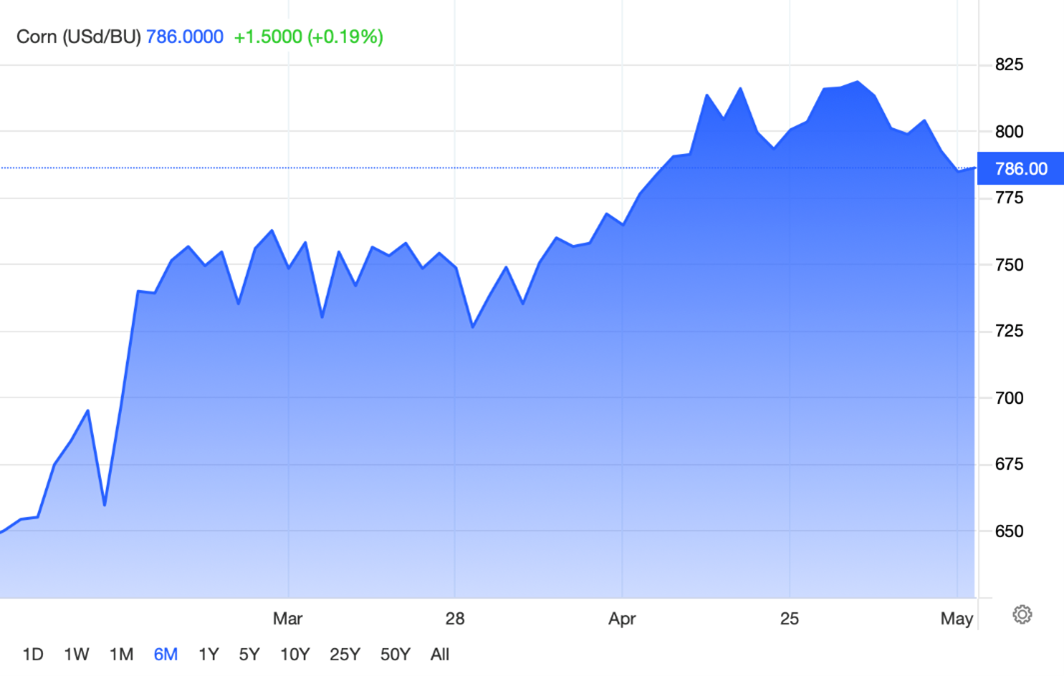 Source: Trading Economics
Soft commodities don't get the attention they deserve in an inflationary environment, but this is their time to shine.
Best wishes,
Tony