From $1B to $113B in Just 18 Months!
Imagine a new financial technology (fintech) sector that grows from $1 billion in deposits to $113 billion in 18 months flat.
That's growth of 11,230%.
With an average growth rate of 21%.
Per day!
And imagine investing in that new fintech 18 months ago!
Risky? Sure. But as I'll explain in a moment, there's a way to make money in this sector without exposing your principal to virtually any risk at all.
It's a financial revolution that Forbes says:
"[Will] shift the structure of the whole financial system at a macroeconomic level."
It first started with small, little-known smart contracts on the Ethereum (ETH, Tech/Adoption Grade "A") network. Then it evolved rapidly — both in its technology and its utility.
And at each step of the way, we've done our utmost to keep you on the cutting-edge, showing you how to profit from the wealth of opportunities available.
I'm taking about decentralized finance, or DeFi for short.
Look how it has exploded in size: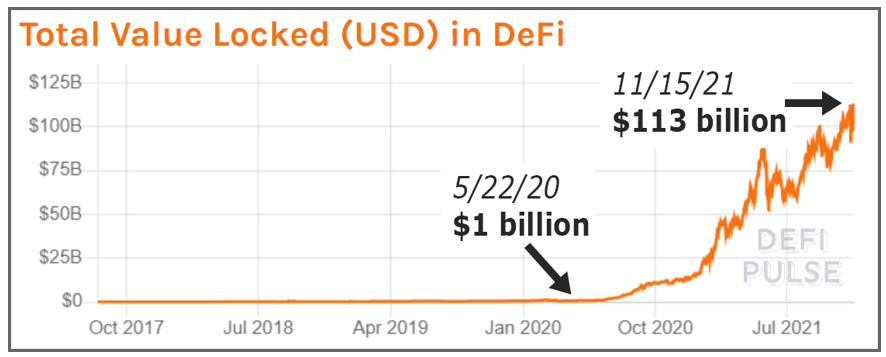 On May 22, 2020, it had $1 billion on deposit. This morning, as of 6 a.m. Eastern, it had $113.3 billion!
Why so big, so fast?
Well, starting from practically the very beginning, my team and I have showed you how it could revolutionize the entire financial industry, cutting out the middlemen, brokers and countless others that suck away at your money.
Then, I showed you several exciting cryptocurrencies on the frontier of this market and explained why I was personally investing in these coins.
All of them have soared.
Now, I want to explain why I wholeheartedly believe this is opening up an entirely new opportunity — an unparalleled way to earn higher, safer yields.
Not just for the 56% of U.S. households that own stocks …
Not just for the nearly 95% that have a bank account …
But also for the billions of investors and savers all over the world.
I'm talking about the ability to make a darn good yield with relative safety on your cash that's currently dead in the water, earning practically zero interest.
Like money in bank accounts, money market mutual funds and cash accounts with your broker …
Not to mention the money you already have in crypto that's also earning no yield!
Just look at how much people typically lose today in these kinds of dead-cash savings instruments: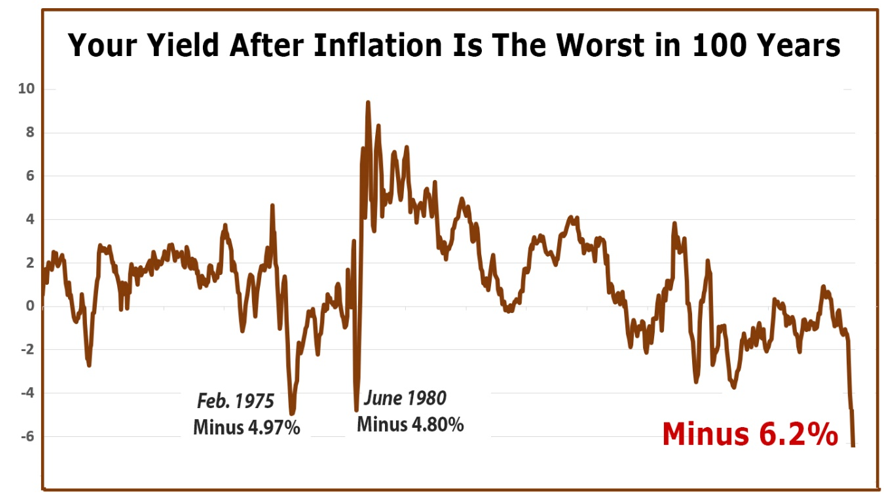 With money you have in a money market account or money fund, you're currently losing about 6.2% per year.
(You earn less than 0.4%. And before rounding, CPI inflation is now running at 6.24%.)
Now though, you have the ability to move some of those funds to DeFi, where …
You can earn many times higher than the absolute most you can get in the traditional banking system.
What's most amazing is that, by using stablecoins (pegged to the dollar so they don't fluctuate in price), DeFi actually gives you the opportunity to …
Get much higher yields than bonds or stock dividends, with virtually zero risk of a market decline that could affect your principal.
And as you well know, stock and bond prices can crumble; stablecoin prices cannot.
But here's what's so ironic: Despite the obvious advantages, most people have no idea this market even exists, let alone how to navigate it.
It's time to change that.
That's why I've recorded a new presentation that takes you inside this exciting new world of DeFi and shows you — with several live examples — where I'm depositing my money.
I recommend you watch it now. Before we pull it offline for good this week.
Good luck and God bless!
Martin