Grab This Generational Buying Opportunity
Shares of Citigroup (C) traded at an all-time high of $424.48 on Dec. 27, 2006.
But after two federal bailouts and wiping out $37 billion in toxic debt from the global financial collapse, shares fell to just 97 cents on March 5, 2009 — a $271 billion loss in market valuation in less than three years.
Put yourself in the shoes of investors back then. Do you see buying dirt-cheap shares of what was the 10th-largest bank in the world as a risk you'd rather not take? Or do you see it as a buying opportunity?
Well, if you had purchased $10,000 worth of shares on March 5 some 14 years ago and didn't add a single penny through today, your balance would be a little over $2.9 million. I'd say that answers the question.
That would've been not just a buying opportunity, but what we call a generational buying opportunity: GBO for short. This refers to when asset prices have dropped so dramatically that it's highly unlikely one will ever see them that low again.
It's still early in the new year, but investors have been all about fishing for bottom-dwellers, shopping for basement bargains and hoping they'll uncover a bona fide GBO.
So far, those sectors that were punished the most in 2022 are being shown the most love in 2023. That's typical market behavior. Keep in mind as you read the next few paragraphs that with the daily market swings, and my writing this early, some of the numbers might be off a bit.
Besides, you should focus on the general trends.
To get a better idea, let's take a look at a few examples of …
Sector Performance
This financials sector is up 5.6% after falling 11% last year. Consumer discretionary stocks are up 8.1% year to date, reversing from its more than 30% drop a year ago.
Even Cathie Wood's ARK Innovation ETF (ARKK), which focuses on disruptive tech, began this year in the black by 15% after falling by a whopping 77% in 2022.
Turning to the semiconductor and AI sector, they're up 11% and 9%, respectively. Metals are also gaining in popularity, with the SPDR S&P Metals and Mining ETF (XME) up 13%, while copper, gold, silver and platinum are trading higher at 8%, 7%, 6% and 3%, respectively.
Finally, small- and mid-cap stocks are up by 7.1% after falling 20% in 2022.
So, there are bargains to be had out there — even GBOs.
That's especially true if you focus on companies with stability, resilience, solid fundamentals and the ability to innovate over decades.
In fact, I've got three companies in mind … They've all withstood the dot-com bust and bear market in the early 2000s, the debt crisis and subsequent recession in 2008–9, as well as the COVID-19 collapse of 2020.
3 GBOs for 2023 & Beyond
Apple (AAPL), Microsoft (MSFT) and Amazon.com (AMZN) all capitalized on the boom in the 1990s and survived the bust in 2000.
And here we are more than three decades later, and these aristocrats of innovation have the unenviable title as "The Biggest Losers of Market Value in 2022 Among the 10 Largest Tech Companies."
While I see them treading a little more water early this year, they'll likely pick up the pace in the second half. I mean, we're talking about three technology icons.
Apple has become one of the most notable business success stories of the past half-century and built up a phenomenally loyal customer base.
The company survived and bounced back from share losses of 71% in 2000, closing out the year at 23 cents — which gives me even more confidence in its fortitude today.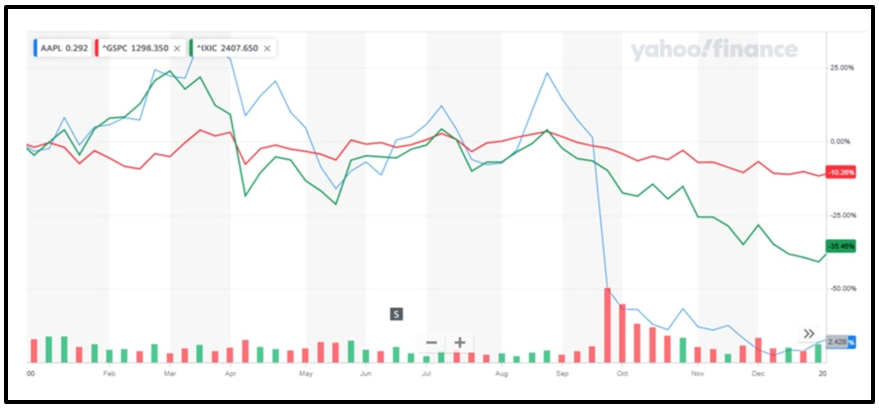 Apple's 71% loss in 2000.
Click here
to see full-sized image.
The company has since become the first in history to reach a market capitalization of $3 billion — which it achieved in January 2022. However, sellers came in, and by the end of the year its market valuation fell to $2.07 trillion.
That didn't faze Warren Buffett. A long-time favorite of his, Apple stock was Berkshire Hathaway's biggest holding as of Q3 2022.
Trading at a high of $179.45 on Dec. 6, 2021, shares of AAPL are now priced around $134.
Right behind Apple in overall market cap among tech stocks was software giant Microsoft, which took a 30% beating despite seeing its revenue and profits rise.
MSFT ended 2022 with a valuation of $1.79 trillion, down by $726 billion. The company is best known for its successful pivot from desktop computing and Windows, its dominating operating systems and its cloud computing — where it's competing with Amazon Web Services.
In Q3, Microsoft captured second in market share with 22% behind
AWS with 32%, according to research firm Canalys.
Microsoft, like Apple, struggled during the tech bust. The closing price for MSFT in 2000 was $13.58, down 63% for the year.
Today, MSFT trades around $230, down from a high of $343 in mid-November 2021.
Same story goes for Amazon.com. After reaching a high of $185.97 in early July 2021, it's now trading around $93. Shares of AMZN turned south in late October 2022 after reporting a beating on earnings and offering a poor outlook.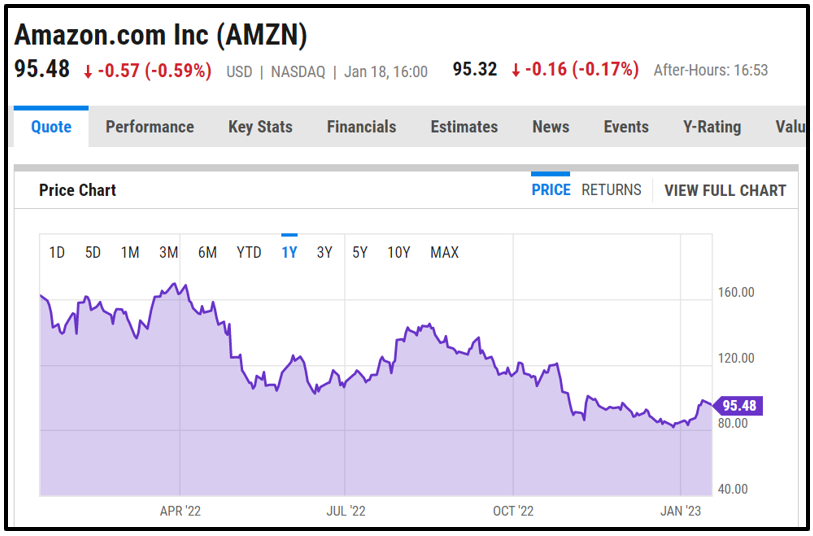 Amazon.com share price plunge.
Click here
to see full-sized image.
As a result, Amazon.com wrapped up 2022 as its worst year since 2000. Shares have collapsed about 65% in 2022, compared with its 80% plunge 22 years ago.
Here's a company that began as an online bookstore, has single-handedly changed the way we shop and now the way we store and process data through its cloud services business.
Amazon.com is delivering products via drones, pushing its way into the healthcare business with acquisitions that give it the ability to deliver prescriptions around the U.S. and exploring additional revenue streams daily.
All that carnage suffered last year in the stock market is setting up buying opportunities — and some may even be …
Lifetime Buying Opportunities
Lifetime buying opportunities are like the three stocks I spoke about just now.
If you'd rather hunt for your own, don't just pick stocks that have fallen the furthest. There's more to the opportunity equation than that.
As I mentioned above, look for companies with proven resiliency, adaptability, fundamentals, leadership and delivery of goods and services the world needs — all those attributes that help them overcome headwinds and persevere, regardless of the market climate they're facing.
Unless you're a day trader, don't try to time short-term, jerky moves in stocks.
If you find companies like Apple, Microsoft or Amazon.com that fit the above bill at bargain prices, add shares to your portfolio for the long term. And if they get cheaper, add a little more.
Just remember to exercise patience. As they say, "Stocks fall faster than they rise."
But when they finally do rise, GBOs are well worth the wait.
To your wealth & wisdom,
Kenny Polcari
P.S. If you enjoyed this issue and haven't yet joined my friend and colleague's Wealth Megatrends service, now is the perfect time to do so. Members of his service are currently sitting on open gains of 54%, 34% and 21%!