How to Beat the Inflation Thief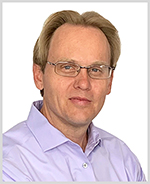 By Mike Larson
This is a treacherous time for income-focused investors.
With inflation running at just under 8% ... and everything from bank CDs to Treasury bonds paying far less ... we're being robbed blind.
We're all waking up a bit poorer than we were when we went to sleep the night before as our pockets are being picked by inflation in the dead of night!
The Federal Reserve has vowed to get things under control. But the only way to do so is to jack up interest rates. That historically leads to massive market volatility, not to mention the bursting of financial bubbles.
Recession Warning Signs
Heck, the bond market is already sending out recession warning signs. Various parts of the Treasury yield curve have inverted, with shorter-term rates rising above longer-term rates. That's historically been a harbinger of recession down the road.
And if you're worrying about it, you're not alone.
According to a a poll conducted from March 23 to March 24 by Momentive, a staggering 81% of respondents said they are worried about a recession hitting this year.
Look at the following chart showing the difference between the yield on 5-year Treasuries and 30-year Treasurys.
You can see that it sank below zero (the black line) a couple of times in the last 25 years. You can also see that recession (the gray shaded bars) followed not long after.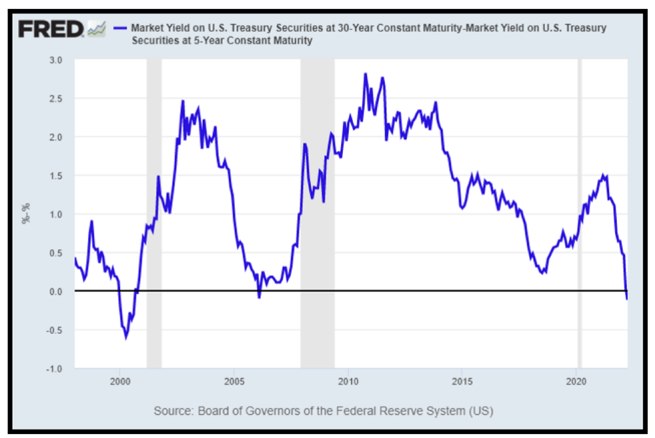 Like many investors, you probably see these risks.
You know how dangerous they can be to your wealth. So, if your goal is income, you're probably looking for a few things:
Consistent income payouts
Relative safety from the investment vehicle targeted
What Investors Can Do
My MasterClass is designed to help you achieve all of those goals by putting you in the driver's seat selling options for income.
You might've heard how this technique can put you on track to collect weekly payouts of up to $1,000 — or more — almost every single week of the year.
Our methodology has demonstrated a success rate of around 98% over three years of backtesting and two years of real-time trading.
Here's some proof. This is how our methodology worked in my service focused on selling options for income last year if you followed my trade parameters: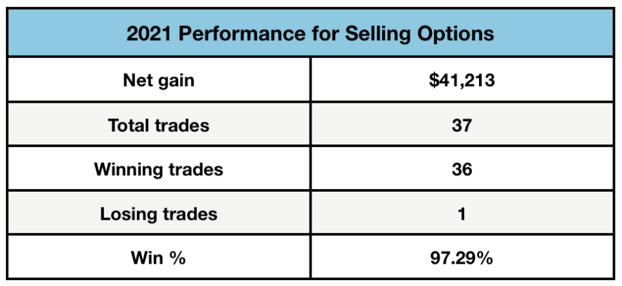 My MasterClass is designed to give you some of the very same tools to succeed in 2022. But you probably still have a lot of questions. Questions about how easy it is to do. What kind of brokerage account it requires. Why options selling is often more attractive than options buying, which seems to fail most of the time.
My MasterClass covers yields and income payouts to the risks investors must be aware of... and so much more.
It's designed to cut through the clutter and, in plain-English, no-nonsense language, give you the tools you need to fight back in this era of paltry yields and lurking pitfalls.
I recommend you check it out. It'll only take 20 minutes of your time … but the lessons you'll learn will be invaluable.
Until next time,
Mike Larson