How To Invest Like an Insider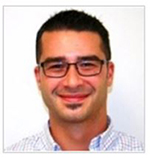 By Jordan Chussler
According to Cornell Law School, insider trading is "the trading of a company's stocks or other securities by individuals with access to confidential or non-public information about the company."
Let's focus on the operative term, "confidential or non-public information," because that's the part Martha Stewart and Steven Cohen either didn't pay attention to … or didn't care enough about.
"A company is required to report trading by corporate officers, directors or other company members with significant access to privileged information to the Securities and Exchange Commission (SEC) or be publicly disclosed," per Cornell's Legal Information Institute.
And right now, insiders are buying shares hand over fist. As stocks continue to sell-off, insiders are bullish, signaling that the market is likely oversold.
According to MarketShare, "the ratio of companies with insiders buying to those selling has doubled … By dollars amounts, the ratio of buying to selling has tripled."
When the buy-sell ratio for insiders is this pronounced, it often serves as a signal for a market shift.
According to Bloomberg, "Corporate insiders, whose purchases correctly signaled the bear-market bottom in 2020, are bottom fishing during the S&P 500's longest stretch of weekly losses in two decades."
So how does a retail investor looking to potentially profit from the actions of those with privileged information find it?
One way would be to sort through protracted, jargon-laden SEC filings.
But a much easier way is using websites like finviz.com that list otherwise privileged information in plain English that's accessible to the public.
It's important to note that just because a CEO, CFO or board member gobbles up 50,000 shares of their company's stock a few days before they report earnings, it's not an indication that the stock is going to head in any particular direction.
However, it is an indication that investors might want to keep their eyes on that stock's price action by taking advantage of watch lists and alerts.
Finding the Information
1. Continuing with the finviz example, the website has a dedicated tab — "Insider" — at the top of its toolbar.
2. Users will be presented with a table sortable by sale transactions, buy transactions or all transactions. For today's purposes, we'll be examining buy transactions for investors who are long.
3. Next, in the "Relationship" column, focus primarily on buy transactions by presidents, CEOs and CFOs.
Although board members and directors must also disclose their trading, noticing that a director of marketing, for example, decided to purchase shares of their company's stock isn't very useful.
4. Lastly, look for larger quantities. The greater the number of shares purchased, the more relevant that stock could be for investors' watch lists. It's not uncommon to see CEOs purchase tens of thousands of their companies' shares.
On consecutive days last week, the CEO of Applied Blockchain (APLD) procured a total of 88,813 shares of the company. That's the kind of quantities that should catch retail investors' eyes. In the past three months, insiders have bought 374,572 shares of APLD and now own 27.46% of the company's outstanding stock.
So now that you've found a company that checks all the boxes:

What can you do with that information?
Use the Weiss Ratings
Again, just because a CEO purchased tens of thousands of shares of their company doesn't necessarily make it a "Buy." Investors should use the Weiss Ratings to gauge the worthiness of those companies and conduct their own due diligence.
First, users can dig into the ratings history and recommendations.
Applied Blockchain — a small-cap company that builds and operates North American data centers, provides computing power and supports Bitcoin (BTC) mining — receives a Weiss Rating of "D," having been downgraded as recently as May 17.

That doesn't inspire me, but it also doesn't mean the company should automatically be dismissed as a watch list candidate.
Next, check the headlines to see if there are any tailwinds for the company: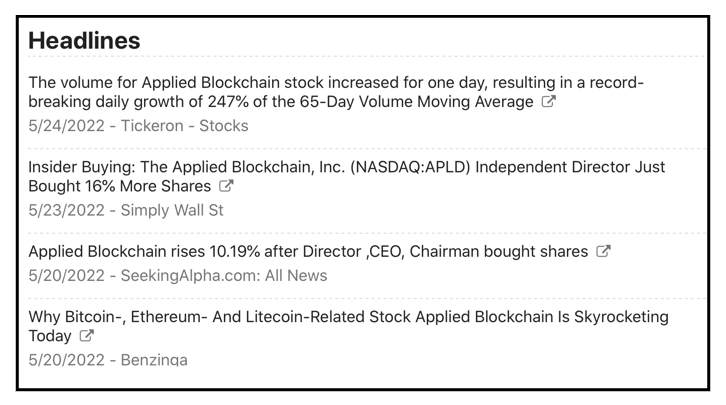 Applied Blockchain wasn't profitable in FY 2021, having posted a loss of $568k. However, that loss was a marked improvement over the $18 million loss from FY 2020.
Those losses could be short-lived, too. According to Yahoo! Finance, analysts believe APLD should see its final net loss in 2023 before breaking even two years from now and posting a profit of $96 million in 2024 — good for a 72% average annual growth rate.
And the headlines suggest other positive developments, including:
Record daily volume growth.
A five-day gain of 33.15%.
And a median Wall Street Journal price target of $8.75 (at the time of writing, the stock trades for $4.60), which suggests a potential +90% upside.
I'm not convinced tech stocks have bottomed as the market continues to transition from growth to value. The S&P 500's tech sector is down nearly 20% year to date (YTD) and the Nasdaq — where APLD trades — has shed over 23% of its value YTD.
However, with a 52-week range of $34.20-$1.73, the aforementioned potential upside of +90% makes this company worthy of monitoring.

To do so, set an alert by clicking on the bell just to the left of the company's Weiss Rating, and you'll receive a notification whenever a ratings change occurs or news breaks.
If you don't want to do it alone, consider joining Senior Analyst Sean Brodrick's Members with Wealth Megatrends — they're sitting on open gains of 109.7%, 55.6% and 34.9%.
Remember, just because you're not seated in a C-suite office each morning when the opening bell rings doesn't mean you have to be in the dark about insider trading. It's there for the taking. You just have to know where to find it.
Until next time,
Jordan Chussler
Managing Editor
Weiss Ratings Daily