How to Play the 'Buy Now, Pay Later' Trend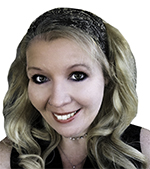 By Dawn Pennington
Depending on your age, you may or may not remember the "Popeye the Sailor" cartoon when Wimpy — the spinach-eating sailor's best pal — would constantly tell the cook at the local restaurant, "I'll gladly pay you Tuesday for a hamburger today."
And because buying a burger on credit in the 1930s was unheard of, poor Wimpy always walked away empty-handed and hungry.
Today, however, he would be in hamburger heaven with access to the "buy now, pay later" payment option … something holiday shoppers took full advantage of last week.
On Thanksgiving, online BNPL revenue increased by 1.3% year over year and orders were up 0.7%, according to Adobe data. For the entire week of Nov. 18–25, the number of purchases made using BNPL rose by 78% compared with the prior week; revenue grew 81%.
If you're not familiar with BNPL, let me share its allure and how it differs from credit cards.
By using good, old-fashioned plastic for purchases, you pay interest on any unpaid monthly balance, which can add up depending on how long it takes you to reach $0.
Depending on your income and financial situation, though, you may not even qualify for a credit card.
How It Works
With BNPL, you're given a specific period of time and number of payments, usually weeks or months — interest-free with no fees — so it follows the same principle as the "no interest paid for X months" offers.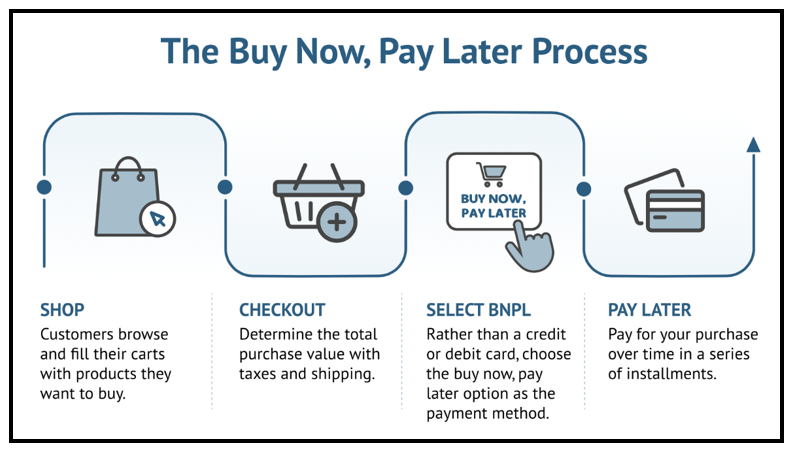 The BNPL process.
Click here
to see full-sized image.
You don't need to fill out a long application requiring a credit check, so there's no impact on your credit score. Plus, approval is instant because it doesn't consider as many factors.
It's an easy way to use someone else's cash for a short time. But it's also an easy way to get into financial trouble. If you don't pay off the balance when required, you're hit with interest (upward of 30% today) and fees that accumulate quickly.
Analysts think it's great that BNPL allows consumers to stretch their dollars over the short term but perceive the growing popularity as potentially troubling. According to Rod Sides of Deloitte Insights:
"That immediate-term positive is a red flag in the long term. We now have much higher interest rates, and they're gonna start to hit any credit card balances. With buy now, pay later, it tells you the consumer is challenged … in the long term, it's a warning sign."
So is the fact that some shoppers are using BNPL for lower-priced goods instead of more expensive stuff, with the average order value down by 6% on Thanksgiving, according to Salesforce data.
Considering the economy is expected to get worse before it gets better, these trends aren't going anywhere soon. You might recall that BNPL burst onto the shopping scene during the pandemic, when fears about job loss or the government cutting free services and stimulus payments were very much a part of everyday life.
So, it stands to reason that cash-strapped consumers then, and inflation-weary consumers today, embrace the new approach. Of course, it also appeals to the immediate gratification generations that want new clothes and new iPhones, and want them now.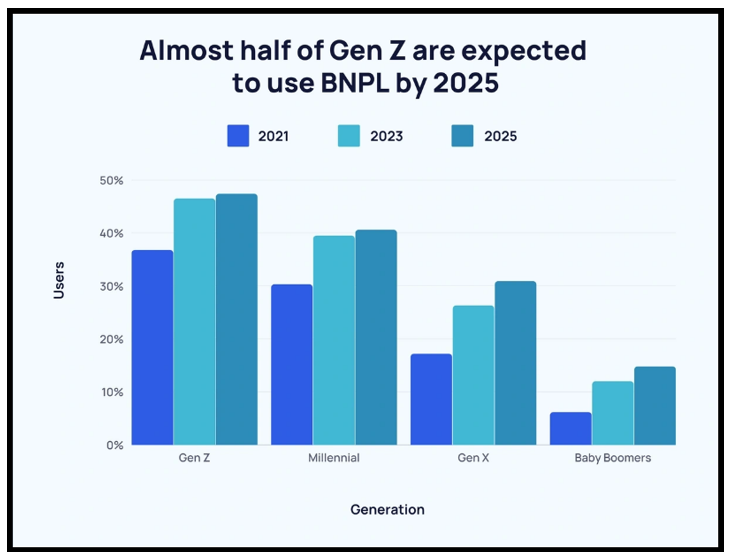 Gen Z is the generation predominately using BNPL.
Click here
to see full-sized image.
Though the current economic crisis, too, shall pass, the popularity of BNPL is expected to continue its upward trajectory.
Consider these facts from Juniper Research:
• There are currently around 360 million BNPL users worldwide.

• By 2027, it should be close to 900 million.

• In 2020, the BNPL market was valued at $87.2 billion. It grew by around 43% to $125.09 billion in 2021 and will reach an estimated $179.5 billion in 2022.

• By 2030, the BNPL market is forecast to be worth an impressive $3.27 trillion.

• The percentage of e-commerce companies using BNPL plans is expected to grow to 4.5% by 2024.
2 Companies Leading BNPL
The BNPL landscape today is dotted with large retailers, payment-processing providers and pure play startups. It's an ongoing story filled with potential acquisitions, partnerships, disruptions and, of course, growth.
Here are two of many companies that make up the investment arena.
The New Kid on the Block
One company that launched its initial public offering in January 2021, Affirm Holdings (AFRM), has partnerships with Amazon.com (AMZN), Walmart (WMT), Target (TGT) Williams-Sonoma (WSM), American Airlines Group (AAL), Peloton Interactive (PTON) and others.
Like others new to the industry, Affirm has yet to make a profit. But active consumers on its platform jumped 69% YoY to 14.7 million in its Q1 of fiscal 2023 ending Sept. 30. Meanwhile, active merchants surged 140% to 245,000. Affirm's total transactions, in turn, increased 97% to 13.3 million.
All the above translated to a 62%, or $4.4 billion, increase in the total dollar amount of transactions processed on its network.
However, looking forward, the $3.65 billion company lowered expectations for 2023 as it foresees headwinds from a potential recession and an overall slowdown in consumer spending.
Shares have been hit hard over a one-year period, losing 90% of their value, which gives you a good indication why it receives a Weiss rating of "D."
The Multinational Fintech Giant
Meanwhile, $91 billion PayPal Holdings (PYPL) has integrated BNPL offers into its online checkout button as part of its "super app," which offers users loyalty rewards, discounts, trading in cryptocurrencies and more.
Unlike some of the pure play BNPL providers, PayPal isn't spending capital to acquire merchants. For PayPal, the priority is keeping transactions on its 35 million merchant payment network.
Like Affirm, shares have taken a beating this year, down nearly 60% year to date. It carries a Weiss rating of "C-."
If you are considering either Affirm or PayPal, they are both trading near their 52-week lows, meaning they could be bargains … or busts.
One thing you may consider is where shares are trading relative to their 50-day moving averages. Shares of AFRM and PYPL sit just below those respective marks, which are also resistance points for each.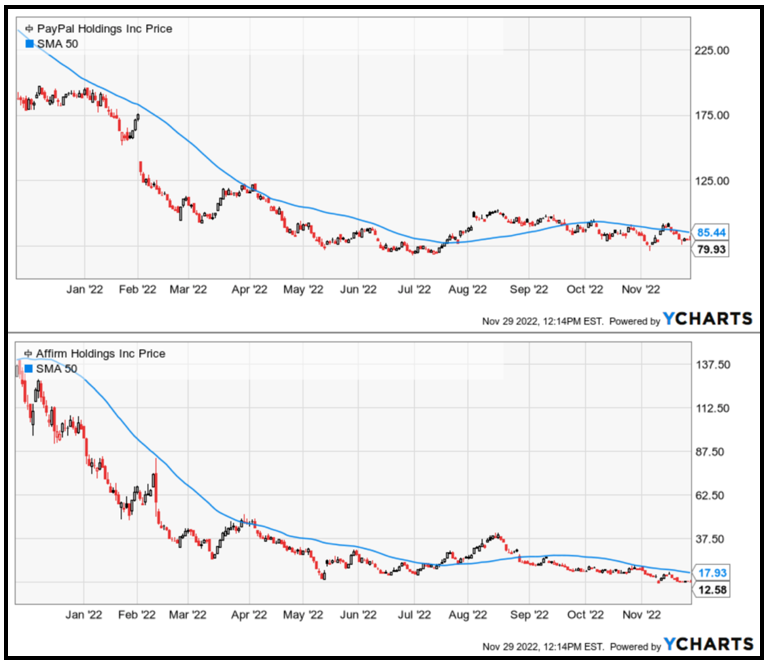 One-year charts of PayPal (top) and Affirm (bottom) showing both stocks sitting just under their 50-day moving averages.
Click here
to see full-sized image.
Having one or the other break through its 50-day moving average could indicate strength over the short or intermediate term.
That's one strategy. The other would be to wait for their grades from Weiss ratings to improve.
If you're interested in tailored picks in this space ahead of this year's anticipated Santa Claus rally, my colleague Tony Sagami's trading service, Disruptors & Dominators, provides just that. Members of that service are currently enjoying nearly 53% gains in a retail behemoth. Click here to learn more.
The Basket Approach
But if I had money burning a hole in my pocket, I'd consider investing in the one thing you know people are buying: consumer staples.
Of the S&P 500's 11 sectors, consumer staples have performed the second-best YTD. That's understandable given present inflationary conditions that force shoppers to tighten household budgets and shift funds from wants to needs.
One way to take advantage of that is through an exchange-traded fund that broadens your exposure to companies while reducing your exposure to risk.
The Consumer Staples Select Sector SPDR Fund (XLP) has garnered a "B-" or "Buy" grade from Weiss ratings and is trading above its 50- and 200-day moving averages.
Its top holdings include some of the biggest names in consumer staples. Icing on the cake: The XLP pays a respectable dividend of 2.4%.
Normally, it's probably best not to put all your eggs in one basket, as the saying goes. But when it comes to this kind of basket approach, I say go all in.
As always, conduct your own due diligence before entering any trade.
To your wealth,
Dawn Pennington
Editorial Director