Innovation Is a Giant Killer
Remember the PalmPilot? It was an innovative, wildly popular pocket computer tech that everybody wanted to own.
• In 2000, PalmPilot was valued at $53 billion — higher than Apple, Google and Amazon combined.
• The company made personal digital assistants (PDAs), which connected the previously separate worlds of the electronic organizer, the personal computer (PC) and mobile phones.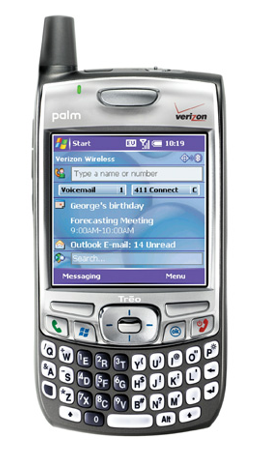 Source: SB Nation
PalmPilots easily synchronized with computers, had handwriting recognition software that worked well, easy-to-use organizer functions like calendar and to-do lists ... and were affordable.
Busy executives used them to track appointments and take notes when they were out of the office. Upon returning to the office, docking the PalmPilot in an included cradle would automatically sync it with a PC.
And they sold like hotcakes.
But then Microsoft (Nasdaq: MSFT) came out with its own PDA and was followed by BlackBerry. PalmPilot rapidly lost market share, sales and value in its stock.
The final nail in PalmPilot's coffin was the release of Apple's first iPhone in 2007.
Apple's first iPhone also marked the beginning of the end for BlackBerry, which I used fanatically. (My thumbs were so overused, I developed "BlackBerry thumb." It was that bad.)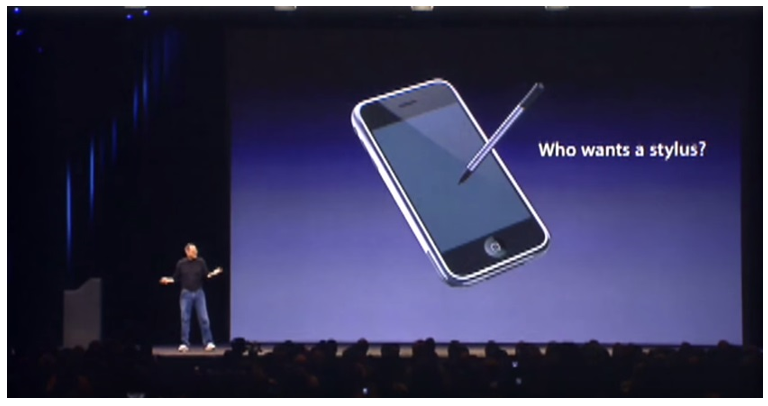 Then-CEO Steve Jobs at a 2007 Apple event debuting the iPhone. Source: Think Marketing
BlackBerry came out with a stylus, but it was slow, cumbersome and people were always losing them. And when Apple came out with the touchscreen keyboard, BlackBerry was done for.
• The point of this tech history lesson is that innovation is a giant killer.
Technology that may seem irreplaceable today can go the way of the dinosaur in a matter of months.
• That means it is a mistake to fall permanently in love with any tech stock.
As you read this, there is an army of brilliant nerds building a better technological mousetrap.
That may be truer today than at any time since the turn of the century. Artificial intelligence (AI), a new generation of blazing-fast semiconductor chips and 5G wireless is going to turn many of today's brightest tech companies into has-beens, like the PalmPilot and BlackBerry of yesteryear.
And I bet that some of those dead-man-walking companies are in your portfolio.
I'm not going to predict who those tech casualties will be, but I am telling you that every tech investor should include stocks that are leaders in (1) AI, (2) chipmakers on the cutting edge of graphic processing and (3) that are part of the 5G wireless food chain.
That's where you'll find revolutionary innovators like Apple, which enrich their shareholders by killing off yesterday's technology leaders.
• The AI, graphic processing and 5G industry is changing so rapidly, investing in a basket of stocks is the safest way to ride that trend.
Exchange-traded funds (ETFs) offer that opportunity. Here are a few I recommend considering:
1. Global X Robotics & Artificial Intelligence ETF (Nasdaq: BOTZ)
2. First Trust Nasdaq Artificial Intelligence and Robotics ETF (Nasdaq: ROBT)
3. AI Powered Equity ETF (NYSE: AIEQ)
4. Innovator Loup Frontier Tech ETF (NYSE: LOUP)
5. iShares Robotics and Artificial Intelligence Multisector ETF (NYSE: IRBO)
And I've got a hint for you: Take a look at the top 10 holdings for each of the above ETFs. You'll find a small handful of stocks that appear in all of them. The chances are good that those commonly loved stocks will be investment home runs.
Best wishes,
Tony Sagami