Investors Clamoring for the Stocks You Should Already Own!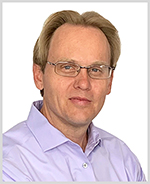 By Mike Larson
"Cash is king right now."
That's been my message for a long time. But yesterday, it was the lead of a Wall Street Journal story.
The gist? Investors are now swooning over higher-yielding, higher-quality stocks ... and dumping the garbage names Wall Street aggressively peddled to Main Street for most of 2020 and 2021.
They want dividends. They want economic resilience. They want proven business models.
Sound familiar? I've been pounding the table about these kinds of investments as Big Tech's overvaluation continued to inflate over the past couple years.
In short, investors are now turning to "Safe Money" stocks. That's great news for you because you should already own 'em, and if so, their buying should keep supporting the value of your holdings!
What's driving this powerful, inescapable trend? I've shared my thoughts with you before. But let's hand the microphone to the Journal once again:
"The shift shows the premium that investors are paying for steady cash payouts rather than the promise of future profits. That preference has only intensified as the Fed embarks on an ambitious campaign to raise interest rates to rein in inflation."
In plain English, the higher rates go, the more investors want payback from their companies NOW. And the less they're willing to accept pie-in-the-sky, Dot-Com-esque, chimerical promises of profits years down the road.
No wonder investments like, say, the WisdomTree U.S. High Dividend Fund (DHS), are showing year-do-date total returns of almost 7% AND spinning off a generous 3% yield.
That beats the stuffing out of the Invesco QQQ Trust (QQQ), which has plunged 26% so far in 2022 and yields a pitiful 0.5%.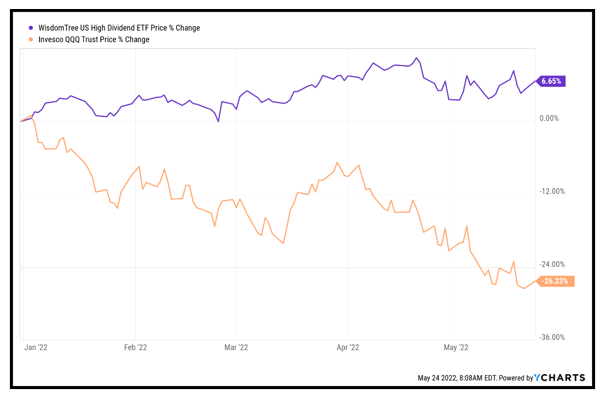 And don't even get me started on the other junk funds and stocks I've mentioned before in columns like these. They can't get out of their own way!
I really don't want to sound like a broken record. But if you aren't rolling with this rotation, you could be costing yourself dearly.
Even worse, you could also end up foregoing other income-generating strategies that use these kinds of high-quality stocks as their jumping off point.
Bottom line: I'm going to keep beating this drum because I expect it'll help pad YOUR results the most ... and do so in a year that's proving downright lousy for the markets as a whole!
Until next time,
Mike Larson