Key to 2023 Success: Avoiding Investing Potholes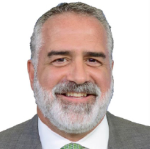 By Kenny Polcari
Most potholes — the ones that knock your car out of alignment — are caused either by structural defects or water that seeps into a road surface and freezes, eventually turning into huge gaps.
It usually happens over time, so if we drive on the same roads, we learn where they are and how to avoid them. We can either take a less bumpy route or swerve around them to get to our destination.
And 2022 had its fair share of investing potholes, big ones that derailed even the savviest of investors.
They grew in size, relevance and number as the year went on, making the stock market incredibly hard to navigate.
You know them well by now: inflation, rising interest rates, global tensions, pandemic woes, China's economic state and more.
Instead of taking those potholes in the market into consideration, many investors continued to take the same paths, investing in the same asset classes, stocks, ETFs — you name it — that were successful for them in 2020-2021.
Others actually gave up driving in the market altogether as to avoid further damage.
Neither of those strategies moved investors closer to their destination of financial security. In fact, some are further away than ever.
The good news today is we know about most of the headwinds, potholes — call them what you want — that we'll encounter this year. That makes it easier to take alternate routes — barring a Black Swan event.
While we might see a few different bumps in the road, it's just as likely that as the year progresses, uncertainty will ease, and we can all get back to some semblance of normalcy.
Until Then …
For at least the first few months of the New Year, keep your assets in those positions that I've been talking about for the better part of a year.
If you've been straying from this playbook, now's a good time to pay close attention.
I'll start with safety because, after all, wealth preservation should be your number one priority, especially if you're in or near retirement. Even if you're not, if your nerves are just getting the best of you, this applies just as much.
Cash is about as safe as you can get. That means keeping a percentage of your portfolio in a very liquid position, so you have it to put to work in the most beaten-down stocks when the time comes.
Another alternative, one that we haven't seen in quite some time, is bonds. While rising interest rates have taken their toll on bond prices, yields are very tempting.
A three-month note now yields 4.24%, two-year Treasurys provide 4.24% and the 10-year is yielding 3.87%.
You can literally walk into a bank and buy a 12-month CD with 4.5% guaranteed with many financial institutions offering rate upgrades if they keep rising — which is already baked in the cake.
Gold is also making a move. It exploded higher at the close of 2022 and in the first two trading days of the New Year, the price per ounce rose to $1,859, a $29 hike in two days.
The yellow metal is also trading above all three major trendlines and if it tests June highs of $1,900, we could see the start of a new gold bull market. SPDR Gold Shares (GLD) is a great ETF that mirrors the price of gold without the need to hold any physical bullion.
In addition to using cash, bonds or gold as safety valves, you can also look to contrarian positions as hedges to your portfolio for the short term.
With the S&P 500, Nasdaq and Dow 30 all down for the year, the ETFs that short each index offered protection and upside. The ProShares Short QQQ (PSQ), ProShares Short S&P500 (SH) and ProShares Short Dow30 (DOG) rose 38%, 19% and 6.5%, respectively, in 2022.
Just remember, these ETFs are not considered long-term investments. They are strategic and meant for actively managed, dynamic portfolios.
Now that I've covered the safety aspect of your portfolio, let's talk about …
Potential Asset Appreciation & Dividend Opportunities
Believe it or not, there are plenty of them.
Say you want to be aggressive. You raised cash and you want to put some of it to work. The same sectors and stocks that were able to successfully navigate the potholes in 2022 will likely serve you well again in the first part of this year.
We saw the value trade outperform the growth trade by a 24% margin. The SPDR Portfolio S&P 500 Value ETF (SPYV) lost 5.3% last year while the SPDR Portfolio S&P 500 Growth ETF (SPYG) fell 29%.
Of the 11 sectors that make up the large-cap index, communications, technology, real estate and consumer discretionary represented the bulk of the losses, down 40.4%, 29%, 28% and 37.6%, respectively.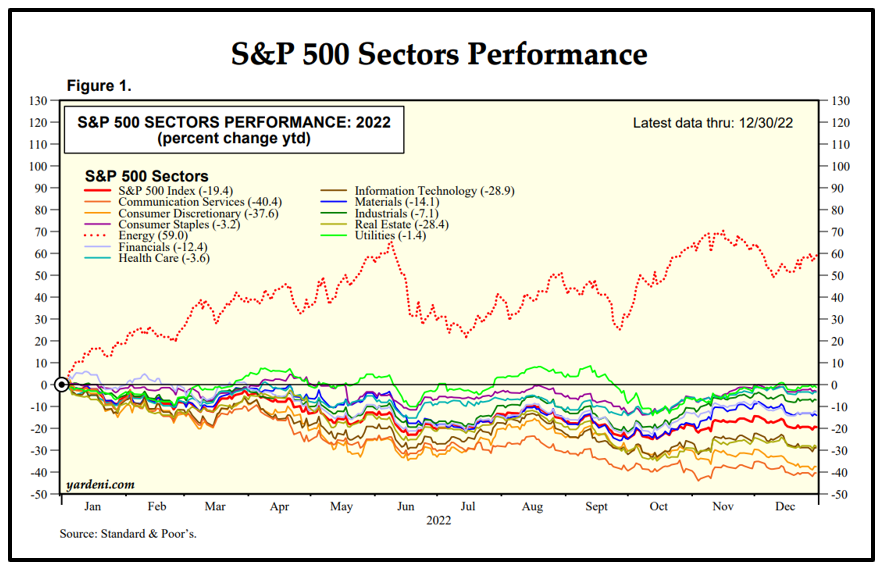 A chart showing the performance of the 11 sectors that comprise the S&P 500. Energy was the only one ending 2022 in the black.
Click here
to see full-sized image.
Meanwhile, energy emerged as the clear winner, surging by 59%.
What's the major distinction between the two groups besides performance?
It's what I was screaming about all last year and will continue to scream about: The STPN trade — Stuff That People Need — which are the things you and the rest of the country need no matter what. Those stocks held their ground while other parts of the market got slammed.
I'm talking about defense stocks amid a war in Europe, like Lockheed Martin (LMT), which is up 40%, Northrop Grumman (NOC) up 42%, Raytheon (RTX) up 20% and General Dynamics (GD) up 22% in the industrials sector.
Then, there are coal stocks that benefit from energy demand, like Peabody Energy (BTU), CONSOL Energy (CEIX), Natural Resources Partners (NRP) and Arch Resources (ARCH).
Oil service stocks like Halliburton (HAL), Schlumberger Limited (SLB) and Baker Hughes (BKR) performed very well.
Metals and miners also scored big in 2022, and I could go on and on. But the point is that there were still plenty of opportunities, and themarkets weren't nearly as grim as the major indices and growth stocks suggested.
As we know, there were also plenty of disasters. If the worst performers intrigue you because they're dirt cheap, just be sure that they are also fundamentally sound — the reasons they tanked are due to external influences.
Also, focus on dividend producers. This indicates stability and cash flow.
Think companies that provide services and or products that we will always need. Those that focus on innovation, growth, stability and tsunami-sized trends.
Apple (AAPL), Amazon (AMZN), Microsoft (MSFT) and Costco (COST) are a few to consider.
The bottom line is that 2022 wasn't as bad as many investors thought. And now that we know how to navigate around the potholes and where to find smoother ground, 2023 could be even less bad.
Well, you know what I mean.
All the best,
Kenny Polcari
P.S. It's a new year and with it come new prospects. My colleague Sean Brodrick has identified what he says is the best opportunity in decades. He's calling it the Made-in-the-U.S.A. Superboom, and it could be the biggest financial trend of the year. Click here to find out more.