Warning from Martin: Bigger Risks Ahoy

By Martin Weiss
Three bigger risks to your financial security are now converging in one time and place.
Risk #1 is the continuing destruction of any decent interest you could safely earn on your cash. Even after the Fed has raised its key interest rate, U.S. banks continue to pay only 0.08% on money-market accounts. For every $1,000 on deposit for a year, that's a meager 80 cents in interest.
And even if you lock up $100,000 for five years in a jumbo CD, you still get only 0.42% on average.
Risk #2 is surging inflation. With the cost of living up 8.3%, every penny of interest you earn in an entire year is wiped out in three days flat.
Assuming inflation doesn't get any worse, that is.
Sure, Fed Chair Jerome Powell says he's finally getting serious about inflation.
But he knows that's not true.
Everyone knows, or at least they should know.
All they have to do is look at the facts:
This past Friday, the effective Fed Funds rate was 0.83%. But …
Over the last year, consumer prices are up 8.3%.
So, inflation is exactly TEN times higher than the official interest rates.
In contrast, back in the early 1980s, in order to end the rampant inflation of that era, Fed Chair Paul Volcker had to raise the Fed Funds rate beyond 20%.
Big difference!
Risk #3 is what can happen to your portfolio as the Fed wakes up to this reality and begins to hike rates at a much faster clip.
Will they do it immediately? Perhaps not. But the longer they drag their feet, the worse it gets.
Three risks.
Three threats to your money.
Just one raises a yellow flag of caution. Combined, they're flashing deep red.
So, clearly, the time has come for prudent protective action.
Step 1. Seriously consider selling or reducing your exposure to high-risk stocks. On our ratings scale, that's "D+" or lower.
Which ones are they?
One way to get a quick answer is simply to look them up on our site.
Hop over to our complete stock listings on this page.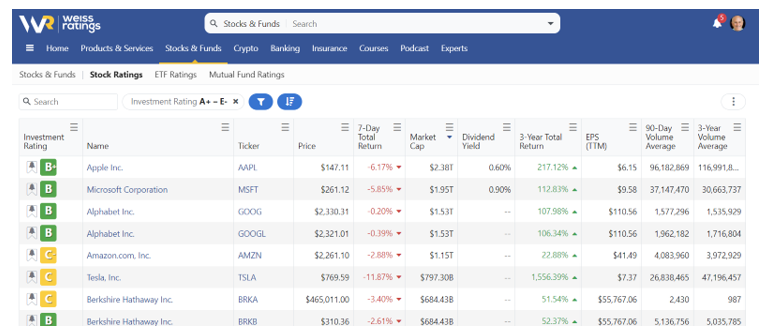 In the search field at the top of your screen, simply enter the stock ticker … and its Weiss investment rating should pop right up:

Want to explore further? OK …
In our stock listings table, by clicking on the three lines at the top of each column, you can sort by investment rating, name, ticker, price, 7-day total return, market cap, dividend yield and a host of other fields.
Or, you can use our filter tool (the funnel icon) to create a list of stocks that match your specifications.
And if you click on the bell symbol next to the letter grade of each stock, you can add it to your watchlist. Then, you will receive alerts about any upgrades or downgrades. First, though, be sure to log in.
Just be aware that some stocks may have unique strengths or weaknesses that are not reflected in our ratings but which an analyst might pick up from customized, in-depth research on the company.
Step 2. If you have high-risk assets that you're unwilling or unable to sell, you may need a hedge. For example, your assets may be locked up in a trust. Or you may own valuable business assets you need to keep.
Ideally, your hedging strategy should be customized to the specific assets you're holding.
But to hedge against a broad stock market decline, I use the ProShares Short S&P500 (SH).
For each 10% decline in the S&P 500 Index, it's designed to go up 10% in value.
Never forget that, in a broad market decline, investors often throw the baby out with the bathwater. So even some of the best stocks can take a hit, which is another reason to consider holding a hedge like SH.
Could you also use the 2x and 3x leveraged versions of inverse ETFs like these? Maybe. But we see those primarily as short-term trading instruments, not as longer-term hedges.
Step 3. If you haven't done so already, take a closer look at alternative asset classes such as agricultural commodities, precious metals or energy. There are ETFs for each.
Step 4. Even if they're already surging, don't rush to buy. Wait for a correction. Then buy on weakness.
Good luck and God bless!
Martin