Martin: Big Trades Coming Tomorrow!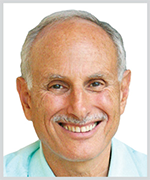 By Martin Weiss
We just got a strong new signal confirming a major turning point in Bitcoin and the entire crypto market. It means that …
The big crypto bear of 2022 is dead, and …
The big new bull cycle of 2023-2025 is here.
See for yourself …
How do we know?
Well, the science behind these signals is not simple, but let me give you the highlights.
Juan Villaverde, architect of our crypto ratings and timings models, has discovered that Bitcoin — and crypto overall — have a very regular 80-day cycle, which means:
Every 80 days (on average), the market makes a low.
And between 80-day lows, there's always an 80-day high.
Now, here's the bigger discovery:
In bear markets, each 80-day-cycle high is always lower than the previous one. So …
If Bitcoin rises ABOVE its prior 80-day-cycle high, it means the bear market is over.
This is exactly what Juan was expecting in January 2023.
And it's precisely what just happened, as you can see in the chart.
This is so important, I want to make sure you don't miss it. So, here it is again:
(If you're reading this in your email, and don't see the chart, be sure to click on "Load All Images" at the top of your screen.)
This chart confirms the end of the Bitcoin bear market of 2022.
It's the last piece of the puzzle we were waiting for to declare, without hesitation …
The beginning of the new Bitcoin cycle of 2023-2025 is here.
That means three years of rising markets from here …
Three years rich in opportunity …
And three years that can change the world for investors.
How far will Bitcoin go? What about other cryptos?
To get some perspective, take a look at this Bitcoin chart since the beginning of the last bull market.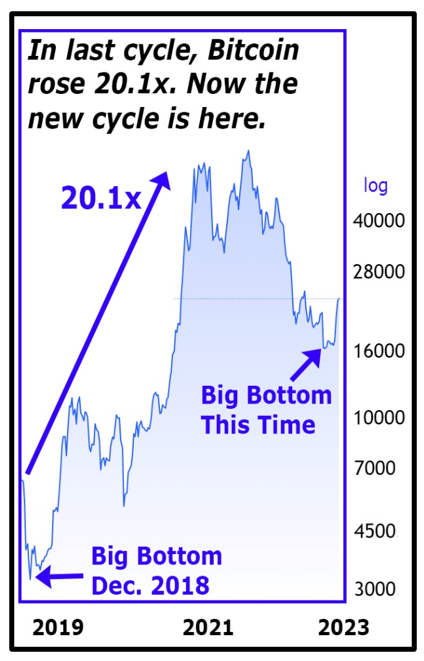 Bitcoin 2019 cycle chart.
Click here
to see full-sized image.
For that cycle, Juan called the big bottom on Dec. 12, 2018.
And from that point forward, Bitcoin rose 20.1x.
What about this cycle that has just begun?
We don't expect it to go up quite as much.
That's mainly because it's a more mature asset today with a bigger market cap.
And like a big-cap stock, there's a trade-off between (a) somewhat lower upside potential and (b) somewhat lower risk.
But even if Bitcoin goes up less than it did the last time around, we can confidently make the following five predictions:
Prediction #1. Bitcoin will still deliver far greater returns than any non-crypto asset class.
Prediction #2. Ethereum will beat Bitcoin by at least 2-to-1.
Prediction #3. In the race for the best returns, our favorite new cryptos with high tech and high adoption will leave both Bitcoin and Ethereum in the dust.
Prediction #4. Investors who buy at the beginning of this new cycle will get the best prices, and those best prices will never be seen again.
Prediction #5. Investors whosuccessfully trade around the all-important 80-day cycle will have the opportunity to make about 9x more than investors who simply buy and hold.
What should investors do right now? Here are four simple steps we recommend …
Step 1. If you don't yet own Bitcoin and ETH, now's the time to accumulate.
Step 2. For more intelligence and guidance, watch my just-released Zoom call with Juan. (If you've already started watching, it will let you restart or resume from where you left off.)
Step 3. Follow the instructions we provide at the end of the call to try Juan's crypto trading service before midnight tonight, Monday, Jan. 30. If you miss that deadline, you will not be able to move on to this next important step …
Step 4. Tomorrow morning, Tuesday, Jan. 31, check your inbox for Juan's landmark trading issue to kick off the new 3-year bull cycle and hit the ground running.
Time is short. You have only a few hours left. So, to get started right now, click here.
Good luck and God bless!
Martin