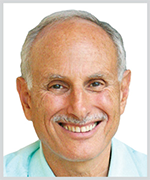 By Martin Weiss
On top of record bank failures, a Fed release shows a new kind of bank nightmare has begun.
Most investors are not paying attention, but if you need income from your retirement funds, this is a new threat you've got to know about.
Just look at this:
Fed Chart Signaling New Bank Nightmare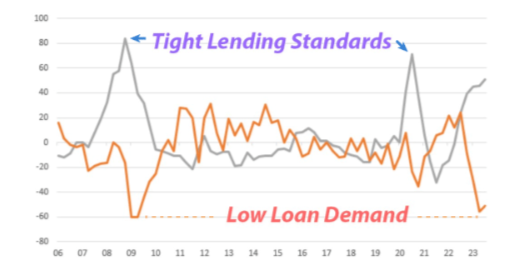 The Fed has just reported that …
Bank lending is beginning to freeze up …
The percentage of banks tightening their lending standards has just soared to nearly the highest level since the Great Financial Crisis of 2008, and …
Compounding the crisis, the percentage of banks reporting good demand for loans has just plunged to the lowest level since the Great Financial Crisis.
Why should you care?
Because this is precisely the kind of signal the Fed uses to start lowering interest rates again.
They don't want to trigger a recession.
They don't want to topple an already-shaking banking system.
They will do almost anything, including zero yields on your savings to avoid that scenario.
If you have money in dividend stocks, Treasuries, tax-free bonds, CDs or annuities, don't be surprised: Yields may be disgustingly low now, but they're about to get a lot lower.
To get on the right track, consider these three steps:
First and foremost, do not lock up your money in ridiculously low-yielding, long-term bonds. Interest rates are near 5,000-year lows. I think locking in those yields for 10 or 20 years would be like flushing cash down the toilet.
Second, do not take the big risks that automatically come with higher yields on things like junk bonds and speculative real estate. Recent history is littered with the wreckage from that kind of income investing.
Third, I think it would be a shame if you do not sign up for our income emergency webinar that we're holding tomorrow at 2 p.m. Eastern.
That's when we will reveal a new way to collect about $1,000 (or much more) nearly every week, no matter how far yields go down.
We saw this coming long ago. But we used to call it the "Income Investing Crisis."
Now it's an Income Investing EMERGENCY.
Fortunately, we've discovered a whole new way folks could continue generating income — right through the worst income drought in modern investing history.
We'll show you how tomorrow. But this is the last day to reserve your spot. Just click here.
Good luck and God bless!
Martin D. Weiss, PhD
Weiss Ratings Founder