Omicron: COVID's Market Curveball
As we move closer to Christmas and the new year, markets are usually less liquid, less volatile and less tumultuous.
But in the pandemic world we live in … normal has gone out window. (And this doesn't even take into account historic inflation and near-zero interest rate policy.)
The latest curveball? The Omicron variant, which has now been found in at least 17 states.
Early findings suggest it's highly mutated and extremely transmissible. The result? Massive selloffs and market uncertainty threatening this year's "Santa Claus rally."
But since the post-Thanksgiving Omicron-induced selloff, the S&P 500 is now only down around 2%.

Source: Trading View
On Nov. 26, the Dow Jones Industrial Average (DJIA) had its worst day of the year, but just after, buyers stepped up, and we've seen an impressive rebound.
In fact, since the Omicron drop, the Dow is up around 1.2%.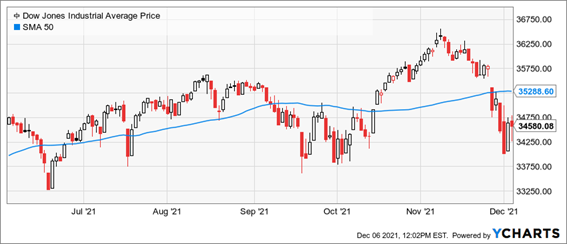 We've learned — as a world and as investors — to adapt to and live with these COVID-19 variants. The markets can do the same, handling these challenges as they come with confidence.
As almost every virologist would agree, we aren't even close to being out of the woods with Omicron … but as it relates to investing, things are already looking a lot brighter.


The Weiss Ratings are designed to help you find sound investments capable of weathering pandemic news-induced market scares like the one we've seen so far this month.
The ratings are constantly updated, and the new Weiss Ratings website has all the tools necessary to help you discover those hidden gems.
For example, there are currently 75 companies listed as either "A+," "A," "A-" or "B+" amid an extremely volatile and unpredictable market.
And do you know what is predictable? Dividend payments.
Add a filter for companies with dividends yielding between 1.50%–3%, and that lists narrows to 18 companies …
Yes, 18 top-rated companies that pay YOU to hold their shares.
Furthermore, each week, our team of Weiss Ratings experts addresses the latest and most relevant issues to help you understand how to put our ratings to work for you and your portfolio.
Will Omicron be the last in a long line of variants? That's unlikely.
Will the markets experience similar volatility each time a new variant arises? If history is any indication … probably.
Can Weiss Ratings Daily and the Weiss Stock Ratings help investors find stocks that can handle the unpredictability? Absolutely.
And by doing so, you'll be much better positioned to smack that curveball out of the park.
Best wishes,
The Weiss Ratings Team