Retail Investors Are Dominating Startup Investments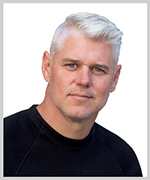 By Chris Graebe
As I reflect on the wild pace of the first half of 2023, it's amazing to think about all the exciting things that have already taken place inside my startup investing service, Deal Hunters Alliance.
We now find ourselves back on the hunt for the next great opportunity. I love to look across various sectors to find the best possible deals and opportunities.
Currently, I'm having early conversations with founders in various niches and industries.
But I would love to hear from you. That's right! I want to know what sector or industry you would love to see enter the Deal Hunters Alliance arena? Just click here and send us a message about the sector — or sectors — you are interested in and why.
For now, here's what I'm seeing ...
VC Winter Is Here
Earlier this year, I talked about an upcoming venture capital winter. Well, it's here and in a big way.
What does this mean exactly? The following chart from Fortune gives you a pretty clear idea: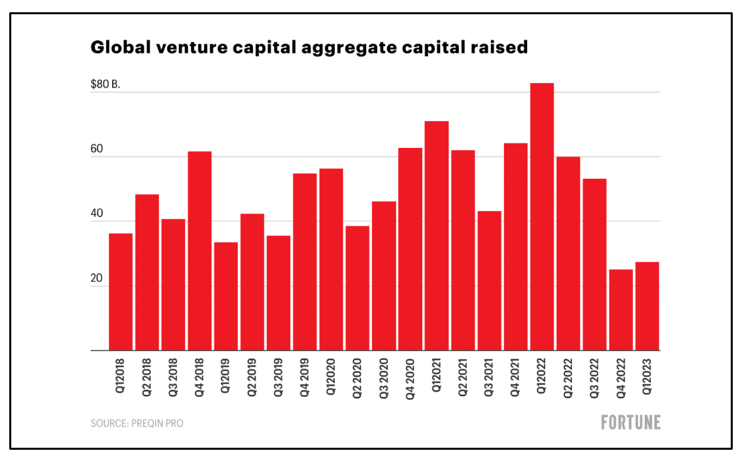 Global venture capital raised.
Click here
to see full-sized image.
You see, venture capital firms are flush with cash, but they are currently sitting on the sidelines.
This means that founders who build their start with VC money as their primary source of funding are in a world of hurt. The cash they thought would be easily and readily available to them is now unavailable.
And the same corrections that we're seeing in the world of real estate are now happening in the over-inflated world of startup valuations.
Right now, if a startup isn't on a strong growth trajectory and needs capital, it's more than likely that it's raising a flat round or a down round:
• Down round: If the company wants the investment capital to keep the lights on, they will have to dilute their current shareholders and bring in cash at a lower valuation.

• Flat round: A startup would have to raise an entirely new round at the same valuation as their last funding round.
Enter the Retail Investors
While all of these things are normal and move in a cycle, if you're a founder struggling to keep your business afloat, this is certainly not very good news.
But what does this mean for us non-VC retail investors?
Well, to answer that, I want to look at what's happening in the world of equity crowdfunding. An April article on Yahoo! Finance shows numbers that tell a very different story for the world of Reg CF:
"On a quarterly basis, equity crowdfunding nearly doubled its total funding from Q4 2022 to Q1 2023. The Q4 2022 data showed Reg CF raising $80 million, Reg A raising $41.6 million and a combined total of 21.6 million. In contrast, Q1 2023 saw Reg CF raise $80.8 million, Reg A raise 43.5 million and a combined total of $224.3 million."
So, what do these numbers tell us? I would say that it gives us a glimpse into a segment of the market — specifically the retail investor who dominates this space.
Obviously, we will have to wait to see how this all plays out. Will Q2 stay on the same growth trajectory? Or will the everyday investor cool to the idea of early stage investing? Only time will tell, but here are some of my thoughts:
1. Better startups: In March 2020, a similar situation happened. VC firms closed up shop and were prepared to ride out the "uncertainty" of the pandemic. But when everyone realized the market was booming, the VC funding-bonanza for startups continued. It was interesting to see that when the VCs shut their doors for those few months in 2020, founders and early stage companies that would have never before stepped foot in the world of equity crowdfunding began to see it as an option.

It is still early, but it seems to me that we will begin to see bigger names and more established startups step through the doors of equity crowdfunding and rely on the retail investors to carry them through this rough patch of the VC winter.

2. Better terms: Again, startups will have to either give up a bigger chunk of their company or they won't get funding. I think this is where the people can really use their voice and show the collective power of the investing crowd. Companies who turn up their noses at crowdfunding will post their proverbial investing sign out on one of these Reg CF platforms and think they can raise at some unrealistic valuation.

Now, the uneducated investors who are fans of the company will blindly invest, but I'm hopeful that educated investors like us, who understand this space, will push back against these founders. Using our investment dollars to send them a message is super effective. If we choose not to invest our money, then they'll realize that their valuation is too high.

3. Better & stronger investors: Seasons like this give everyone the opportunity to get stronger. When the money is flying around during the easy seasons and the market is up, then everyone is pretty much a genius! But it's during these more challenging seasons, when an emerging market like Reg CF is experiencing its own economic downturn, that the strong not just survive but thrive. Reg CF launched in 2016, and the market has mainly been sunshine and rainbows since then.
So, it's in times like this that I believe the strongest funding portals will rise to the top, the best startups will emerge and those who choose to have private investing in their portfolio will be stronger for it. Obviously, I'm in your corner and there is plenty of strength in our Deal Hunters Alliance community. That alone is enough to get me excited. But I truly believe that we are in the midst of an amazing opportunity that will only make us stronger.
Look, I've said it once and I'll say it again: I don't have a crystal ball and can't say with certainty what the future will bring. But I can continue to talk to others in the space, jump on calls with founders and constantly check the pulse of this wild world of equity crowdfunding. And as I make new discoveries, I'm going to make sure members of my service are the very first to know.
Bottom line: More opportunities are coming, and we will start to see more startups knocking on the Reg CF door. And as they come, we will be ready.
So, for now, I'm going to continue talking to numerous founders, reviewing pitch decks and looking for what has the potential to be one of the big winners to come on the other side of this extremely cold VC Winter.
It may be cold in VC land, but the world of Reg CF is just getting warmed up.
Until next time, my friend.
Happy Hunting,
Chris Graebe
Editor, Deal Hunters Alliance